Mumbai top cop Rakesh Maria axed, first high-profile casualty of Sheena Bora murder case
Rakesh Maria, now the former Commissioner of Mumbai Police, has suddenly been removed from his post and promoted as Director General of Home Guards with immediate effect on Tuesday.
Rakesh Maria has suddenly been removed from his post as the Commissioner of Mumbai Police and promoted as Director General of Home Guards with immediate effect on Tuesday.
The development comes even as Maria was heading the investigation in the Sheena Bora murder case that has made headlines for the past two weeks.
The transfer orders reportedly came directly from Chief Minister of Maharashtra Devendra Fadnavis. NDTV reports, "Maria had met Mr Fadnavis on Monday evening amid speculation that the chief minister was unhappy about the attention the police chief was giving to the Sheena Bora case."
Though Fadnavis had lauded the police for their efforts in the murder case, he had made clear that he was not happy with the attention the case was getting from Maria. "Police have shown a lot of involvement and attention in a case which is in the media spotlight. It should pay similar attention to other cases which do not get media focus," Fadnavis had told the media.
Maria, had taken acute interest in the Sheena Bora case, and had himself interrogated the accused including Indrani Mukerjea and Sanjeev Khanna, which is unusual.
As NDTV pointed out, Maria was also regularly holding press conferences about the case despite not having given any interview since he was made Mumbai Police chief.
Sources also told Focus News that his whole team has also been reassigned.
However, The Hindustan Times reported Ahmed Javed as saying, "I have had a word with the joint commissioner of police (law and order) and the team investigating the Sheena Bora murder will continue to probe. They will not be transferred."
It should also be noted that Maria was scheduled to be transferred or promoted on 30 September, 2015. His promotion came 22 days ahead of schedule, indicating that it perhaps had something to do with the Sheena Bora case.
While several television reports suggested that Maria's removal was directly related to his involvement in the probe in the high-profile murder case, the Maharashtra Home Department held the changes were made taking into account the law and order factor ahead of the Ganpati festival.
"Maria has been promoted to the Director General rank and posted as the DG of Home Guards in Mumbai in place of Ahmed Javed. Javed (who was DG, Homeguards) becomes the new CP of Mumbai," Additional Chief Secretary (Home) KP Bakshi said.
"There was no hurry in transferring Maria. It would have been inappropriate to transfer him on 30 September, in the middle of the festive season as Ganapati festival, a very important event in Maharashtra would be on at that time. Therefore, we decided to advance the promotion of Maria," he said.
Meanwhile, former Mumbai police chief Satyapal Singh added meat to the specualtion when he told CNN-IBN, "There has to be something, why else the transfer? I have heard he was close to Peter Mukerjea."
Maria, a 1981-batch IPS officer, was made Commissioner of Mumbai Police on 15 February, 2014. He will retire in December 2016.
He had earlier courted controversy over his meeting with Lalit Modi in London. Maria had issued a statement saying he had met the ex-IPL boss on the insistence of Modi's lawyer. The Maharashtra government, however, had given a clean chit to Maria after finding his explanation regarding the meeting to be "satisfactory".
Find latest and upcoming tech gadgets online on Tech2 Gadgets. Get technology news, gadgets reviews & ratings. Popular gadgets including laptop, tablet and mobile specifications, features, prices, comparison.
World
Traditionally, presidents have tried to avoid making statements that might prove embarrassing later on. They choose their words carefully and proceed 'out of an abundance of caution', per the tagline of the moment in Washington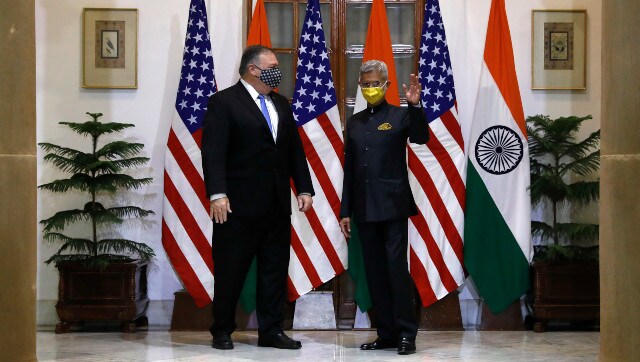 India
The focus on convergences and its institutionalisation through dedicated frameworks alleviates the pressures on the two sides to urgently contemplate formalisation of ties.
World
At last count, Donald Trump trailed Joe Biden 43 percent to 51 percent in national polls and was behind in every single battleground state apart from Ohio and Texas