Prime Minister Narendra Modi's dream project of Mumbai-Ahmedabad bullet train is as good as ready on paper, with all land acquisition processes being personally monitored by Chief Minister Devendra Fadnavis, who is also looking into a Mumbai-Nagpur bullet train.
Fadnavis had promised to form an expert committee to look into environment issue. The bullet train proposal has been sent to the Cabinet subcommittee and if the subcommittee green-lights the proposal, the MoU for the train is set to be signed next week at the Vibrant Gujarat Summit. Meanwhile, Shiv Sena chief Uddhav Thackeray had criticised the bullet train proposal, saying that it was only an election promise made by the BJP.
A highly-placed source from the MMRDA confirmed to Firstpost that the Mumbai-Ahmedabad bullet train will start its journey from BKC. Earlier, BKC, Dadar and Kurla were being looked at as possible options. And while the MMRDA initially opposed the site (BKC) as it wanted to use 40,000 square metres for an international business centre, it was last week that Fadnavis held a meeting with senior MMRDA officials and ordered them to finalise BKC as the first station for the bullet train.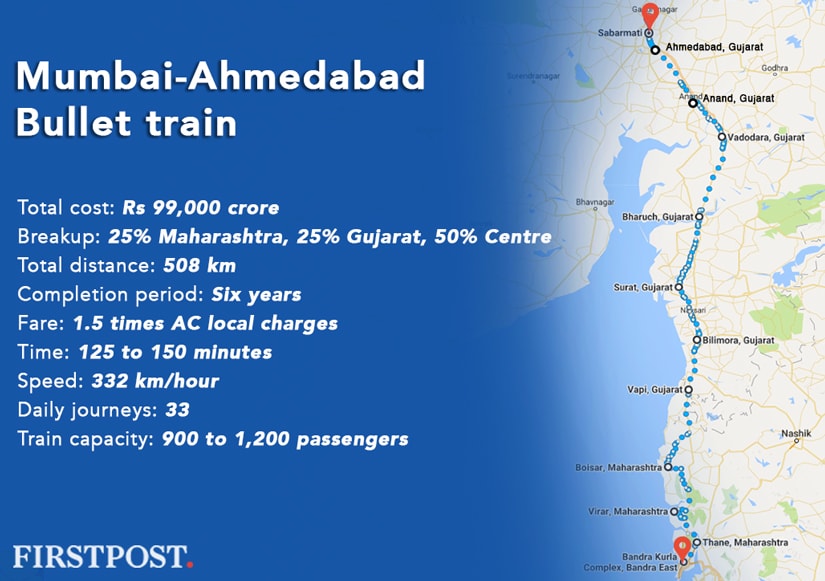 The source also confirmed that Niti Aayog vice-chairman Arvind Panagariya held a meeting to finalise the location of  the station. The total cost of the bullet trains is Rs 99,000 crore and a quarter of the burden will be borne by Maharashtra and Gujarat each. The remaining 50 percent will be the Central government's responsibility. As far as the Maharashtra government is concerned, it will have to pay Rs 25,000 and the MMRDA will foot the entire bill, said the source.
There are a total of 12 stations on the route — four of which are in Maharashtra and eight in Gujarat.
The project will be executed by a Special Purpose Vehicle and the PMO will personally monitor the progress of the project. The underground station and back area will be built on the same 40,000 square metres on which the international business centre will be built. According to a senior MMRDA official, it is not a problem to build the business centre overground and the station underground.
The Vibrant Gujarat Summit will commence on 9 January.
Updated Date: Jan 05, 2017 16:03 PM