Mulayam Singh Yadav tests positive for COVID-19; SP patriarch asymptomatic, says party
The 80-year-old Samajwadi Party leader is being monitored by doctors, the party said in an announcement on Twitter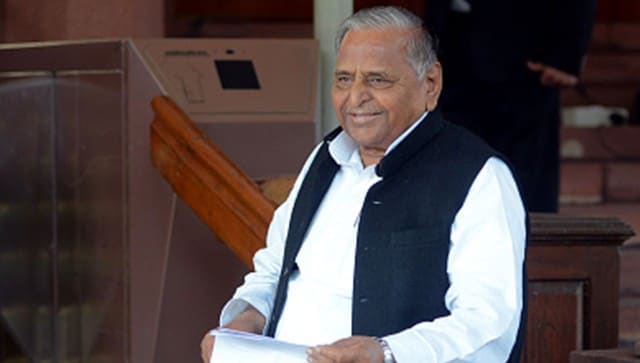 Former Uttar Pradesh chief minister and Samajwadi Party patriarch Mulayam Singh Yadav tested positive for the novel coronavirus, the party tweeted on Wednesday.
"Samajwadi Party founder Mulayam Singh Yadav has tested positive for COVID-19, and is being monitored by doctors," it said. He has been admitted to the Medanta Hospital in Gurgaon.
समाजवादी पार्टी संस्थापक आदरणीय नेताजी श्री मुलायम सिंह यादव जी की कोरोना टेस्ट रिपोर्ट पॉजिटिव आने के उपरांत चिकित्सकों की देख रेख जारी है।

फिलहाल उनमें कोरोना के एक भी लक्षण नहीं हैं।

— Samajwadi Party (@samajwadiparty) October 14, 2020
The party also said that the eighty-year-old Samajwadi Party leader has shown no symptoms of the viral infection.
"The health of Netaji (Mulayam Singh Yadav) is stable," SP president Akhilesh Yadav tweeted. "After being COVID-19 positive, he has been admitted to Medanta Hospital in Gurgaon for health recovery. We are in contact with senior doctors and will give information from time to time."
With inputs from PTI
also read
India
Describing as unfortunate the decision by 20 opposition parties to boycott the inauguration of the new Parliament building, EAM S Jaishankar on Friday said the event should not become an issue of conflict and that there was a limit to politicising anything
India
Modi spoke about the respect accorded by the people of Pacific island countries during the visit and said they were thankful to India for the COVID-19 vaccines sent to them during the pandemic.
Politics
Congress leaders have also said if the ordinance does not go through, Kejriwal would get a unique privilege that had been earlier denied to Delhi Chief Ministers like Sheila Dikshit, Madan Lal Khurana, Sahib Singh Verma, and Sushma Swaraj