Ministry of Truth: New government cyber cell will weed out 'negative narratives' against state, track those inciting 'trouble'
The government of India will soon set up a special media cell to keep an eye on negative narratives against the government online — a positive counter would be initiated through press releases, briefings and/or press conferences
The Government of India will soon set up a special media cell to keep an eye on negative narratives against the government online — a positive counter would be initiated through press releases, briefings and/or press conferences, reports The Indian Express. The National Security Council Secretariat (NSCS) proposed last month that a National Media Analytics Centre (NMAC) should be created to "monitor and analyse round-the-clock blogs, web portals of TV channels, newspapers and social media platforms such as Facebook, Twitter, Instagram and YouTube."
According to an older report in The Indian Express, the Electronic Media Monitoring Centre (EMMC) under the Information and Broadcast ministry is "equipped to track 600 news channels with the held of 200 content auditors." The EMMC updates senior government officials about what is trending on television news across the country on an hourly basis. Maybe this rests in the whiter portion of the grey area it treads, but, it really is an Orwellian nightmare coming true, when you realise that the NMAC will be the government's third such observatory body. "The software would also help recall the past pattern of the writer to check the number of times he took a negative or positive stand, his background, and preferences of websites and areas of interest to judge whether they were aimed at fomenting trouble or radicalisation," reports Indian Express.
Perhaps this is be a good time to recall the Panopticon. Don't worry and unfurrow that brow; an explanation follows:
Michel Foucault, social theorist and French philosopher, in Discipline and Punish, extends Jeremy Bentham's architectural design of the Panopticon to the social milieu — how 'progressive', 'modern' and 'democratic' states regulate their citizens. He uses the metaphor of the panopticon (a cylindrical building where inmates are visible to one another, and also to the guards placed at the centre of the building) to describe how constant surveillance ultimately achieves self-surveillance/censorship. Foucault, chillingly describes how control is achieved through constant, unnoticeable and internalised surveillance — where individuals self-surveil, curb and curtail their own actions so as to not break the 'rules'.
This is also a good time to remember the likes of Shaheen Dhada and Renu Srinivasan who were arrested because they asked on Facebook as to why Mumbai was shut down for Shiv Sena leader Bal Thackeray's funeral. Mayank Mohan Sharma and KVJ Rao, Air India's cabin crew were arrested for posting indecent jokes about the prime minister and other politicians. Devu Chodankar, a ship-building professional was arrested for posting a comment against Narendra Modi on Facebook. There are numerous other cases like this, but many of them were quashed by the courts — but these arbitrary  arrests (though the case may be that they don't lead to indictments) create a fear and therefore lead people to self-censor themselves. "I'm not scared to express myself but I won't write anything about politicians, I'll be like, 'I had a coffee today, I'm going to sleep, good morning, good afternoon'. That's all," said Renu in an interview with BBC after her arrest.
Embroiled in the world-wide obsession with a 'war on terror', India is increasingly becoming a surveillance state, the common, easily palatable yet unfortunate argument is that the surveillance is for "our benefit". New techniques of surveillance on the citizens are mutating the reach of the State — to say it in the words of Shiv Shankar Menon, India's National Security Advisor (2012) quoted in Surveillance, Counter-Terrorism and Comparative Constitutionalism, the government is putting in place what supposedly helps it deal with, "an anarchic new world of constant and undeclared cyber threat." It is not just about surveillance, but the governmentality at play — the various ways in which the State is exercising control over its citizens.
Take the on-going debate on nationalism and anti-nationalism, what is palpable is that the government is threatened by something — the voices on the fringe: Dalits, minorities, or those who envision a different idea of India. The State and its actors (politicians in power) are dictating what ought to be the right definition of nationalism — hoisting National Flags, standing up when the National Anthem is played, among a host of others. All that and all those that do not align with this frame of thought then become the enemies of the State — Kanhaiya, Soni Sori, Umar Khalid and thousands of nameless others who have refused to self-censor.  Orwell writes, "We are not interested in those stupid crimes that you have committed. The Party is not interested in the overt act: The thought is all we care about." and its hard to not think about Umar Khalid's cutting words, "Woh dartein hain hamare sangharshon se, woh darte hain kyunki hum sochtein hain (They fear our struggles, they fear because we think)."
The Party's slogan in 1984 by Orwell, "He who controls the past controls the future. He who controls the present controls the past" is about how the Party exercises control over its 'subjects' by using false history. Here, we have the Sangh that is hoping to rewrite history through the Puranas, ancient texts are being included in schools as mandatory reading, Dinanath Batra has written mandatory reading moral science textbooks for children including his poems that read, "Maine swapna liya hai, vidyalay key nirmaan ka Hindutva ki neev par, desh bhakti ke aadhaar par (I have a dream, of building a school on the foundations of Hindutva and patriotism)" The Party's slogan served a primary purpose in the book — to breakdown the independence of its 'subjects' and subjugating them to non-thinking.
The new Indian panoptic dystopia is devising social norms that will soon get internalised; worried parents will tell their children to be afraid — it is better for their safety, rebels will get silenced, their peers will learn that speaking out is not very good for health. Surveillance will get internalised, as the Indian conformist citizen will be dictated by governmentality.
India
Modi also conveyed his 'profound gratitude' to Benjamin Netanyahu, whose long tenure as Israeli prime minister ended on Sunday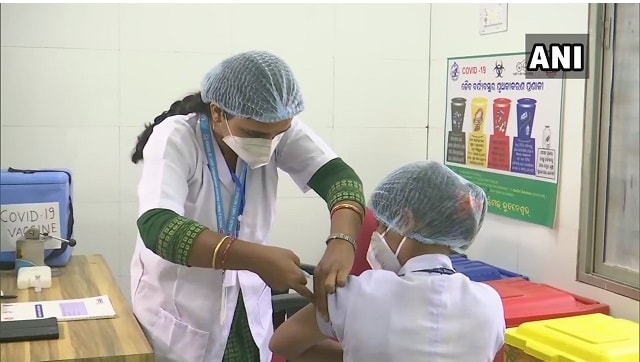 India
Modi also stated that 25 percent of work-related to COVID-19 vaccination with states will now be handled by the Centre. The arrangement will be implemented in the coming two weeks
India
Land degradation affects over two-thirds of the world today and if left unchecked, it will erode the very foundations of our societies, economies, food security, health, safety and quality of life, said Modi