Militants' bid to rob Jammu and Kashmir Bank foiled in Anantnag, one arrested
Security forces foiled an attempt by militants to rob a bank in Anantnag district of Kashmir and arrested one ultra on Friday
Srinagar: Security forces foiled an attempt by militants to rob a bank in Anantnag district of Kashmir and arrested one ultra on Friday, police said.
Two armed men entered a branch of Jammu and Kashmir Bank on the Tehsil office premises in Mehandi Kadal in Anantnag this afternoon.
Security personnel deployed there tried to apprehend the militants, but they opened fire, a police official said.
He said a CRPF head constable sustained bullet injury in his right hand.
One of the militants, who was carrying a weapon, managed to escape.
However, his accomplice was apprehended by police and CRPF personnel, the official said, adding he has been identified as Muneeb Ahmad Malla, a resident of Reshipora in Shopian district.
Further details were awaited, the official said.
India
As per the Jammu and Kashmir Police, approximately 5 kilograms of explosives have been recovered from the drone.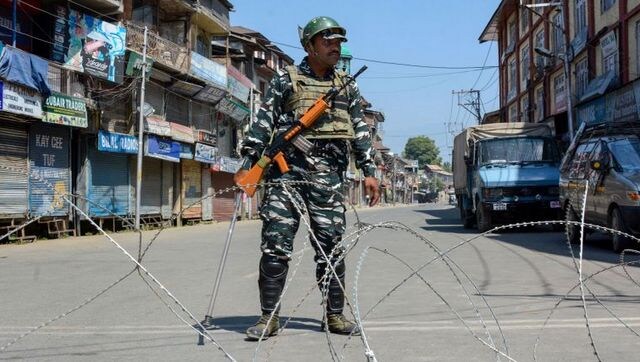 India
Kashmiri Shia politician Ruhullah Mehdi said if the Friday prayers and other major religious functions continue to be banned in wake of COVID-19 pandemic and 'this particular procession suddenly encouraged in isolation, I see nefarious designs behind it'
India
Seven persons were dead and 17 others injured after Honzar village in Dacchan tehsil was hit by flash floods triggered by the cloudburst in the early hours of 28 July, that damaged 21 houses, 21 cowsheds, a ration depot, a bridge and a mosque.