Mike Pence to visit India soon, says US-India ties have 'never looked brighter'
Mike Pence said the US' relationship with India is one of the most important strategic relationships in the 21st century. '
Washington: Vice President Mike Pence has said he is planning to visit India soon and asserted that the Indo-US partnership has never looked brighter with the best days for the two nations yet to come.
Describing Prime Minister Narendra Modi's meeting with US President Donald Trump as "historic and productive", Pence said, "Today I say with confidence that our friendship would grow and deepen."
Addressing the top business executives of the United States, Pence appeared to be very enthusiastic about the future of the ties between the US and India, which he said can work together for the development, peace and prosperity of the two countries and the world.
Pence was addressing the 42nd annual gala of the US-India Business Council (USIBC), the top industry advocacy body of American businesses having a footprint in India.
Recollecting Trump's remarks at the Rose Garden in White House on Tuesday, Pence said, "India has a true friend at the White House" and so do all the businesses that have gathered at the event.
"This is an exciting time between the US and India. As President Trump said, the future of our partnership has never looked brighter," Pence said on Tuesday.
Pence also had a one-on-one meeting with Modi at the White House on Monday. Pence, who had earlier been the governor of Indiana, told the business executives that Modi told him that "India-Ana means coming to India", with the comment drawing a laud applause from the audience.
Pence said he has accepted the prime minister's invitation to visit India. "I was very humbled when the Prime Minister Modi extended a personal invitation to me to represent the United States. And we're already making plans to take it up on his invitation," Pence said.
When he was the governor of Indiana, Pence said, he had plans to take a business delegation to India, which he could not do because of the last year's general elections.
But now, he said he was hoping to visit India soon. "The bottom line is that the United States and India can deepen our commercial bond in many industries and areas," he said.
Pence said the US' relationship with India is one of the most important strategic relationships in the 21st century. "Our two great nations are bound by friendship, by commerce, as partners in the fight against terrorism, and as brother-and-sister in the cause of freedom and our commitment to democracy — and today, I say with confidence – under the leadership of President Donald Trump, our friendship will grow deeper and our partnership will grow stronger — for the
benefit of both our nations, and all our people," Pence said.
With Trump taking so many steps to improve the business climate in the US, Pence said the truth is that these actions will give Indian companies record opportunities to invest in America.
"I am confident — that with your help, and with the commitment that President Trump and Prime Minister Modi renewed on Wednesday — we will usher in a new era of jobs, opportunity, and prosperity — for both our countries, and for all our people," Pence said.
He also praised several Indian companies for creating tens and thousands of jobs in America. Pence mentioned several Indian companies including Wipro, Infosys and Spicejet.
"Thanks to the companies represented in this room, the trade relationship between the United States and India is flourishing. It's remarkable to think that not even 20 years ago, two-way trade between our nations was less than $20 billion per year. But by the end of last year, it had grown by more than 500 percent to an annual $115 billion," he said.
"On the other side of the ledger, Indian businesses I'm glad to report are investing in America at an unprecedented rate. For instance: Earlier this year, Infosys announced it would hire 10,000 new American workers at four US-based technology centers, one of which will be in my home state of Indiana. And we thank you for investing and believing in America," Pence said.
"Our heartfelt appreciation to all the businesses represented here for your investment in our nation's future.  Yet the truth is the United States and India we believe have only scratched the surface when it comes to bilateral investment and trade," he said.
"On Tuesday, President Trump and Prime Minister Modi committed to expanding and balancing our trade relationship in the years ahead," the vice president said. India is projected to become the world's third-largest market for planes and passengers, he noted.
"American companies are already providing airport infrastructure and the airplanes themselves. I just had the chance to meet with the CEO of SpiceJet who just last week placed an order for 40 brand new Boeing jets, on top of 100 new jets it ordered earlier this year," he said.
"I know that American companies are going to continue to give India's aviation industry the wings it needs to soar.  And let me just take the opportunity, as the President did on Tuesday, to say thank you to SpiceJet for investing and believing in American workers and American businesses," Pence said.
Energy, he said, was another area for a more robust partnership. "India boasts the world's fastest-growing economy. But it can't continue without energy, and American producers and grid developers are the best-suited to provide it. From liquefied natural gas, to nuclear power, to clean coal, to everything in between, American energy and American expertise can help power India's future," he said.
India
Congratulating the people of Telangana, the prime minister said that the temple showcases the outstanding craftsmanship of great Kakatiya dynasty
India
In its statement, the Prime Minister's Office said e-RUPI is a cashless and contactless instrument for digital payment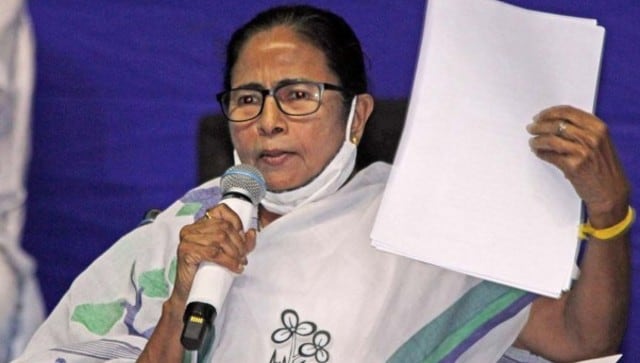 Politics
All this in the backdrop of #AbkiBaarDidiSarkar trending on Twitter, thus further fuelling rumours about a United Front.