Mehbooba Mufti calls for dialogue with Pakistan, finds little support in country plagued by terrorist attacks
Jammu and Kashmir chief minister Mehbooba Mufti's call for dialogue with Pakistan was bound to draw reaction and many stepped up to respond to her words.
Picking a peculiar time to promote peace, Jammu and Kashmir chief minister Mehbooba Mufti called for dialogue with Pakistan on Monday even as multiple attacks on the armed forces took place in the state. Even as she predicted attacks on herself by news anchors, Mufti insisted that it didn't matter as the people of the state are suffering.
The statement was in keeping with her earlier stance as while her ruling alliance partners in the BJP advocate a hardline approach and want to tell Pakistan that enough is enough, Mufti has consistently followed the peace-driven approach.
The statement however was bound to draw reaction and many stepped up to respond to her words.
Ram Madhav of the BJP told CNN-News18 that terrorism and talks cannot happen together and terrorism must end. However he said that India never shied away from talks.
Ravinder Raina, the BJP MLA for Nowshera-Sunderbani constituency told NDTV that while dialogue is always welcome, Pakistan's conduct makes it difficult. He pointed to the overtures made by the Atal Bihari Vajpayee and the Narendra Modi governments in response to which Pakistan only mounted further attacks. He asked who will take guarantee of Pakistan's conduct.
The Congress too found the possibility of talks to be unlikely at this time. Congress spokesperson Abhishek Manu Singhvi said the "present context of bloodshed" is not a suitable time, while rapping the Central and state governments' "failure" to stop attacks. "Present context of bloodshed is hardly an apposite ambience for dialogue. Neither state nor Central government has been able to prevent wanton killings. The nation is a helpless spectator to martyrdom of our brave soldiers," he said.
Columnist Tavleen Singh seemingly found the idea ridiculous as she questions with whom the dialogue would take place.
Dialogue with whom? The Generals? The jihadists? Political leaders who survive if the military allows them to? It might be time for Mehbooba Mufti talk a bit more to Kashmiris instead. https://t.co/TWWac6oglu

— Tavleen Singh (@tavleen_singh) February 13, 2018
Mufti however did find support in National Conference (NC) general secretary and MLA Ali Mohammad Sagar who said she was right in saying that those who talk about dialogue are dubbed as 'anti-national', which is wrong, reported Daily Excelsior. "She endorsed the statement of (NC president) Farooq Abdullah and (NC working president) Omar Abdullah that dialogue is the way forward and nothing will be achieved by killings, operations and crackdowns. It is the stand and agenda of the party that dialogue holds the key for honourable solution of Kashmir issue," he said.
With inputs from agencies
World
The World Economic Outlook (WEO), which was released by the IMF earlier this week, has said that the growth of the global economy is projected to decline from an estimated 3.4% in 2022 to 2.9% this year. It has then been predicted to improve to 3.1% in 2024
World
The move came days after the Pakistan Telecom Authority degraded Wikipedia services for 48 hours, threatening to block it if the content deemed 'blasphemous' was not deleted.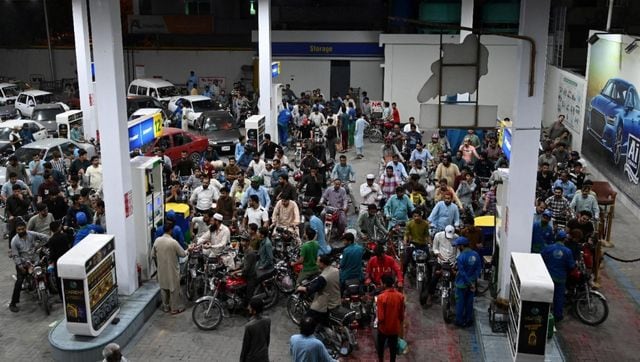 World
IMF team would be in Islamabad from 31 January to 9 February to hold talks with the officials over the implementation of its conditions attached with the assistance package