Mega heat wave kills over 1,400 with majority in Andhra Pradesh, Telangana: The bad news is it will get worse
While other states continue to also witness soaring temperatures, the death toll due to the heat wave hasn't been as high.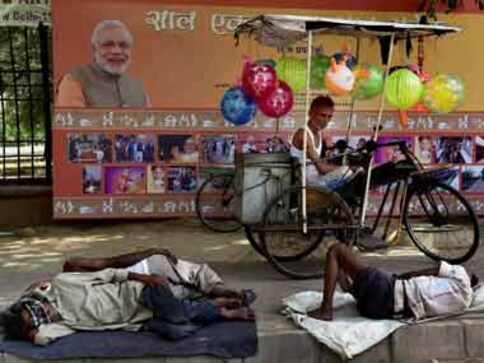 Oral salts are available at railway stations, water is being distributed in public places and emergency medical camps are now being set up Andhra Pradesh. It's a belated response to the international media spotlight on the spiking death toll due to the heat across states in India.
The death toll due to intense heat wave sweeping across many parts of the country continued to mount and reached 1,412 on Wednesday, with only Andhra Pradesh and Telangana accounting for 1,360 deaths.
As per the latest figures, the toll due to heat wave in Andhra Pradesh stood 1,020 while it was 340 in Telangana. While 168 deaths were reported in Andhra Pradesh since Tuesday, 74 deaths were reported since Tuesday, PTI report said.
The meteorological department has predicted that heat wave conditions will continue to prevail in some parts of Andhra Pradesh in the coming days.
The state government for now has announced payment of Rs 1 lakh to the next of kin of all people killed in the heat wave. Andhra Pradesh Deputy Chief Minister said that the state government has also issued an alert to doctors to be ready to provide medical assistance to the heat wave-affected people.
The Times of India reported that the state governments in Telangana and Andhra Pradesh have launched campaigns in villages asking them to wear light clothes, not step out of their homes between 9 and 4 pm unless absolutely necessary. In addition to this, the government is making oral rehydration salts and intravenous fluids available at bus and railway stations to supply to dehydrated passengers.
Other states continue to also witness soaring temperatures. But in states like Odisha, Punjab, Haryana, Madhya Pradesh, Gujarat and Uttar Pradesh the death toll hasn't been as high.
But as Firstpost's G Pramod Kumar pointed out in an earlier piece, the problem also lies in the fact that India just doesn't have a plan to deal with heat waves. The National Disaster Management Authority has only a set of do's and don'ts, and state governments are reluctant to enforce laws that regulate work in sectors that make people more prone to heat-based injuries and death.
This year, as well, there's no sign of a plan in place. Current remedial measures were taken long after the death toll has climbed to a number one would associate with a natural calamity. Emergency medical camps are temporary measures  and there's no guarantee they will be in place next year.
A proactive approach is a must now that experts say that heat waves are here to stay. A study quoted widely in news reports -- titled 'Climate change scenarios for Hyderabad: Integrating uncertainties and consolidation' and published by the Potsdam Institute for Climate Impact Research -- states that  if the rate of carbon dioxide emissions remains high during the coming century the number of heat waves will increase by up to 40 more days in a year.
India is already in the top three nations when it comes to carbon dioxide emissions and as it chases higher industrial growth it will only rise. The Andhra Pradesh and Telangana governments are unlikely to curb traditional sources of carbon dioxide emissions like industry and vehicles as they aim for higher economic growth and what this will mean is that the number of days the states will experience extremely hot days and heat waves is only going to increase in the years to come.
None of this is good news for Hyderabad or other parts of the country which are experience extreme heat.
"On account of 0.8 degree warming during the past hundred years, one must expect more heat waves even without an El Nino. El Nino will increase the atmospheric temperature and hence add to the problems created by global warming," J Srinivasan, who heads the Divecha Centre for Climate Change at Indian Institute of Science was quoted as telling the IBTimes UK.
The Potsdam Institute's study also predicts that Hyderabad will see a higher number of extremely rainy days. The state government though probably already has a plan in place to tackle that though given flooding and water logging would have taken place in the past.
The state governments may not be able to exercise great control over CO2 emissions, but they can take better care of their citizens. While the government cannot force people to stay in their homes, but it can and should ensure safe working conditions. Changing work hours is one option. Another is treating measures such as rehydrating pills and water distribution not as emergency measures but as standard policy during the summer months. At the very least, citizens should not be losing their lives simply because they can't get out of the sun.
Editor's note: This article has been updated to reflect the latest death toll
Explainers
The 15-year-old, who was abused by a paedophile two years ago, took his own life after state media controlled by the Ruling Law and Justice party revealed some details about the case. The state outlet also accused the Opposition party of attempting to cover up the case
Explainers
The research conducted by scientists in Australia and China found that more than 99 per cent of people around the world are exposed to levels PM2.5 that the WHO defines as unhealthy. East Asia, South Asia and North Africa are worst affected while New Zealand and Australia face the lowest threat
Explainers
Taiwan on Tuesday unveiled six drones developed by the military-run National Chung-Shan Institute of Science and Technology. The self-ruled island, which lives under constant threat of an invasion by China, said UAVs are the key to its 'asymmetric warfare' strategy