Marathwada's drought: In the midst of severe economic downturn, private water sellers reap profits in Latur
The current drought in Marathwada is being compared to the historic drought of 1972, of which some of the town's older residents have vivid memories
Latur: A city with a population of five lakh, Latur offers a peek into a possible dystopian future for the rest of India. In the middle of the most severe drought of the past half century, everything here revolves around water.  Social gatherings, family outings, VIP visits and administrative meetings are all connected in some way to water scarcity and ways to address it. Unless a solution to the water problem is found, what is happening in Latur could become the norm in the rest of India.
In Latur, where almost every sector is reeling under recession, the business of selling water is booming. The severe water scarcity has created an opportunity for profiteers to cash in on the crisis and sell water at exorbitant rates.
Supplying water gives the best return on investment, far greater than cultivating cash crops or starting an industrial unit. "People with access to water find it more profitable to sell it, rather than use it for any other purpose," Ravindra Jagtap, a journalist who runs a news service covering Latur, said during an interview with Firstpost.
As per Jagtap's estimates, the cost of pumping 6,000 litres of water from a borewell in a rural area is around Rs 50, as the agricultural meters are subsidised. The borewell owners sell the water to a supplier for Rs 400, making a profit of 800 percent. The cost of a water tanker triples to Rs 1,200 by the time it is sold in Latur town.
Jagtap says around 600 tankers of different capacities operate in Latur town. A rough calculation suggests that if each tanker makes five trips a day and charges Rs 800 per trip then the turnover of the "water economy" is Rs 24 lakh per day.
Around 70 government tankers have been pressed into service to supply water, District Collector Pandurang Pole said in an interview. When asked whether the district administration was regulating the private water business he said, "We have told them to supply water at a reasonable rate." But others with whom Firstpost spoke seemed sceptical about the government being able to regulate the water industry.
The bottled water business is just as lucrative. According to the estimates of a local businessman, the turnover may be around Rs 3.75 lakh daily. And these are just conservative estimates.
It's anybody's guess what the real numbers are. For one, the demand for water has spiked in the last two months even as water sources have shrunk, leaving everyone guessing about the real volume of water being transported. Secondly, water is a precious commodity and much of the trade is part of the grey economy, with people reluctant to reveal the true figures.
Pramod Mundhra, the promoter of Mundhra foods, is one of the largest players in the bottled water business. The company's Sunrich brand of mineral water is marketed within a 50 km radius around Latur. He has a bottling plant in the MIDC industrial area of Latur, with a polymers unit in the same compound to supply the caps and bottles.
Mundhra said the company bottles around 18,000-20,000 litres of water and ships 15,000 boxes (each box containing 12 one-litre bottles) each day. In an interview, Mundhra claimed that the company sells a one-litre bottle of mineral water for Rs seven-eight to retailers, who in turn resell it for Rs 15. "It's the retailers who make most of the profits," he said. When pressed, he claimed that his cost for purchasing water came to Rs 2,000 per 10,000 litres (20 paisa per litre)
With water being such a precious commodity, a substantial part of the family budget is set aside to purchase it. Around 20-30 percent of the monthly budget is spent on buying water for drinking and daily use, estimates Kedar Rasure, a local businessman. An average family in Latur earns around Rs 10,000 he said.
Compare this to the Rs 250 that a family living in a middle class cooperative housing society in Mumbai pays per month as water dues.
The current drought in Marathwada is being compared to the historic drought of 1972, of which some of the town's older residents have vivid memories. In Latur city every third vehicle is a water carrier, points out Atul Deulgaonkar, a journalist who has written extensively on environmental issues.
After three years of drought, the demand for water has skyrocketed while the supply has shrunk. Water availability per capita in Marathwada is the lowest among all the regions of Maharashtra at 438 cubic meters per person, compared to 985 in Vidarbha and 3,980 in Konkan, according to figures quoted in a state government report on Balanced Regional Development.
The cost of buying 6,000 litres of water from a tanker has climbed 300 percent in four months, from Rs 400 to Rs 1,200. Jagtap estimates that by May it will be Rs 2,500.
More than the economics, it is the social impact of water tankers in urban and rural Marathwada that is most striking to a visitor. From rent agreements to social status, the ubiquitous water tanker has permeated every aspect of life.
"House owners and tenants all over the town arrive at a basic understanding before getting into an agreement. Apart from the house rent, there is an additional charge for the tanker water as and when needed," Lalasaheb Agle, a Beed-based social activist says.
A person's social status is determined by the storage capacity of the tank they have. The more affluent have 10,000 litre tanks, while the less fortunate have to make do with 100 litres.
In rural areas, the arrival of a water tanker is like the beginning of a "war", say residents of Rahatgaon village in Paithan taluka of Aurangabad district. Each family has a person dedicated to "tanker duty" — alerting others when the tanker arrives. All able-bodied members rush out with buckets or whatever they can lay their hands on. The crush around the tanker is hazardous and fights often break out.
Of the 188 revenue villages in Paithan taluka, 60 percent water are supplied by tankers, Kishore Deshmukh, tehsildar of Paithan said in an interview. Currently, 136 tankers per day make 274 trips to supply water. "By May, it will increase to 200 tankers and 30-40 more villages will be added to the list," Deshmukh said. "Ninety percent of the villages will be bone dry."
With inputs from Neerad Pandharipande
This is the second segment of a 13-part series on Marathwada's drought. Read the first part here: A crisis of the region's own making
India
The incident took place on 17 September when the woman was selling cigarettes near a rickshaw stand located close to the Bhayander railway station
Explainers
The Maharashtra minority development department headed by Chief Minister Eknath Shinde has tasked the Tata Institute of Social Sciences (TISS) with conducting a study on the social, economic, and educational development of the minority community in 56 cities that have a 'substantial' Muslim populati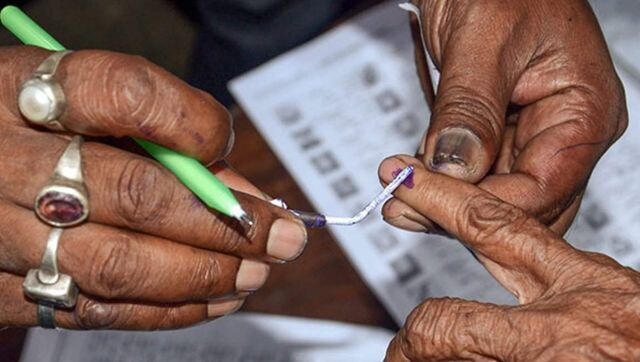 India
Bypolls will be held in two constituencies of Bihar, and one each in Maharashtra, Haryana, Telangana, Uttar Pradesh and Odisha