State transport bus services have been suspended as tensions continue to prevail in the Maharashtra sugarcane-farmer-belt. Sporadic incidents have been reported in a number of areas including Sangli, which is the epicentre of the agitation, and Kohlapur, with farmers reportedly blocking the state highways and targeting police forces and vehicles.
Violent protests have been reported from Kohlapur, with CNN-IBN reporting that a police vehicle was torched in the Karvir area of the district today.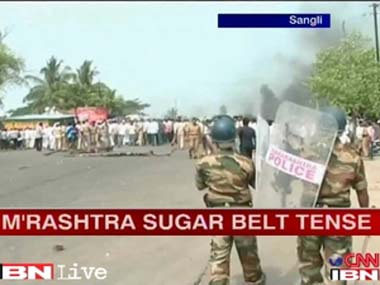 The fresh violence comes despite the efforts of Chief Minister Prithviraj Chavan to hold talks with one of the farmers organisations, who have been demanding higher prices for sugarcane since last week.
The Times of India reported that although Chavan held talks with the leaders of farmers organisation Shetkari Sanghatana on Tuesday, they told reporters the meeting was inconclusive and that the farmers would continue with the agitation. "We asked the CM to implement the C Rangarajan committee recommendations. The CM agreed to the same and assured us that he would hold talks with the central government in this regard. However there was no concrete solution on sugarcane price. Hence we will continue our agitation" one of the leaders said.
The talks with the Shetkari Sanghatana came even as Raju Shetti, MP and leader of the Swabhimani Shetkari Sanghatana, a second farmers group at the forefront of agitations, was arrested on Monday.
The arrest led to large scale violence, as farmers set fire to two state transport buses and a police jeep in Pune district. The agitations also led to two deaths: One farmer was killed in police firing in Sangli, while in Kohlapur, another farmer was killed when a truck ran over him during an agitation.
India Against Corruption activist Arvind Kejriwal who seems to be at the forefront of every protest agitation since his decision to go political, has unsurprisingly got involved in this one as well. The activist turned politician tweeted on Tuesday that he would meet the families of the farmers who were killed on Monday, and today tweeted that the low prices for sugarcane were purely because government ministers owned sugar mills.
https://twitter.com/ArvindKejriwal7/status/268595400703868928
https://twitter.com/ArvindKejriwal7/status/268595694732972032
Updated Date: Nov 14, 2012 13:06 PM