Maharashtra reports 855 farmer suicides in January to April 2017
Maharashtra reported 855 cases of farmer suicides during the January-April period of this year against 1,023 cases in the year-ago period, Parliament was informed today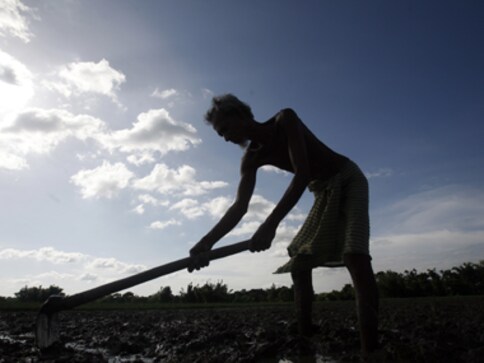 New Delhi: Maharashtra reported 855 cases of farmer suicides during the January-April period of this year against 1,023 cases in the year-ago period, Parliament was informed today.
"The answer to unfortunate instances of farmers' suicides lies in improving their welfare," Union Agriculture minister Radha Mohan Singh said in the Rajya Sabha.
With this aim, the central government has adopted a strategy for enhancing farmers' income by making farming more viable and generate profits for farmers on a sustainable basis, he said in a written reply.
Accordingly, the government is realigning its interventions to move from purely production-centric to farmers' income-centric platform, he added.
Responding to a separate query on number of farmer suicides in Maharashtra, junior agriculture minister Parshottam Rupala said that the state has reported 855 cases of suicides during January-April of 2017, in comparison to 1,023 cases of farmers suicides in the year-ago period.
To address the issue of farmer suicides, Union Health Ministry has asked all states, including Maharashtra, to prepare a detailed action plan, he said in the Upper House. The states have been asked to duly analyse districts wherein cases of farmers suicides are coming and submit a report to the ministry, he said.
Highlighting steps taken by the Maharashtra government to prevent farmers from committing suicide, Rupala said that the state is implementing a pilot project in Yavatmal and Osmandabad districts of Amravati and Aurangabad division. It has released funds to the tune of Rs 34.19 crore in 2015-16 and Rs 12.50 in 2016-17 to these districts for implementation of the 'Baliraja Chetana Abhiyan'.
Farmers counsel is being conducted through a programme by public health department in the state, he added.
Recently, the state announced a loan waiver scheme for farmers. That apart, the central government is also supporting a programme on mental health in 444 districts across the country under the National Mental Health Programme.
The District Mental Health Programmme has been tweaked to provide suicide prevention services, work place stress management, life skills training and counselling among others, the minister said and added the research activity is also supported, he added.
Politics
Veteran leader and former Union Minister Kapil Sibal, in a surprise announcement, said that he had resigned from the Congress, as he filed his nomination for Rajya Sabha. He's the fifth big name to leave the party after Sunil Jakhar, Hardik Patel, Ashwani Kumar, and RPN Singh
Politics
Narendra Modi first entered Parliament in 2014 to much pomp. Be it his speeches or his witty remarks, when the prime minister is in attendance, it comes with some bit of drama
India
The weather department has issued a yellow alert and has forecast partly cloudy skies with light rain or thundershower along with gusty winds at the speed of 30-40 kmph. Maximum and minimum temperatures are likely to settle around 34 and 19 degrees Celsius