LoC firing: Pak attacks 13 Indian Army posts, BSF jawan injured
A Border Security Force trooper was wounded in firing by Pakistani soldiers in Kanachak sector of Jammu district on the international border, Indian officials said on Sunday.
Srinagar/Islamabad: A Border Security Force (BSF) trooper was wounded in firing by Pakistani soldiers in Kanachak sector of Jammu district on the international border, Indian officials said on Sunday, while the Pakistan foreign office accused Indian troopers of resorting to unprovoked firing in the Sialkot sector.
Pawan Kumar, in his early 20s, was shot in his chest around 7 am on Sunday. He was deployed on an observation tower 200 metres from the border, a BSF officer said in Srinagar.
The BSF personnel fired at Pakistani soldiers in retaliation, he said.
On Sunday, the ceasefire was violated by Pakistani forces in Mendhar area of Poonch. Ten Indian Army posts, including the ones in Langot, Forward Balakot and Dera Basi, came under fire at around 11.30 am.
Later in the day, firing was reported around 10 pm in Degwar area of Poonch, where three Indian Army posts - Noorkot, Nakarkot, Mumtaz - were targeted, CNN-IBN reported.
"Pakistan Rangers resorted to sniper fire at around 0735 hrs at forward BOP post, Alfa Machal, in Kana Chak sector, barely 25 km from here," The Times of India quotes a spokesperson as saying.
"The BSF retaliated and in the exchange of fire, a jawan — identified as Pawan Kumar of 122 Battalion — was seriously injured. He was shifted to the Government Medical College and Hospital in Jammu," the spokesperson added.
The jawan received bullet injuries in his chest and spinal cord and has been referred to AIIMS in Delhi.
The incident, coming less than a week after the killing of five Indian Army soldiers in an ambush at the Line of Control (LoC) in Jammu and Kashmir, is the third violation of the ceasefire agreement by Pakistan in the last 48 hours.
In Islamabad, the Pakistani foreign office, however, said Indian troops fired at its paramilitary forces along the LoC in the Kashmir region.
"Indian border security forces resorted to unprovoked firing upon Pakistan Rangers (paramilitary force) in the Sialkot sector this morning (Sunday)," Xinhua quoted Pakistani Foreign Office spokesman Aizaz Ahmad Chaudhry as saying in a statement.
Pakistani forces "responded with restraint and responsibility", Chaudhry said.
No one was injured in the incident of firing, he said.
Meanwhile, BSF jawan Ram Niwas Meena, who was injured in the 5 August attack, has died at AIIMS in New Delhi.
Meena who was injured along the LoC died at 12:30 am due to multi-organ failure and excessive bleeding, doctors said.
With IANS inputs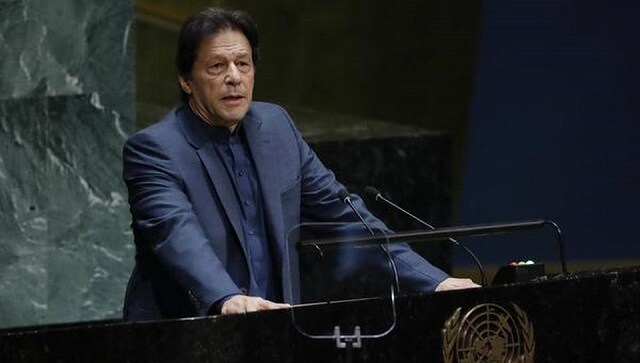 World
In a weekend interview on live television, Oxford-educated Khan said an increase in rapes indicated the "consequences in any society where vulgarity is on the rise"
India
Pakistan's foreign minister Shah Mahmood Qureshi asserted that there can be no normalisation of ties until New Delhi reverses its decision to revoke the special status of Jammu and Kashmir
Sports
Pakistan Hockey Federation officials will be taking up the issue of resuming bilateral series against India at neutral venues on the sidelines of the 47th International Hockey Federation (FIH) Statutory Congress.