Lalu Prasad Yadav's wife, son, business associates named in FIR after CBI raids RJD chief's properties
The CBI FIR named 8 entities including Lalu Prasad Yadav, his wife Rabri Devi, son Tejashwi Prasad Yadav and PK Goel former managing director of IRCTC as the accused.
In a move that spells fresh trouble for Rashtriya Janata Dal (RJD) chief and former Bihar chief minister Lalu Prasad Yadav, the Central Bureau of Investigation (CBI) raided his properties in 12 places, including Gurugram, New Delhi, Ranchi and Puri, and his house in Patna in connection with a fresh case of alleged irregularities in awarding tenders for maintenance of hotels in Ranchi and Puri.
The CBI FIR, a copy of which was procured by ANI, named eight entities, including Lalu, his wife Rabri Devi, son Tejashwi Prasad Yadav, and former managing director of IRCTC PK Goel as the accused.
The FIR also included Sarla Gupta, wife of Yadav's confidante, Prem Chand Gupta, a former Union corporate affairs minister.
The list of accused also included Vijay Kocchar and his brother Vinay Kochhar, both of whom are directors of Sujata Hotels Private Limited and proprietors of Hotel Chalukya.
During the press briefing, CBI additional Director Rakesh Asthana said that ample proof of alleged irregularities were found in the privatisation of two Indian Railways hotels to register a case. The BNR Hotels are heritage hotels of the Indian Railways which were taken over by IRCTC from the public utility earlier in 2006.
However, the hotels were later transferred to M/s Sujata private limited firm owned by Sarla Gupta, for maintenance and upkeep. The tenders were allegedly transferred in disregard of the set guidelines. Asthana also said that another tract of land was transferred to the Sarla's firm in western Patna at rates, considerably less than the active circle prices at the time.
It also mentioned LARA Projects LLP as an accused in the case. LARA (acronym for Lalu-Rabri) Projects LLP — a company in which Rabri Devi and her two sons are shareholders and directors — owns prime land in Danapur where Bihar's "biggest shopping mall" worth Rs 500 crore is coming up.
Here is a copy of the CBI FIR:
ANI EXCLUSIVE: CBI FIR copy in Railway hotel tenders case, names Lalu Yadav, wife Rabri,son Tejaswi and others pic.twitter.com/hbLcGiKCuv

— ANI (@ANI_news) July 7, 2017
India
The court granted bail to Rabri and Tejashwi Yadav in the IRCTC scam case on a personal bond of Rs 1 lakh and a surety of a like amount. However, the regular bail was not granted to the accused in the ED case after the agency sought time to file a reply to the bail applications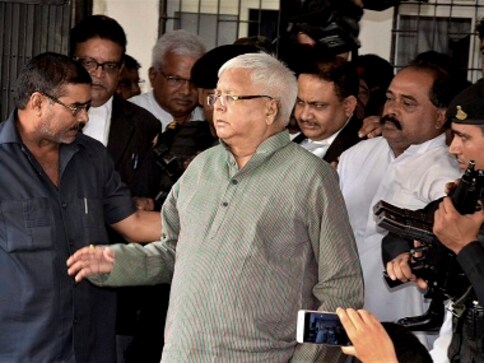 India
The CBI on Monday filed a charge sheet against former minister Lalu Prasad Yadav and others in connection with alleged corruption in handing out a management contract for two IRCTC hotels to a private company.
India
The CBI on Tuesday issued fresh summons to RJD leader Lalu Prasad Yadav and his son Tejashwi to appear for questioning on 3 and 4 October respectively.