Ladakh's innovator Sonam Wangchuk toils for a visionary project to reverse climate change
This is a story of dedication and resilience to bounce back after nasty knocks: Sonam Wangchuk, the Ladakh-based innovator and educationist, has initiated plans for a huge, work-oriented, job-generating and work-sustained new university.
This is a story of dedication and resilience to bounce back after nasty knocks: Sonam Wangchuk, the Ladakh-based innovator and educationist, has initiated plans for a huge, work-oriented, job-generating and work-sustained new university.
It would have been an ambitious vision even for the one born with a silver spoon. But for the one whose life has been a roller-coaster ride, this step is amazing.
Wangchuk's vision is as global as it is local: the place will regenerate glaciers in its vicinity — which is sometimes called 'the third pole' — in order to reverse climate change.
It will aim for 'zero waste', not just for sustainability but to 'inculcate a culture of zero waste' among its students. 'Please live simply in the cities so that we can simply live' in the mountains, he urged his audience while launching a fund-raising drive in New Delhi on Friday.
The motive to build the university is to initiate an environment-recovery-cum-democracy-inculcating-cum-employment-generating-cum-town-sustaining movement. Wangchuk hopes a town similar to Leh will grow in the area around the university, where his innovative ice stupas will turn from desert to greenery.
Ten days after he won a global prize for innovation, for an ice stupa prototype, he used a public lecture on Friday to launch a fund-raising effort to seed the proposed university and its environs. Having invested his $ 150,000 prize money, which amounts to about a crore of rupees, into the fund, he hopes to raise Rs 50 crore from the public at large.
The Leh Autonomous Hill Development Council (LAHDC) has already allocated 200 acres land for the university, a project of the Students' Educational and Cultural Movement Of Ladakh (SECMOL) which Wangchuk had launched in 1994. He has, in turn, offered the LAHDC a 33 percent stake in the project.
He proposes to install a series of ice stupas above the premises, to provide water during the lean season. He hopes that water would sustain greenery around the university and sustain a bustling university town which has a rugged desert landscape today.
Wangchuk's roller-coaster life
Wangchuk had revolutionised education in Leh district beginning two decades ago. That was a huge task since India's second largest district sprawls across some of the highest inhabited mountains in the world; many hamlets are isolated in the world's most challenging terrain. The district schools often had a failure rate of 85 to 90 percent. Seeing this, Wangchuk had given up his engineering studies and turned to grassroots initiatives to improve schooling. He set up a wonderful little school full of busting energy just above the Indus a little upriver from Leh. Wangchuk's team used mud and other local building materials; innovative design brought warmth during winters and cool during summers without any power-consuming heating. Rather, the south-facing building used solar energy and simple convection. Solar energy even kept the cowshed warm.
Wangchuk quipped at the launch programme that the cows, sheltered in warm cowsheds, gave three times more milk than most cows in Ladakh.
The first qualification to be admitted to the school was unique: the student must have failed certain subjects. Yet, the school turned out some of Ladakh's best achievers – and promoted gender equality and rights.
He emphasised that the school is run by students where they have their own little parliament. The students then elect a leader who allocated responsibilities to other students. The posts of the students are changed every two months. Thus, the school is a little country within a country, he joked.
SECMOL has also tried to empower village communities across the district to take control of their government-run village schools through Village Education Committees (VEC). Gradually, the pass-rate of Ladakh's students saw an upward trend which has now reached 75 percent. However, as it had approached 50 percent, a series of vested interests began to see Wangchuk as a political threat. His visionary VEC scheme was in keeping with the essential concepts of the Panchayati Raj acts which the country had recently adopted. But the venal, self-serving, unwilling-to-be-accountable education system, teachers' associations, and the political-bureaucratic Leviathan hit back around a decade ago.
For a while, Wangchuk had to flee the state in fear for his life and liberty. Now that his grit and never-say-die spirit has brought him into the global limelight, Wangchuk doesn't seem to harbour any resentment. Perhaps the greatest education his movement can give is the art of forgiveness, of positivity and resilience. Of course, global inclusiveness would be a close second.
Find latest and upcoming tech gadgets online on Tech2 Gadgets. Get technology news, gadgets reviews & ratings. Popular gadgets including laptop, tablet and mobile specifications, features, prices, comparison.
India
JKBOSE declared the 2018 10th and 12th class result of Jammu region. The results of the bi-annual exam can check the result on the official website of the board — jkbose.jk.gov.in.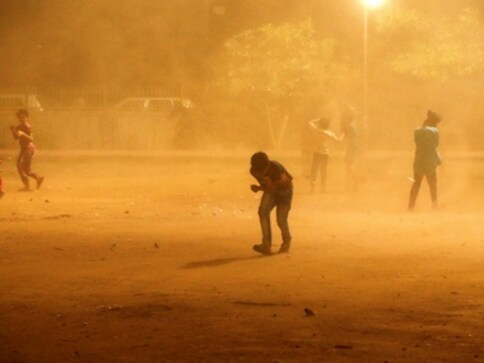 India
The dust storm have caused a decline in temperature during May. Now we have to wait till June to know how the monsoon will be this year.
World
The Magsaysay Award has been conferred upon Sonam Wangchuk for his work in education and science in Ladakh, while Bharat Vatwani has been recognised for his contributions to mental health