Kulbhushan Jadhav case: Congress welcomes ICJ order and hopes govt continues to mount pressure on Pakistan
The Congress welcomed the provisional measure of ICJ on Kulbhushan Jadhav and hoped the government will continue to mount pressure on Pakistan to save the former Navy officer's life
New Delhi: The Congress on Thursday Kulbhushan Jadhav case: Congress welcomes ICJ order and hopes govt continues to mount pressure on Pakistanthe verdict of the International Court of Justice on Kulbhushan Jadhav and hoped the government will continue to mount pressure on Pakistan to implement the decision in order to save the former Navy officer's life and bring him back.
Senior Congress spokesperson Anand Sharma said the people of the country are relieved after the ICJ order as India was left with no other option since Pakistan had disrespected and violated the Vienna Convention.
"It is a matter of great relief for all the people of India. We were worried. The order of the International Court of Justice must be respected by the State of Pakistan...We hope that the Government of India will continue to mount that pressure because it is the first stage. We have to ensure that Jadhav's life is saved and then only when he returns home, we will celebrate. Right now, it is a big relief, and we hope that Pakistan respects that order." He said Pakistan's argument before the ICJ and its refusal to accept its jurisdiction betrays a mindset of disrespect to the Vienna Convention which Pakistan has brazenly violated.
Asked if India moving the ICJ opens a door for Pakistan to raise bilateral issues internationally, the former external affairs minister said he is sure the government would have weighed all options and their pros and cons.
"India was left with no option after Pakistan's disrespect and violation of the Vienna Convention," he said.
Sharma also complimented the Indian legal team led by senior lawyer Harish Salve, saying they argued the case well as India has been able to very clearly convey that this was a case of violation and there was a need for the ICJ to intervene.
"But this is a battle that shall continue," he said, hoping that the international community and the UN puts pressures Pakistan to respect and implement the ICJ's verdict.
The Congress leader said Jadhav was "unfairly" denied consular access or legal assistance and the international community must bring pressure on Pakistan's government and its army.
"The United Nations has to take serious note," he said.
Sharma also said Pakistan's contention before the ICJ that this case was taken to the military tribunal because there was an issue of terrorism, is flawed and is a lie.
He said Jadhav was a civilian who was abducted from Iran, even though he may have served in the defence services prior to his retirement.
"For Pakistan to wipe its face of so many pockmarks of many cases of terrorism, it tried to present it as a justified case of action," he said.
Referring to 26/11 terrorist Ajmal Kasab, Sharma said even in the case of the LeT militants who had come fully armed, attacked the citizens of this country, and killed hundreds including foreigners (in Mumbai), Kasab was not only given a fair trial but in a civilian court of law, and was not denied legal assistance but given all access.
"So Pakistan has no legs to stand upon," he said.
Senior Congress leader Ghulam Nabi Azad also welcomed the ICJ verdict and asked the government to ensure justice is done to Jadhav and he is brought back to India.
"The case against Kulbhushan Jadhav by Pakistan was a sham and was in gross violation of international law as his execution was ordered by a kangaroo court without consular access. It is appreciated that the world court saw reason in the Indian appeal," he said in a statement.
In a major boost to India, the International Court of Justice (ICJ) on Thursday stayed the execution of former naval officer Jadhav who had been sentenced to death by a Pakistani military court on charges of espionage and subversive activities.
"Pakistan shall take all measures at its disposal to ensure that Mr Jadhav is not executed pending the final decision in these proceedings," ICJ President Ronny Abraham said while reading out the verdict.
The UN's highest judicial body, which had earlier provisionally stayed Jadhav's sentence on May 9, also instructed Pakistan to inform it "of all the measures taken in implementation of the present order".
Find latest and upcoming tech gadgets online on Tech2 Gadgets. Get technology news, gadgets reviews & ratings. Popular gadgets including laptop, tablet and mobile specifications, features, prices, comparison.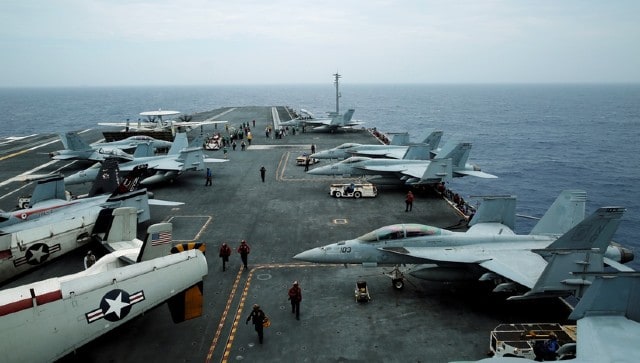 India
The first phase of the Malabar exercise took place in the Bay of Bengal from 3 to 6 November and featured a number of complex drills including anti-submarine and anti-air warfare operations
India
The range of the new land-attack version of the missile has been extended to 400 km from the original 290 km but its speed has been maintained at 2.8 Mach, sources said
World
Recent fighting has left hundreds dead, although a communications blackout in Tigray has made it difficult to assess how the fighting is going