Kudankulam live: 'If govt can't handle garbage, how will it handle nuclear waste?'
Tracking the latest developments from Kudankulam and Idinthakarai where tensions still prevail following a police crackdown on anti-nuclear protestors.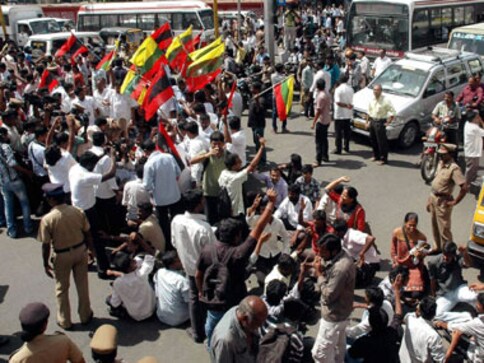 4.45pm: Arundhati Roy expresses solidarity with Kudankulam supporters
"I stand in complete solidarity with the villagers of Idinthakarai who are resisting the fuel loading of the Koodankulam nuclear reactor. I happened to be in Japan in March 2011 when the earthquake damaged the Fukushima reactor. After the disaster, almost every country that uses nuclear energy declared that it would change its policy. Every country, except India.
Our Government has shown itself incapable of even being able to dispose day to day garbage, leave alone industrial effluent or urban sewage. How does it dare to say that it knows how to deal with nuclear waste? And that nuclear reactors in India are safe?
We know how the Government has colluded with Union Carbide (now Dow Chemicals) to ensure that the victims of the Bhopal Gas Leak will never get justice. But no amount of compensation can ever
right a nuclear disaster. I do believe that what is being done in Koodankulam in the name of Development is a crime."
2.31pm: Karunanidhi says Jayalalithaa has made an unpardonable mistake
DMK President M Karunanidhi today has criticised police action taken against Kudankulam protestors and called for the central government to immediately initiate dialogue with the protesters' leaders to find an amicable solution to the stand-off.
Squarely blaming his arch rival AIADMK supremo and Chief Minister J Jayalalithaa for the present situation, he said her government initially "encouraged" the protesters but was now trying to suppress them, aggravating the situation, adding that her refusal to talk to the representatives of the protesters was an "unpardonable" mistake.
Citing a statement by the convenor of the People's Movement Against Nuclear Energy leader SP Udayakumar that the protesters had been let down by the Chief Minister, Karunanidhi said, "This shows how the protest has escalated to this level."
2:00 pm: Police allege PMANE using human shields
The police has alleged that PMANE are using people as shields and they were determined to arrest PMANE's Udayakumar, who is presently in hiding.
As the relay fast continued at Idinthakarai, some advocates staged demonstrations demanding closure of the plant
and blocked road traffic for more than an hour in Tirunelveli town.
With the protests spreading, fishermen at Pamban in Ramanthapuram district held a fast demanding closure of the
plant and condemning the police firing.
Superintendent of Police Vijayendra Bidari accused Udayakumar and his group of "spreading lies and rumours" to
mobilise people and indulge in violence. He said steps had been intensified to arrest those responsible for the violence
on Monday.
Police said more forces from Paramakudi had arrived. PTI
12.00pm: Kejriwal slams Jaya 'terror tactics
IAC activist Arvind Kejriwal who travelled to Kudankulam to express support for the people's agitation against the nuclear power plant has slammed what he has called 'terror tactics' by Jayalalithaa and the Tamil Nadu police.  "Police came and broke idols in the church in Idinthakarai and also urinated on the stage. They destroyed motorcycles and boats: What law gives them the right to destroy property? These are terror tactics by Jayalalithaa - how can she do this to the people who voted for her?", he said, in a media address at the Idinthakarai village which has been the site of a sustained anti-nuclear protest.
In addition to physical intimidation, Kejriwal charged that the people were also being targeted by the law, pointing out that the charges framed against the villagers included that of sedition and attempt to murder. " These unarmed people have been charged under sedition! Everyone in this country is being charged with sedition!", said Kejriwal, who also made a reference to jailed Mumbai cartoonist Aseem Trivedi.
Kejriwal added that he had convinced PMANE convenor Udayakumar not to court arrest, saying that it was imperative that he stayed outside jail. "We are exploring bail options. He is doing a commendable job and needs to stay outside jail", Kejriwal said.
11.06am: Kejriwal meets Udayakumar at secret location
More drama and intrigue! Anti-corruption activist Arvind Kejriwal is reportedly meeting PMANE convenor SP Udaykumar who was whisked away by villagers in an effort to stop him from surrendering to police. Udayakumar had turned up at Idinthakarai and announced he would surrender at 9pm in the presence of a "prominent non-political national leader."
But the emotional protestors said they would not allow the surrender and soon thereafter, Udayakumar was whisked away by his supporters in a boat, leaving others clueless about his whereabouts. A reporter at the location told Firstpost however, that Udhaykumar was believed to be located in a nearby village, and IAC activist Arvind Kejriwal had departed to the as yet unknown location to meet him. The duo are expected to return to Idinthakarai and address the people shortly.
Kejriwal had reportedly convined Udaykumar not to court arrest, saying that he had done nothing to warrant arrest.
10.45am: Villagers complain of police intimidation
Villagers are complaining that police are coming into their homes and conducting searches, pulling their belongings and smashing window panes. One villager said that the window panes in at least 25 houses have been destroyed and that two people were arrested in police efforts to terrorise them.
10.00am: Heavy police presence at Idinthakarai
Tensions still prevail in the town of Idinthakarai near Kundakulam, the venue of a 48-hour hunger strike launched by anti-nuclear protesters, after an evening of high drama which saw villagers whisk away PMANE abductor SP Udaykumar to prevent him from surrendering to police.
Udayakumar had turned up at Idinthakarai and announced he would surrender at 9pm in the presence of a "prominent non-political national leader."
Anti-corruption activist and soon to be politician Arvind Kejriwal had also turned up at Idinthakarai, expressed his solidarity with the protestors, and was believed to have asked Udayakumar, convenor of the People's Movement Against Nuclear Energy (PMANE), not to surrender.
"I have come here to express solidarity with the struggle of the people. We completely support their issue", he told reporters at the village.
The Kudankulam protests have spread across Tamil Nadu, including Chennai and Coimbatore. Many are protesting a police crackdown on the villagers that occurred on Monday, which saw the use of baton and tear gas shells. The action saw the death of one fisherman which has further exacerbated anger and tension in the area.
With inputs from agencies
India
A local court on Tuesday issued a Non Bailable Warrant (NBW) against anti-nuclear activist S P Udayakumar, spearheading the movement against Kudankulam Nuclear Power Plant.
India
A 44-year old fisherman was killed when police opened fire at a group of people who clashed with them while blocking a road in Manapad coastal village as the protest spilled to neighbouring Tuticorin District