KJ George booked for DSP's suicide: Abetment to corruption allegations, Congress leader has frequently courted controversy
The CBI on Thursday registered a case of abetment of suicide against Karnataka minister KJ George in connection with the suicide of DSP MK Ganapathy
The CBI on Thursday registered a case of abetment of suicide against Karnataka minister KJ George and two senior state police officials in connection with the death of deputy superintendent of police MK Ganapathy.
Apart from George, who was earlier the state home minister and is now Bengaluru development minister, the additional director general of police (Intelligence) AM Prasad and inspector general of police Pranov Mohanty were also booked by the Central Bureau of Investigation (CBI).
The CBI's move comes after a directive by the Supreme Court on 5 September to probe Ganapathy's death and submit an investigation report within three months.
Ganapathy had hanged himself to death on 7 July, 2016, in the state's Madikeri town, about 250 km to the west of Bengaluru.
In a television interview given hours before his death, Ganapathy had accused George, Prasad and Mohanty of harassment.
George, who is, according to News18, a "super rich politician", owns large tracts of land and some very high-end real estate across Bengaluru. The report added that George has built several software parks, earning tens of crores a month in rent.
Another News18 report said that George, who comes from a modest background in Kerala, rose to power in the 1980s. When the Congress returned to power in 2013, however, George was not a front-ranking leader of the party, the report added.
George's political carrier has always been shrouded in controversy.
IAS officer D K Ravi death case
In July, George had filed a criminal defamation case against Arnab Goswami and Times Now, accusing the channel of falsely accusing him of having a hand in the death of IAS officer DK Ravi in March 2015, said a Deccan Chronicle report.
"A day after the death of Ravi on 16 March, 2015, Goswami ran a false and malicious campaign, between 17-23 March, on his Prime Time Show on Times Now, making defamatory allegation against George, accusing him of having a hand in the death of Ravi, destroying evidence and accusing him of supporting some business groups who he said might benefit from Ravi's death," George's lawyer Ajeesh Kumar was quoted as saying by Deccan Chronicle.
Accusation of receiving bribes
According to The Hindu, Opposition parties in July 2014 had of accused George of receiving bribes for police transfers and postings. Refuting these charges, George had then said there was no substance to the charges. "Neither the chief minister nor I received money for transferring police officers," George was quoted as saying.
BJP leader BS Yeddyurappa in December 2016 had alleged that a "minister in the Siddaramaiah Cabinet" had taken a Rs 500 crore bribe from contractors for the steel flyover project, according to The Hindu. Dismissing the charges, George had said that if the Opposition could prove the allegation, he would not remain in power "even for a minute".
Illegal land deal links
According to The Economic Times, a company directly linked to George had facilitated a land deal in 2006 that the Bengaluru urban district administration had termed illegal in May 2015. The report added that George, with real estate tycoon Jitendra Virwani of the Embassy group, were shareholders in a company which was a "confirming party" in a transaction where a 3.23 acre plot in the Whitefield technology hub was sold to the Prestige group.
With inputs from IANS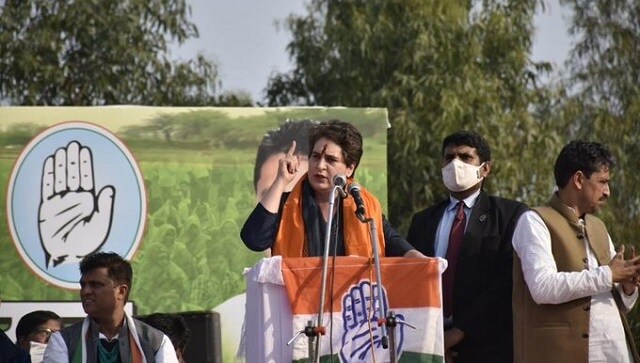 Politics
Her attack on Adityanath came as on this day, last year, the horrific Hathras incident took place in which a young Dalit woman was raped by four men.
Politics
Earlier on Saturday, the home ministry reduced Supriyo's security category from the 'Z' to 'Y' category
Politics
Addressing the foundation day of the All India Mahila Congress, Gandhi said that the ideology of the Congress was completely opposite of the BJP-RSS and only one of the two ideologies can rule the country.