DD scribe's killing in Chhattisgarh opens new frontier in war between India and Naxals, shows Maoists' desperation
The killing of a journalist in Chhattisgarh is a new frontier in the war between Naxalism and the state of India.
The killing of a journalist in Chhattisgarh is a new frontier in the war between Naxalism and the state of India. Unlike Kashmiri militants and North East insurgents, the Maoists in Chhattisgarh have not targeted journalists specifically – except for two instances in the past.
But the killing of Doordarshan cameraperson Achyutananda Sahu on Tuesday morning has brought the horror closer home for journalists – especially for those who visit Maoist-hotbed Bastar on assignments from outside Chhattisgarh.
Besides Sahu, two police personnel — sub-inspector Rudra Pratap and assistant constable Manglu — were killed.
Once it was the ideology of the Left Wing Extremists (LWEs) that differentiated them from other terror groups, as the former never attacked journalists despite criticism against them in the media. The Maoists even today consider themselves intellectually superior and strongly committed to their 'revolutionary' ideology.
But the ideology seems to have been lost. While taking a close look at the conflict zone Bastar, it reminds us of two local journalists: Nemichand Jain and Sai Reddy, who were brutally killed by Maoists in 2013.
While Jain, a correspondent working for local Hindi dailies, was killed at Tongapal in Sukma district in February, Reddy, also a Hindi journalist, was killed at Basaguda in Bijapur district in December.
The Maoists had claimed that the scribes were killed as they were 'police informers' – a justification always given by the LWE cadre whenever they kill an innocent civilian or a tribal villager either in an ambush or during their 'court of law' known as Jan Adalat.
In the case of Sai Reddy, the south regional committee of CPI (Maoist) had issued a statement in December 2013 and justified the killing of the 51-year old senior journalist, alleging that he closely worked with the police to dislodge CPI (Maoist) in south Bastar.
On 27 September 2017, a thirty-second audio clip was released at Bijapur press club, in which a male voice in an alleged conversation threatened to kill journalists who report on Maoist incidents in the jungle. However, the authenticity of the audio clip couldn't be confirmed.
According to Superintendent of Police Dantewada, Abhishek Pallav, and DD's camera assistant Mor Mukut Sharma, the Maoists started firing at Achyutananda Sahu when he along with his crew were moving along the road in Aranpur at Nilawaya forest and shooting as a part of their assignment.
Maoists no different than Taliban
The experts working on LWEs now equate Maoists with the Taliban militants.
"The Maoists gave up their ideology long back. They are no different than Taliban militants and are following their footsteps. Basically, the Maoists are anti-development. They want the local people to remain deprived of education, better health facilities, development and modern amenities, so that they can rule over them," counter-terrorism analyst Anil Kamboj told Firstpost.
"Now, Maoists are targeting journalists as they are writing against them and about their ulterior motives. Anyone questioning Naxals is their enemy," he said.
A surrendered 28-year-old Maoist in an exclusive interview with Firstpost had said, "I think people are gradually realising the lie behind the Maoist ideology of revolution. It's only destruction and killing of innocents. Our tribal population is not gaining anything out of the Naxal movement as we're being used by them for their ulterior motives. Now Maoist leaders have turned extortionists."
An act of desperation
Besides experts, Chhattisgarh government strongly feels that Maoists attacked the Doordarshan crew in desperation, as they were covering a road construction site at Nilawaya forest area – 19 km from Palnar village in Dantewada district.
Protecting construction of roads in volatile areas is one of the biggest challenges for the security forces.
DM Awasthi, special director general (Anti-Naxal Ops), Chhattisgarh Police, said, "Keeping with the government's development agenda, there has been a rapid construction of roads across Bastar in the last three years. This factor, along with pressure from security forces, has pushed Maoists on the backfoot. Today's attack is an act of desperation as the Maoists have been opposing construction of road from Samali to Nilawaya. We've recovered a poster at the incident spot warning that anyone who does anti-people work would be punished with death (Maut ki sazaa dee jaati hai, jan virodhi kaam ke kaaran). Ambush was laid at the spot and they fired at the journalist."
The stretch of road from Dantewada to Jagargunda (in Sukma) has proved to be a killing field. Even in 2017, the Maoists attacked security forces guarding road construction at Bhejji and Burkapal.
Apparently, roads built in Naxal strongholds have emerged as the biggest enemies of the Maoists, after police and security forces. Chhattisgarh has witnessed a large number of incidents where the LWE cadre either killed CRPF jawans guarding road construction or damaged the roads by triggering IED blasts.
The LWEs have been using IEDs to target security forces, their vehicles, road construction workers and to damage the roads built through volatile areas in Bastar division.
In the last few years, maximum casualties of CRPF personnel have been reported in road construction security duties.
There are roads like Injeram-Bhejji road, Dornapal-Jagargunda road, Bijapur-Basaguda road etc that are known as 'khooni sadak' (bloodstained road) as large number of security personnel and construction labourers were killed during the making of these roads. The highest casualties have taken place on the Dornapal-Jagargunda axis in Sukma district.
"Many central security force jawans and policemen were martyred on the 20 km stretch of Injeram-Bhejji road. The construction of the 76 km cement-concrete road from Sukma to Konta remained pending for over a decade, which is now getting completed," inspector general of Chhattisgarh police (Bastar range) Vivekananda said.
Attempt to derail election can't be ruled out
"Today's attack has nothing to do with the upcoming Assembly election in Chhattisgarh. The objective of the attack was not to derail election but oppose road construction," DM Awasthi said.
However, the locals in Bastar are not ready to accept the police's claim.
A fortnight ago, the Maoists issued warnings to boycott polling in Bastar.
On 27 October, the Maoists blew up a Mine Protection Vehicle (MPV) of CRPF in Bijapur that killed four security personnel.
"Road construction has always been a sore point as Maoists are strongly anti-development and don't want any construction of road that connects interior villages with the mainstream. Besides this, the Maoists want to derail the election in Chhattisgarh. They have already issued warnings and asked villagers to boycott polling on 12 November or face consequences. It happened in the past as well," a Bastar-based journalist said on condition of anonymity.
Even the Intelligence Bureau (IB), ahead of the Assembly elections in five states in 2013, had alerted that the Maoists in Chhattisgarh had received training on making human bombs from the LTTE and it could be used to target political leaders during election rallies.
"Ahead of elections, the Maoists create this kind of terror through IED blasts and launch attack on security forces to get media attention and also to assert themselves," added Anil Kamboj, who had led operations against the Naxals in Bastar in the past.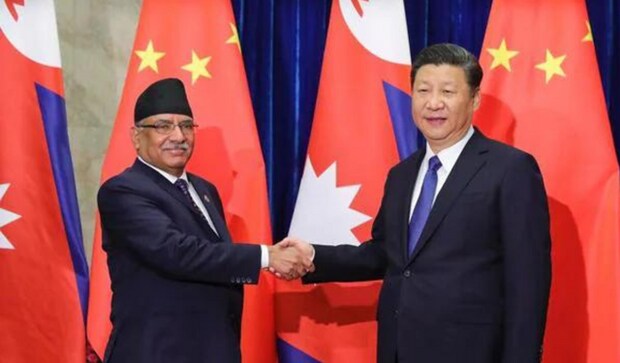 Politics
China's interference has become more apparent in Nepal after the elections held on November 20 and the formation of a government led by Maoist President Pushpa Kamal Dahal 'Prachanda'
India
CRPF officer Prakash Ranjan Mishra has been decorated with a gallantry medal for the eighth time, making him the highest recipient of bravery medals among the Central Armed Police Forces (CAPF)
Opinion
India is the fifth largest economy, ready to play in the big leagues. Those in the big leagues do not like to see a new kid on the block. They will do anything it takes to stop us. And they have their army of activists right inside our borders. This should bother us