Kerala HC stays release of Italian vessel till Monday
The bench said they are not happy with the conditions and it would want to examine all records before releasing the vessel.
Kochi: The Kerala High Court today stayed the release of Italian vessel Enrica Lexie, detained in connection with the killing of two Indian fishermen allegedly by marines aboard the vessel, till Monday.
The order was passed by a division bench comprising Acting Chief Justice Manjula Chellur and Justice V Chidambaresh on a writ appeal filed by relatives of the two deceased fishermen -- Valentine Jelestine and Ajesh Binki.
Justice P S Gopinathan had yesterday ordered the release of the vessel on furnishing a bond of Rs 3 crore on a petition by the ship's owners Dolphin Tankers, besides asking them to
give an undertaking that they would appear before the investigating authorities as and when required.
The bench said "we are not happy with this condition" and said it wanted to examine all records and deferred the case to Monday. The Central and state governments also agreed on this.
The bench asked both the governments why they were not filing appeals. When the court asked what would happen if the bond conditions were violated, Advocate General K P Dandapani said, "We will not be able to get them."
The bench wanted to know why the state should be put to difficulties to prosecute the Italians.
The fishermen were killed when the marines allegedly fired at their fishing boat off Kollam coast on 15 February.
Marines Latore Massimiliano and Salvatore Gironi have been arrested and charged with murder and lodged in the Central Prison in Thiruvananthapuram under judicial remand.
PTI
Find latest and upcoming tech gadgets online on Tech2 Gadgets. Get technology news, gadgets reviews & ratings. Popular gadgets including laptop, tablet and mobile specifications, features, prices, comparison.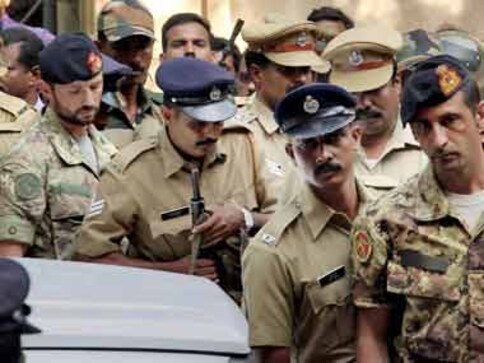 India
The submission of the once belligerent relatives of the two fishermen who were killed by alleged fire from the Italian ship Enrica Lexie, has yet again proven that poverty and faith are our terrible weak spots.
World
New Delhi's failure to stand up to Italy's meddling only validates Rome's perception that India is a banana republic – and the course of justice can indeed be subverted one way or another.
India
A 14-hour search ends with the seizure of guns and documents. Ballistic examination will establish if any of the guns were used in the firing that killed the two Kerala fishermen.