Kerala braces for water scarcity as deficit monsoon worries Pinarayi Vijayan govt
The monsoon is barely over but a poor southwest rainfall has caused worry amongst the authorities who are scrambling for a solution.
This April, Kerala, the land of 44 rivers, received a drought-hit tag from the Central government when the 2016 South West Monsoon was a disappointing one and the North West Monsoon deserted the state totally.
Rivers, ponds, dams and wells dried up, forcing people to stand in long queues to collect drinking water.
Reservoirs and dams were connected through new pipelines to ease water supply situation and an army of water tankers and redesigned water supplying boats were deployed all across the state. And now, just two months after carrying out the tiring work, the state government has been forced to begin this again on a war footing.
The state government has geared up to combat an imminent drinking water crisis as the monsoon has failed to fill the water bodies. With the monsoon rains failing in Kerala and recording a shortfall of 28 percent so far, state Chief Minister Pinarayi Vijayan held an emergency meeting to decide on the course of action needed to conserve water.
The South West Monsoon arrived over Kerala on 30 May. But after initial promise of bountiful rains, there has been a shortfall of 28 percent till 9 August, according to the Kerala regional Met Centre.
In the meeting chaired by the chief minister, three task forces have been formed to ensure that rain water is conserved by repairing the regulators across major rivers in the state.
In a tweet, the chief minister on his personal twitter handle noted that the situation is grim.
"I request all citizens of Kerala to take steps to reduce wastage of water and conserve the available resources," his tweet read.
Wayanad, with a deficit of 59 percent, and Idukki, with a shortfall of 35 percent are the worst hit. The storage level in the reservoirs in Idukki has fallen to 32 percent of their capacity.
Sekhar L Kuriakose, member secretary at State Disaster Management Authority and head scientist, said that convening such meetings can be called as Climate Change Adoption process. "In the previous years, we faced a tough time due to water scarcity. This year, we know that as rains are less we will be again facing a tough time. So, we have initiated plans to be well prepared and cushion the impact," Sekhar told Firstpost.
"One of the three task force committees will focus on rainwater harvesting and conservation. The second one will focus on repair of check-dams and regulators and construction of temporary check-dams while the third one will be devoted to the restoration of canals and ponds and maximising rainwater storage," he said.
Bindhu Suresh, a resident of Thiruvananthapuram said that the news of chief minister convening meetings due to less monsoon rain is worrying them. "Last year, we struggled a lot. I had to wake up early morning and stand in queues to collect water. Sometimes, I had to skip going to my office too to collect water. It was a scary situation. News reports claim that we are going to face a similar or a worse situation than in April. It's frightening," Bindhu who works in a private firm said.
In some parts of the capital city, drinking water scarcity has disrupted supply for 12 continuous days. In 2016, the state had received a deficit of 33.7 percent rains from the South West Monsoon from July to September.
Haritha Keralam Mission vice-chairperson TN Seema said that they are well-prepared to combat the imminent water crisis. "We are focusing on rejuvenating and recharging water bodies across the state. Many rainwater pits were dug to conserve water recharge the wells. During the last few months, we cleaned 16,000 ponds across the states. We are seeing the effect," Seema told Firstpost.
Find latest and upcoming tech gadgets online on Tech2 Gadgets. Get technology news, gadgets reviews & ratings. Popular gadgets including laptop, tablet and mobile specifications, features, prices, comparison.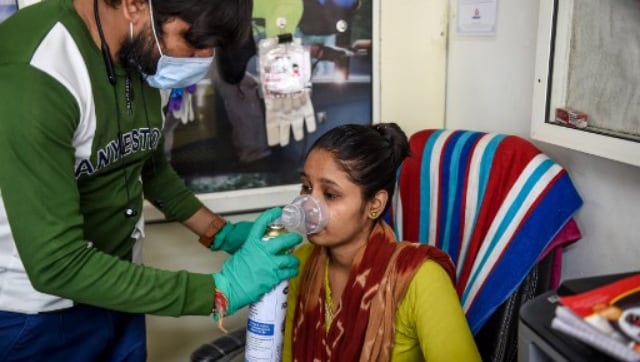 India
With India consistently reporting over 90,000 daily cases of COVID-19 in the past few days, shortages of oxygen are becoming increasingly apparent
World
Biden, 78, who would be the oldest sitting president if elected, has leads ranging from five to eight points in battleground states of Pennsylvania, Wisconsin and Michigan
India
Despite subsidies offered by state government, the capital cost requirement involved in alternatives to crop burning remains high, say experts