Kashmir unrest: Valley remains tense as students protest against security forces' 'excesses'
Thousands of college students on Monday took to the streets of Kashmir to protest the security forces' 'excesses'. On Saturday, as many as 50 students were injured in clashes with local police and paramilitary forces; some were hit by pellets.
Thousands of college students on Monday took to the streets of Kashmir to protest the security forces' 'excesses'. On Saturday, as many as 50 students were injured in clashes with local police and paramilitary forces; some were hit by pellets.
The banned students' union of Kashmir University— the state's oldest university — had given a call for peaceful protests after troops reportedly used force against college students on Saturday in Pulwama district of south Kashmir, 35 kilometres away from Srinagar.
Abdul Hamid, principal, Government Degree College Pulwama, told Firstpost that he begged security forces not to enter the premises, but they barged in.
"I folded my hands in front of them. I asked them not to come inside the college but they did not listen. I told them coming inside would lead to the situation getting out of control, and that is exactly what happened," Hamid said.
The protests in Kashmir turned violent as police attempted to stop the students from marching, using tear gas shells, water canisters and PAVA shells.
"School and college campuses are the only places which used to be safe. Now, the police are firing teargas shells inside here too," Intizar Ahmad, a student at Srinagar's Sri Pratap College, told Firstpost. "These protests are also against the army for beating innocent students on the roads. Then they upload these videos to Facebook," Ahmad added.
Over 50 students, including women, were wounded on Saturday by government forces, who reportedly fired smoke shells and small lead balls through shotguns — which could potentially leave individuals blinded— on students protesting near the police checkpoint at some distance from the college.
Injured students had to be transported to a hospital in Srinagar for specialised treatment. Chief Minister Mehbooba Mufti has sought a report on the incident from the police. Fearing fresh protests by the agitating students, the authorities had announced the shutdown of Pulwama college for two days.
On Monday morning, as the educational institutions opened across the region, reports of massive protest rallies of students from three colleges, including a women's college, emerged from Srinagar.
When the forces cornered students at SP college in the heart of Srinagar, dozens of them entered the women's college and started pelting stones at the police. The roads wore a deserted in the capital after the clashes started. The local police had to use PAVA shells — which can cause asphyxiation— to prevent the students from occupying roads in the city's busiest shopping centre, Lal Chowk.
Some students were injured while throwing stones and bricks at police who tried chasing them off the roads. Shoppers and vendors fled as police used crowd-dispersing ammunition.
Reports said over a dozen students were injured in police actions in Kulgam where shops had to be closed after the tensions escalated. In Shopian, seven students were injured, according to eyewitnesses. College students in Sopore thronged the streets by peacefully marching against the assault on students in Pulwama.
"We were marching slowly to protest against the forces when some boys threw stones at CRPF camps in the main town of Sopore," Adil Khan, a second-year student of Degree College Sopore, told Firstpost.
Students at Kashmir University also boycotted their classwork to stand in solidarity with the injured students.
The students of Kashmir's Central University protested outside the gates of Mehbooba Mufti's Nowgam residence. Students shouted anti-India and pro-freedom slogans like: "Go India, Go back; Leave our Kashmir; We want freedom from India."
As the day progressed, the news of protests emerged from various colleges and universities across the state. Students from as many as 15 colleges in Srinagar, Baramulla, Pattan, Ganderbal, Sopore, Handwara, Dooru, Anantnag, Kulgam, Pulwama, Shopian, Tral, Sumbal, and Pattan hit roads.
"We were trying to go for a peaceful protest but police stopped us and clashes ensued. Many students were injured," Zameer Ahmad, a student of Government Degree college, Shopian, told Firstpost.
Reports said the police authorities have sealed the gates of various colleges in Srinagar and other districts after protests turned violent.
The Valley has seen a surge in violence this month since eight people, including students, were reportedly killed in clashes with security forces on polling day, which recorded the worst ever turnout of around 7 percent. Another 22-year-old student was killed on Saturday evening by Border Security Forces in Batamaloo, Srinagar.
Last year, around 100 people died in clashes with security forces during the unrest caused by the death of terrorist Burhan Wani. Kashmir last saw such large scale protests in 2009 after the rape and murder of two women in Shopian district.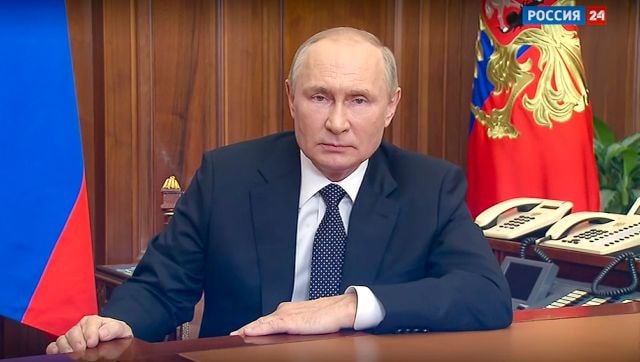 Explainers
Vladimir Putin on Wednesday, ordering Russia's first military mobilisation since World War Two, warned Moscow would respond with the might of all its vast arsenal if the West continued its 'nuclear blackmail'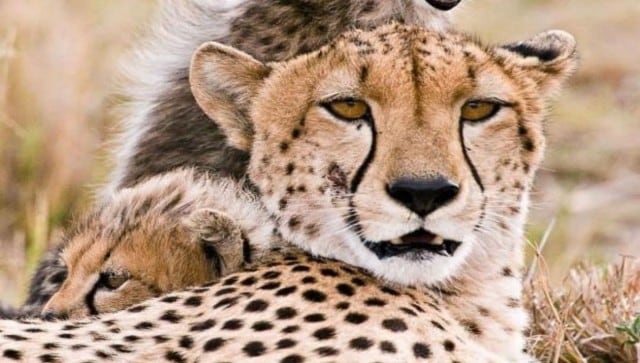 Explainers
Some say the presence of leopards in Kuno National Park could pose a problem for the big cats, while others point to reports of camera traps being removed and remain wary of poaching. But authorities say these lines of thinking miss the big picture
India
PDP president Mehbooba Mufti on Monday said authorities in Kashmir were directing students in some schools to sing Hindu hymns, which exposes "the real Hindutva" agenda of the BJP-ruled Centre.