Kashmir unrest: 'Mahashay, marwa na dena'; how things came to pass in J&K
There is a lesson to be learned in Kashmir: the Indian state needs to send a clear message that it has zero tolerance for assault on its security forces.
Last Sunday, after an army camp came under attack in Uri, Kashmir valley witnessed a day of calm after seventy days. There was no stone-pelting as protesters chose to stay indoors. The main hospital in Srinagar, which has treated fifteen injured protesters on an average since the killing of militant commander Burhan Wani on 8 July, received none. Unprecedented traffic hit Srinagar's main city square and the police had to deploy its men after long to manage it. After two days, the protesters have returned.
There is a lesson to be learned here: the Indian state needs to send a clear message that it has zero tolerance for assault on its security forces. While buzzwords like Insaniyat (humaneness) and Mamata (love) should be practised in letter and spirit, it cannot (and should not) mean that a mob can start attacking security personnel just because they have done their job and killed a terrorist.
But how did things become so grim in Kashmir this time? While we must study the Uri attack, it is imperative that it should not wean attention from the situation in Kashmir. It has been seventy-five days since the latest turmoil began. The media is not saying it, but from one end of Kashmir to another, Pakistani flags are all out. Analysts sympathetic to the current establishment will dismiss this occurrence, saying the flags have always been there. But this time, it is different. Remember, in March 2015, on Pakistan Day, Asiya Andrabi, the head of the radical Islamist group, Dukhtaran-e-Millat, hoisted a Pakistani flag in a closed room somewhere in downtown Srinagar and the ceremony was over in a few minutes. And now, the Pakistani flags are a part of every small and big protest.
The fact is that the civil and police administration in Kashmir valley is paralysed. A majority of policemen are afraid of going to duty and many of them have not gone back to their homes in weeks for fear of retribution. Sources say that many of them, including senior police officers, have got civilian identity cards made in case they find themselves confronted by a violent mob.
Hospitals are refusing to admit injured police personnel. A sub-inspector of police, who suffered a heart attack, was refused treatment at Kashmir's premier hospital in Soura. He died while being shifted to another hospital. The MLA from Pulwama and a senior leader of the ruling People's Democratic Party (PDP), Mohammed Khalil Bandh, who was injured as his driver tried to pull away the car from a mob, could not be admitted at the district hospital and had to be taken to the army's 92 Base Hospital in Srinagar.
Senior officials of the administration avoid travelling for work. Even in cases of normal crime, the police are scared to go to the spot and instead prefer to gather details over the phone and then register a First Information Report. A journalist friend says that a file involving a simple government sanction that his friend requires has been stuck at the Secretariat for more than two months.
The trouble has spread to hitherto peaceful areas this time. In Budgam, for example, there has hardly been any militancy for more than twenty years. But now, the district is witnessing pitched battles between protesters and security personnel.
This time, an organisation called Ittehad-e-Millat has come into being; it constitutes of elements from radical organisations like the Jamaat-e-Islami and Jamiat-e-ahle Hadith. Its leaders have been addressing big rallies, especially in south Kashmir, asking people to take oath of shunning mainstream political parties. Several prominent people in Baramulla have been asked to apologise for their association with political parties. Police sources reveal that from next month onwards, plans are afoot to begin collecting taxes from people as terrorist organisations often do in their strongholds. "What will I do?" says a friend, who hails from Budgam, "suppose I am in Jammu and these guys come to my house and tell my family members: tomorrow, he will have to address a public rally and ask for azadi from India. And my family says: Well, he is in Jammu. And they will say: if he wants to live here, ask him to return immediately and do as we say. Then what choice will I have except to return immediately and do their bidding?"
Since the houses and properties of politicians have been targeted, the journalist friend said, they had been wondering how the house of a PDP leader in south Kashmir remained unscathed. "We made queries locally and realised that to save his family from the wrath of violent mobs, the politician's brother has also been indulging in stone-pelting. And, of course, the politician has not even set foot in his house since the first day of the trouble," he said.
How did it begin? Even when the accused in the Parliament attack, Afzal Guru, was hanged in Tihar jail in 2013, there was minimal protest in Kashmir valley. The problem, police sources reveal, began after the late Mufti Mohammed Sayeed became the chief minister in the PDP's alliance with the Bharatiya Janata Party. Soon after he took over, Mufti decided to release the radical Islamist, Masarat Alam, who had been arrested for his role in the 2010 turmoil in Kashmir. Sayeed also had plans to release the Hizbul Mujahideen terrorist and the husband of Asiya Andrabi, Qasim Faktoo.
This is what happened after Alam was released: every year, the radical separatist leader, Syed Ali Shah Geelani, chooses to spend Kashmir's harsh winter months in Delhi. He returns around April, an event largely ignored by the Kashmiris. But on 16 April, 2015, after his release, Alam organised a big reception to welcome his mentor. As Geelani was accorded a hero's welcome, he addressed a public rally, his first in almost two-and-a-half years. As the rally passed the Director General of Police's office, the crowd shouted: "Pakistan se kya paigaam, Kashmir banega Pakistan (What is the message from Pakistan? Kashmir will become Pakistan!)" and "Jeevay, jeevay Pakistan (Long live Pakistan!)."
Upon Mufti's instructions, no attempts were made to stop the procession. "It bolstered youngsters who had grudgingly reconciled to the fact that azadi is a mirage," said a senior police officer. It is also roughly around this time that the legend of Burhan Wani was created. "Till then, nobody had even heard of Wani," said the police officer, "and suddenly journalists land from Delhi and picture him as the new poster boy of militancy."
As Wani made effective use of social media to influence the youth, the final straw came in February this year when a group of Kashmiri youth shouted slogans for India's destruction at Delhi's Jawaharlal Nehru University. "The intelligence agencies have identified all of them. But none of them has been touched. Instead, a scapegoat was made out of Kanhaiya Kumar," said the police officer.
As a result, the entire separatist machinery got together in what they saw as a big opportunity, permanently damaging what had been achieved in Kashmir in the last many years. The separatists became so confident that they refused to budge while mainstream politicians begged for an inch.
As protests ceased to ebb, Narendra Modi's ministers made one infantile remark after another. Union Home Minister Rajnath Singh said that normalcy would be restored in seven days. How he came to such conclusion remains mysterious. The Union Minister of State in Prime Minister's Office, Jitendra Singh, said that the reason India is giving security to separatist leaders in Kashmir is because they face threat from Pakistan, which might attack them to blame India. If the separatist leaders were acting in accordance with Pakistan, why would Pakistan kill them? And if India offered them security because the separatists are 'assets', why are then they damaging India's cause so much in Kashmir? The fact remains that Kashmir has become like the elephant and those who 'handle' Kashmir for the BJP the proverbial blind men.
In a remarkable 2011 piece, the Pakistani writer, Mohammed Hanif, wrote about the night when Zulfiqar Ali Bhutto's elected government was about to be toppled by the then army chief, General Zia ul Haq. Hanif describes how Zia took aside a senior army officer who was his right-hand man and whispered to him: "Murshid, marwa na dena." (Guide, don't get us killed). Someone ought to go to the BJP's main handler of Kashmir and tell him: "Mahashay, marwa na dena" (Sir, don't get us killed).
Subscribe to Moneycontrol Pro at ₹499 for the first year. Use code PRO499. Limited period offer. *T&C apply
India
Speaking at a function in Jammu on Sunday, Azad had said that the prime minister speaks frankly about his past as a tea-seller and does not try to hide his background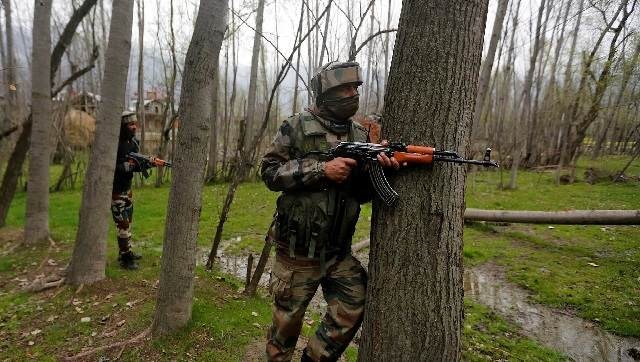 India
Without naming China and Pakistan, Indian Army's northern commander Lt Gen YK Joshi said the army has maintained its domination on its borders with the neighbouring countries
India
The case relates to waging war against India with support from Pakistan including terror entities. The judge had put Andrabi and her associates on trial for various offences punishable under IPC and the stringent UAPA on 20 Feb