Kashmir unrest: 30-year-old professor Shabir Ahmad Mungoo thrashed to death by 'drunk' soldiers
On Wednesday evening, Shabir Ahmad Mungoo, a resident of Shar-e-Shali village in the saffron-rich Khrew area of South Kashmir's Pulwama district, was discussing his 15-month-old son's health with his father, when the Indian Army barged into their house and starting beating him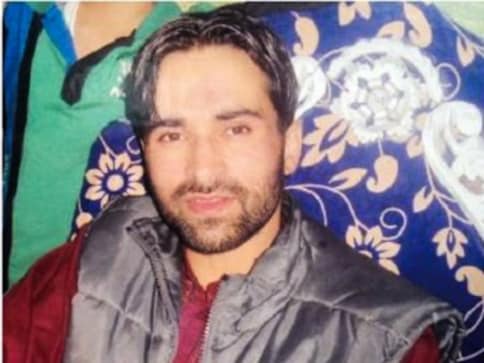 On Wednesday evening, Shabir Ahmad Mungoo, a resident of Shar-e-Shali village in the saffron-rich Khrew area of South Kashmir's Pulwama district, was discussing his 15-month-old son's health with his father, when the Indian Army barged into their house and starting beating him.
"We had just finished dinner and were sitting in his (Ahmad's) room. All of a sudden there was noise outside and the army entered our house. They dragged my son out and started beating him mercilessly. We tried to stop soldiers, but they kicked us and whisked him away," said Wali Muhammad Mungoo, father of the slain Ahmad.
According to the Jammu and Kashmir Police, protesters had pelted stones at army vehicles earlier in the day, and a scuffle had broken out.
Wali said the soldiers were carrying knives, iron rods and axes and unleashed a reign of terror.
Ahmad, 30, was a college lecture he had been teaching as an ad hoc lecturer for the past four years in the nearby college. His father said he was dragged out of the house by solders of the army's 50 Rashtriya Rifles, who also looted saffron worth Rs 30 lakh from the homes of locals, alleged the residents. They said that Ahmad was beaten to death by the army in a nocturnal raid, while dozens others received injures.
"The army threw iron rods at the high-tension lines and the electricity went out in the entire area. They then started entering every house and beating up everyone who came in their way," Wali said.
Residents said the army took four people, including the sarpanch Abdul Ahad Sheikh and Ahmad, along. On Thursday morning, the dead body of Ahmad was handed over to the family by hospital authorities.
Lieutenant-General Satish K Dua, Chinar Corps commander, told reporters in Srinagar on Thursday that the death of Ahmad was "regrettable", but also said that it was a joint patrol.
"Last night's incident is regrettable. It was during a joint patrol that the death took place. But I assure you, we will investigate the incident," said the Chinar Corps commander.
However, the police said it was not part of the patrol and refuse to hand over the body of Ahmad to his family after the army asked for it.
The police sought details about Ahmad's death that the Army refused to divulge. The soldiers later managed the ambulance that ferried Ahmad's body to his home.
After being taken away along with two other men, Ahmad was taken to an army camp in Pampore, where two other men from his village were already present. Abdul Ahad Sheikh, who was also taken to the army camp, said Ahmad was not able to stand on his feet as he had been beaten badly, and was continuously vomiting.
When the army handed over four people, including Sheikh to the Pampore police station, the police refused to take custody of Ahmad and others as they were badly injured.
"Minutes later, Ahmad asked for a glass of water. He drank some water and fell down, and collapsed. We could feel he had breathed his last," Sheikh said. The body of Shabir was taken to the Sub-District Hospital, Pampore where doctors declared him 'dead-on-arrival'. Doctors at the hospital said he died of cardiac arrest caused by intense beating.
National Conference leader Yawar Masoodi said the forces comprising the army, CRPF and SOG cordoned the village Shar-e-Shali at around 10 pm when the residents were asleep and beat them up mercilessly till 2 am.
"The forces after breaking open the doors and windows entered residential houses and attacked men, women and children. In the crackdown, scores of people were injured and property worth lakhs was damaged," Masoodi said.
"At least 200 houses were damaged while 100 people were beaten to a pulp. We have never seen such atrocities of the army before. It seemed the soldiers were drunk," another resident, said.
On the hospital bed inside Srinagar's SMHS hospital, Fayaz Ahmad Mir's body is completely bruised. His face is the only part of his body that doesn't have bruises and cuts.
"They were drunk and shouting azadi slogans," Mir said, while referring to soldiers who, "when they came to the village, first starting shouted slogans and when people tried to find out what was happening, they entered homes and beat them up."
While holding Ahmad's 15-month-old son, Nouman, in his lap on Thursday inside his house, Wali said this was the second tragedy he has had to face in two years after losing his wife in 2014. She was hit by an army vehicle in the Lethpora area, on the Srinagar-Jammu highway, after which she died.
"I am old man now and I don't know how to take care of Ahmad's wife and this child now," Wali added.
Awanitipora superintendent of police, Zahid Malik, said as per his reports, people pelted stones at army vehicles and a scuffle broke out. "Some people were later arrested. Four people were injured and one of them died," he said.
India
This comes only a few hours after The Resistance Front (TRF) terrorists shot dead a policeman in Srinagar and injured his seven-year-old daughter
India
Ten labourers five from West Bengal, two each from Jammu and Kashmir and Nepal, and one from Assam died after a landslide hit the mouth of the adit tunnel to T4 on the Jammu-Srinagar national highway near Khooni Nallah in Ramban on Thursday night
India
On 15 April unknown terrorists had fired upon Manzoor Ahmad Bangroo, sarpanch of Goshbugh, at Chanderhama orchards in Wussan area of Palhallan, Pattan in Baramulla