Kashmir: Talks with all stakeholders, including Hurriyat, must for normalcy, says Farooq Abdullah
Rejecting reports that normalcy is returning to Kashmir, Farooq Abdullah said dialogue with all stakeholders is the only way to resolve the impasse.
Mumbai: Rejecting reports that normalcy is returning to strife-hit Valley, National Conference president Farooq Abdullah on Sunday said dialogue with all stakeholders including Hurriyat is the only way to resolve the impasse.
He also dismissed Defence Minister Manohar Parrikar's statement that the incidents of stone-pelting on security forces are on the decline post demonetisation of high-value currencies.
"The incumbent coalition government in Jammu and Kashmir is not working on the lines of its joint working manifesto which talks about holding talks with the Hurriyat. I am of the firm view that if Kashmir (issue) has to be resolved forever, then we would have to talk to all stakeholders including Hurriyat," Abdullah said on the sidelines of an event.
He was in Mumbai to attend the 'Mother Teresa Memorial International award for Social Justice 2016' function in suburban Andheri, organised by Harmony Foundation.
"Latching onto few long-pending issues in Valley, a Kashmiri youth Burhan Wani was made from zero to hero," the former J&K Chief Minister told reporters.
The Valley has been on boil since the encounter killing of Hizbul commander Burhan Wani by security forces in July.
Responding to a query on Parrikar's statement that stone-pelting incidents dipped in the wake of demonetisation decision, Abdullah said there was no truth in this claim.
He also dismissed media reports that normalcy was being restored in the Valley.
"Who is saying so?...The reports are devoid of truth. How many of you have been in Valley and seen the ground reality. If there is (indeed) something like that (normalcy), it would be very short lived.
"Perpetually peaceful environment in the Valley would be restored when the local people would have the chance of employability. But unfortunately, nothing seems viable at this stage," Abdullah said.
On scrapping of Rs 1000 and Rs 500 banknotes, the NC chief said the decision was good but "badly implemented".
"Government should have made sufficient arrangement for flow of currency before going ahead with this (demonetisation). Had it been implemented properly, nobody would have died in queue for getting cash," Abdullah said.
He said people of Jammu and Kashmir are worst hit due to demonetisation as there are few banks and ATMs in Valley.
Replying to a query on black money, Abdullah said, "Circulation of black money will never end from our country. Every political party banks on black money. When the state Assembly elections will be held, we will see who will use choppers and flights for campaigning which will prove whether the demonetisation has ended the black money from the market or not."
He also questionned Prime Minister Narendra Modi over his policy regarding Pakistan.
"In a stopover, Modi went to wish Pakistan PM Nawaz Sharif and had a dinner with him in his kitchen. Modi touched the feet of Sharif's mother. But, there was no dialogue between these two leaders to improve the relationship between the two countries...If there was any dialogue held let it be known to everyone," he said.
India
His remarks come at a time when dozens of panic-stricken migrant labourers reached Jammu from the Valley to head to their native places in Bihar, Chhattisgarh and other parts of the country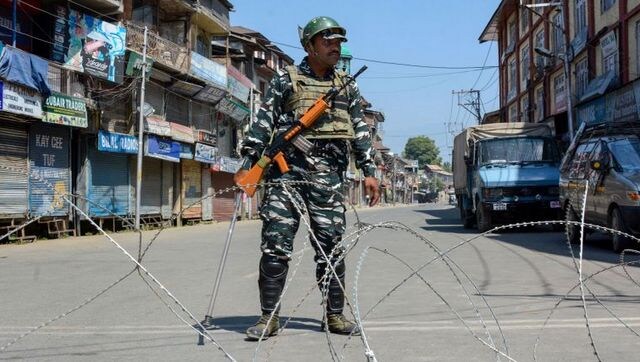 India
The de jure Islamic state created on the soil of India through Article 370 got dismantled, but the de facto Islamic state continues to hold fort.
India
Earlier, three TRF militants, including one involved in the recent killing of a hawker, were killed in an overnight encounter with security forces in the same district