Kashmir: NIA identifies 48 mob-handlers, 28 WhatsApp groups who provoked stone-pelters, disrupted anti-terror ops
NIA has identified 48 mob-handlers who provoked mobs and orchestrated stone-pelting to interfere with anti-terror operations in Kashmir.
After a detailed analysis of mobile phones and social media activity in Jammu and Kashmir, the National Investigation Agency (NIA) has identified 48 mob-handlers who provoked the crowd and orchestrated stone-pelting to interfere with anti-terror operations in the Valley.
"As many as 48 hardcore stone-pelters, who would mobilise mobs and target sites of anti-terror operations, have been identified," DNA quoted an NIA official as saying.
The analysis of mobile phones further revealed that even though these handlers lived far away, they were present in the vicinity of the sites of anti-terror operations. The report added that the NIA has identified such operations in a dossier.
Another report in The Times of India said that this analysis found at least 28 WhatsApp groups whose creators, administrators and some members are based in Pakistan and even include identified cadres of Jamaat-ud-Dawah (JuD).
These WhatsApp groups have around 5,000 members. The report also said that the messages posted on these groups were often posted during encounters between terrorists and security forces in the Valley, telling the group members about how their "brothers have been cornered".
Seven Kashmiri separatists, including the son-in-law of Hurriyat leader Syed Ali Shah Geelani, were on Tuesday sent to 10 days' NIA custody by a New Delhi court in a terror funding case on the agency's plea that their custodial interrogation was needed, PTI had reported.
District judge Poonam A Bamba had passed the remand order while partly allowing the National Investigation Agency's plea which had sought the custody of the accused, arrested on Monday, for 18 days in connection with the probe into a case alleged funding of terror and subversive activities in the Kashmir Valley.
The NIA had told the court that the accused — Altaf Ahmed Shah, Ayaz Akbar, Peer Saifullah, Shahid-ul-Islam, Mehrajuddin Kalwal, Nayeem Khan and Farooq Ahmed Dar (aka Bitta Karate) — were to be confronted with each other and with other incriminating evidences.
It had also submitted that they have to be taken to various places for the purpose of investigation. Altaf Ahmed Shah, the son-in-law of hardline separatist leader Geelani, was in the custody of the Jammu and Kashmir Police, who had put him under preventive detention immediately after the festival of Eid earlier this month.
Geelani's close aides Tehreek-e-Hurriyat spokesman Ayaz Akbar and Peer Saifullah were arrested by the NIA from the Valley.
Shahid-ul-Islam is the spokesman of the moderate Hurriyat Conference led by Mirwaiz Umer Farooq.
Farooq Ahmed Dar is among the earliest local terrorists in the Valley and among the first locals to receive training in arms in Pakistan, according to News18. He had infamously accepted on video that he was behind the murder of 20 Kashmiri Pandits and had earned the nickname 'Karate' for being a martial arts enthusiast.
The houses of those arrested had been raided by NIA sleuths last month. The raids were part of the NIA's efforts at clamping down on separatist groups allegedly receiving funds for subversive activities in the Valley.
The NIA had claimed that it recovered account books, Rs 2 crore in cash and letterheads of banned terror groups, including of the Lashkar-e-Taiba (LeT) and Hizbul Mujahideen, during the raids.
With inputs from PTI
Find latest and upcoming tech gadgets online on Tech2 Gadgets. Get technology news, gadgets reviews & ratings. Popular gadgets including laptop, tablet and mobile specifications, features, prices, comparison.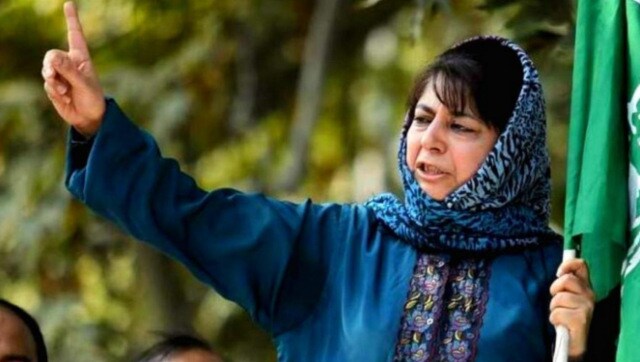 India
Mehbooba Mufti had said she would hold the national flag only when the separate flag of the erstwhile state is restored.
India
The amalgam leaders, who met at the residence of Mehbooba Mufti for the first time after its formation, adopted the flag of the erstwhile state of Jammu and Kashmir as its symbol
India
A spokesperson said the District Development Councils will comprise members directly elected from 14 territorial constituencies of the district