Kashmir human shield row: Indian Army has done the right thing by honouring Major Leetul Gogoi
The army did the correct thing in ignoring the vapid noise and conferring Major Gogoi with the award. He richly deserves it.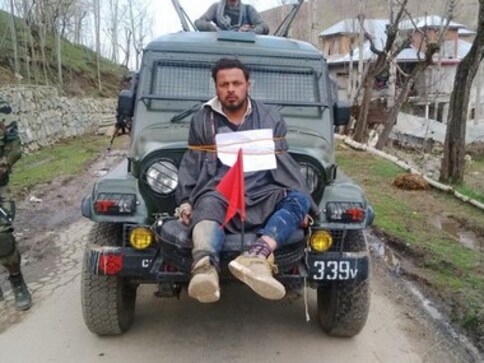 The Indian Army's decision to confer on Monday the COAS commendation card on Major Leetul Gogoi has understandably kicked off a furious debate. To recall, the army officer had received intense criticism for tying up an 'innocent' Kashmiri to the bonnet of his jeep, to thwart a stone-pelting mob during the recent byelection for the Srinagar Lok Sabha seat on 9 April. Politicians hauled him over the coals, Jammu & Kashmir Police lodged an FIR against him and even the army, which came out in his support, lodged a Court of Inquiry against him.
It was said then that Major Gogoi had committed grave human rights violations and a "war crime" through his "barbaric act". It is being said now that by condoning his "barbarism" and "illegality", the Indian government and the army have legitimised the use of human-shields and alienated the Kashmiris further.
It is also being said that India's conduct, in this case, is in direct contradiction with its stance at the International Court of Justice (ICJ) where it successfully challenged Pakistan's trampling of Kulbhushan Jadhav's rights and violation of the Geneva Convention.
To be clear, the use of 'human shield' is a hugely problematic gesture. It is an unnatural act. It is also against the code of conduct of the Indian Army, which is widely feted as a professional unit. The question to ask is, why would the Indian Army award an officer who clearly flouted its own guidelines? Was Major Gogoi deranged, as some are suggesting? Or was he guided by a higher motivation?
For a rational judgement, the first thing to consider is the circumstances under which the Rashtriya Rifles commander took his split-second decision. The second thing to consider is his intent. Finally, we must take a look at the outcome.
To argue that Major Gogoi trussed up a 26-year-old Kashmiri in front of his vehicle to make an example out of him, and from there, to launch invectives about violation of the Geneva Convention and human rights is to strip the army officer's actions of context. If context is taken out of actions, narratives can be twisted at will. What stops us from, for instance, justifying the Sukma attack on CRPF jawans as 'innocent villagers' taking out their wrath against the might of the Indian state? Why stop at Maoists? The British government or the Chinese government may offer similar justifications to justify Jallianwala Bagh massacre or the Tiananmen Square massacre, as legitimate actions to suppress "terrorists".
While parsing Major Gogoi's actions and whether or not it conforms to highest standards of behaviour expected of a soldier, we must remember that the debate is not taking place within the sanitised environment of ICJ and the besieged officer didn't have days to prepare himself for the situation, as the learned counsels from India and Pakistan did before appearing for the Kulbhushan Jadhav hearing. The entire comparison is a clever conflation and an example of false equivalence.
As media reports have pointed out, responding to an urgent message of distress from Indo-Tibetan Border Police, local police and poll officials who were held hostage in a Budgam polling booth on 9 April by a murderous mob (some positioned themselves on rooftops) wielding stones, petrol bombs and sticks, Major Gogoi led his platoon of 53 Rashtriya Rifles (Punjab Regiment) to the cauldron. Attacked and outnumbered by a violent missile-throwing mob, the Major, whose responsibility it was to guide his men,
Attacked and outnumbered by a violent missile-throwing mob, the Major, whose responsibility was to guide his men, the policemen and civilians to safety while avoiding casualties in a volatile environment, took hold of a protestor — Beerwah resident Farooq Ahmad Dar — strapped him to the jeep and salvaged the situation.
At this point, let us take a look at some media reports. Hindustan Times quotes an official to report that "the stone attack sent things spinning out of control… it was do or die. The major who volunteered to serve in Kashmir took the call, deciding not to open fire and unleash bloodbath."
According to NDTV, which quotes a security personnel, Major Gogoi and his men (including the poll officials and cops taken hostage) would have been "lynched by 400 people." The report adds: "As the crowd reportedly swelled ominously in size, a group of 15 army men led by a young officer appeared to be hopelessly outnumbered… 'They were sure to be lynched there since the crowd size increased and opening fire would have resulted in a bloodbath. To defend themselves, the Company Commander caught hold of a protestor and tied him to his jeep'."
To sum up, Major Gogoi faced a unique situation that called for out-of-the-box thinking. He completed his mission without firing a single bullet or taking recourse to crowd control weapons such as pellet guns. Faced with the binary of either shooting his way out of trouble or fulfilling his mission without bloodshed, he chose an unconventional method that can admittedly never be part of any army's standard operating procedure but was hugely effective in the final outcome.
Consider the huge collateral damage that would have been caused if Major Gogoi had opened fire on the irate mob instead. Not only would he have endangered the men and Election Commission officials, he would have been responsible for causing more bloodshed and loss of lives in the Valley and things could have gone totally out of control. Under the unique set of circumstances, by which stretch of the imagination was Major Gogoi's action a "war crime" or "violation of human rights"?
When we talk about human rights, we forget that all other rights are subservient to the Right to Life. It is the most sacrosanct of all fundamental rights and "all other rights add quality to the life in question and depend on the pre-existence of life itself for their operation."
If we fail to uphold Right to Life, then the entire Constitution falls apart and all discussions on it are rendered meaningless. By his extraordinary action, Major Gogoi upheld the most precious of all fundamental rights.
It is instructive to note what Congress leader and Punjab chief minister Captain Amarinder Singh has written in his column for The Indian Express. Singh, a decorated soldier who served as Captain in the 1965 Indo-Pakistan war, writes that what Major Gogoi did was "absolutely correct, and possibly the only sane and logical course of action available to him, in the circumstances… Unfortunately, there were not many willing to pat his back for his remarkable presence of mind and timely action that probably saved the lives of many of his men, for whom he was responsible as their officer in charge. Some feel I have gone too far in actually demanding a distinguished services medal for the daring officer. Is that so? Does an army officer not deserve a reward for saving lives?"
Remarkably, the outrage brigade busy fulminating against Major Gogoi and accusing the Indian Army of violating human rights and the Geneva Convention have no alternative to offer except taking the high moral ground. A soldier and his men were trapped by a murderous mob and outnumbered 15 to 400. With less than a few seconds at his disposal to take a decision, that could be the difference between numerous deaths and saving of lives, the commander did what he thought was the best course of action. What other options could he have exercised to reach a similar outcome?
It is still easy to understand the compulsions of an Omar Abdullah or a Mehbooba Mufti. However, those lecturing on morality, ethics, and human rights violations have not a single solution to offer beyond empty posturing. Pontification, after all, is a hugely satisfying experience. It makes us feel good about ourselves that we are morally superior to others. It also absolves us of all responsibilities of tackling difficult questions that have no easy answers.
The army did the correct thing in ignoring the vapid noise and conferring Major Gogoi with the award. He richly deserves it.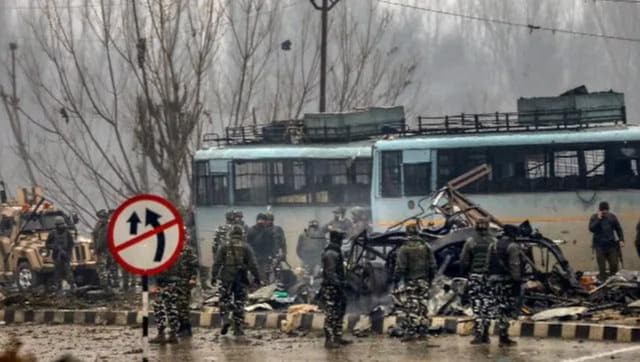 World
New Pakistan Army chief Lieutenant General Asim Munir also has a connection with the Pulwama terrorist attack in Jammu and Kashmir in the year 2019 in which 40 soldiers India's Central Reserve Police Force (CRPF) were martyred
Politics
Imran Khan may be talking about improving relations with India, but relations between the two countries had deteriorated when the Pakistan Tehreek-e-Insaf (PTI) was the ruling party in Pakistan. At that time, Pakistan had decided to end trade relations with India.
Entertainment
It all began with a Twitter user tweeting the statement of the Lt Gen, and wrote, "'We're fully prepared to take back PoK from Pakistan. We are waiting for the orders from the govt."