Kashmir human shield: Major Leetul Gogoi calls it a spot decision to 'save locals' from bullets
A day after Major Leetul Gogoi, the man who had tied a Kashmiri man to a jeep, was honoured, Gogoi gave details about what led to the incident and how he saved many people's life with the idea.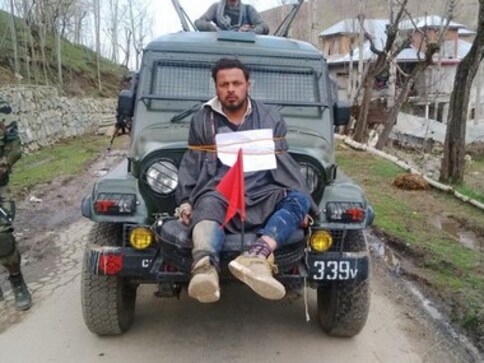 A day after Major Leetul Gogoi, the man who had tied a Kashmiri man to a jeep, was honoured, the army officer gave details about what led to the incident and how he saved many people's life with the idea.
Breaking his silence, he said about 1,200 stone-pelters had surrounded a small group of security personnel at a polling booth in Utligam village of Budgam district on 9 April and if he had ordered firing, there could have been at least 12 casualties. The mob, which included women and children, was threatening to set ablaze the polling booth, he said.
Gogoi, who was commended by the army chief on Monday, said he and five other army personnel had gone to that polling booth after a "distress call" about a small group of ITBP personnel and few members of the polling staff being surrounded by a big crowd of about 1200 stone-pelters.
Gogoi went on to say that Farook Ahmed Dar could have been the ringleader of many stone-pelters. He said when he reached Bandipora, the crowd had started pelting stones. He said that despite repeated requests on his megaphone, the crowd, comprising several women and children refused to budge. As the stone-pelting increased, Gogoi ordered his men to take hold of Dar, the man who seemed to be instigating the attacks.
"This thing I have done only to save the local people. Had I fired, there would have been more than 12 casualties... With this idea, I have saved many peoples' lives," Gogoi told reporters at his Beerwah camp in Budgam district, giving details of the incident.
He spoke to the media on the incident on a day the army said it had destroyed Pakistani posts across the Line of Control (LoC) in Nowshera sector in a "punitive" action.
Talking about Dar, Gogoi said, "He tried to flee on a bike but somehow, despite intense stone-pelting and getting hurt, we caught hold of him."
He said after catching Dar, the army personnel moved towards the polling station with the help of mine-protected vehicle.
"Once we got inside, I rescued four civil polling staff, seven ITBP personnel and one Jammu and Kashmir Police constable," he said.
Later as the army men started moving in their car, they realised that there was heavy stone-pelting from all sides and that is when the army Major decided to use him as a human shield to protect the local people. He said as they got a "fraction of moment to get out", they used the opportunity to "save at least 12 lives".
"The crowd threw one petrol bomb at us and we had to face many roadblocks," Gogoi said. The officer said while they were leaving the polling station, their mine-protected vehicle got stuck in the mud.  "My team and I ensured smooth polls," Gogoi said.
On Monday, Dar reacted to the felicitation by saying is this the award to the cruelty meted out to him. Narrating the ordeal, the 26-year-old Dar had said that he was caught by the army and paraded through different areas and thrashed before being released later in the evening.
"The armed force personnel were beating some women at Utli Gam. They caught hold of me and tied me to the jeep before dragging me to the camp at Arizal where I was severely beaten up before I was handed over to the family members. I received injuries to my arm as well as face," Dar had said.
Kashmir Inspector General of Police Munir Khan on Tuesday said the police probe into the matter will continue.
With inputs from PTI
Find latest and upcoming tech gadgets online on Tech2 Gadgets. Get technology news, gadgets reviews & ratings. Popular gadgets including laptop, tablet and mobile specifications, features, prices, comparison.
India
The Court of Inquiry indicted Major Leetul Gogoi on two counts - allegedly "fraternising" with a local woman in a Srinagar hotel and being away from his place of duty
India
Separatists have called for peaceful protests in Kashmir on Friday against the "inhuman act" of an Army officer tying a man to a jeep as a human shield against stone-pelters and then honouring him.
India
In a first reaction to the controversy that has gripped the Indian Army, General Bipin Rawat said that if anyone, at any rank, in the Indian Army does wrong and "it comes to our notice", strictest action will be taken. Speaking to ANI, Rawat named Major Leetul Gogoi and said, "If Major Gogoi has done something wrong then I can say that he will be given due punishment and the punishment will be such that it will set an example."