Kashmir floods: CM Omar to approach Centre for funds after final assessment of damage
Omar Abdullah said the damage due to Kashmir floods would run into 'thousands of crores.' He will approach Centre after the final assessment is complete.
Srinagar: Jammu and Kashmir chief minister Omar Abdullah on Friday said the damage in the state due to the worst floods in more than a century would run into "many thousands of crores" but he would approach the Centre only after the final assessment is complete.
"In terms of property damage, it is too early to give a final figure but obviously it will run in thousands of crores," Omar told PTI at his makeshift office at Hari Niwas Guest House here.
The chief minister said almost every sector has been badly affected by the floods. "You have property damage in terms of houses, you have damage to shops, business establishments, then the products within the shops have also been damaged. There is massive damage to the physical infrastructure of the government like roads, bridges, water supply schemes, etc.
"There is damage to agriculture crops...our paddy, maize crop, horticulture crops like pear has been destroyed as it could not reach the market. The lands have been washed away," he said.
All these put together will run into "many thousands of crores," he said.
Omar said he would firm numbers in terms of losses and damage before he approaches the Centre with the memorandum for aid.
"I need to have firm numbers before I tell the people what the extent of actual damage is. There is an assessment going on to determine the extent of damage and because we need to have that number available to us to put in the memo that we are going to submit to the Government of India," he said.
The Chief Minister said he "cannot even hazard a guess" about the actual losses as the numbers keep changing with the passage of time. "I will give you an example: up to two days ago, we had the input that 1500 houses have been fully damaged in Anantnag district. Today, I was told that the number of fully damaged houses in the district is 8000," he said.
PTI
India
The board will shortlist candidates on the basis of merit and a schedule of document verification will be released shortly
India
The application form will only be considered complete when it is filled completely, payment is done correctly and relevant documents are uploaded to the official website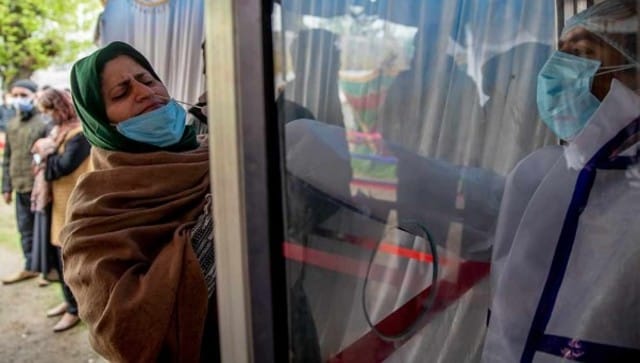 India
COVID-19 cases have seen a sharp rise in the last one month in Jammu and Kashmir with the number of active positive cases having crossed 30,000 on Saturday. The Srinagar district remains the worst hit with over 8,872 active cases and 546 deaths