Karti Chidambaram arrested, updates: Delhi's Patiala House court sends accused to one-day police custody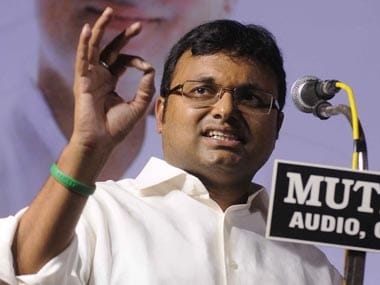 17:10 (IST)

I-T said Karti spent Rs 3.3 crore on US property

I-T claims that Karti spent Rs 3.3 crore on US property and bought assets with the INX bribe money. Sources say Karti will be prosecuted under black money laws, CNN-News 18 reported. CBI said original will that gave firm to Karti's minor daughter was missing.

16:51 (IST)

Karti's CBI custody extended to 3 days, next hearing on 9 March at 2 pm

16:34 (IST)

Court to declare order on Karti Chidambaram shortly

15:41 (IST)

Karti not a terrorist with bomb, says Singhvi

Singhvi's last argument was Karti is not a terrorist with a bomb that he cannot be interrogated without keeping him in custody.

15:27 (IST)

CBI gave no reasons but kept repeating 'we have to interrogate': Singhvi

CBI gave no reasons but kept repeating orally that we have to interrogate. Court will pronounce judgement at around 4:30 pm today: A Singhvi, #KartiChidambram's lawyer in #INXMediaCase pic.twitter.com/nSSyrugy62

— ANI (@ANI) March 6, 2018

Argued CBI hasn't given a single ground or written a single reason in its application for further remand. #KartiChidambram only had a 25-minute long confrontation with Indrani Mukerjea &around 2 hrs long interrogation in last 5 days & there is no need of further custody:A Singhvi pic.twitter.com/38Lm70RSH1

— ANI (@ANI) March 6, 2018

15:25 (IST)

Singhvi says it comes to 3 factors of flight risk, direct tampering of evidence and non-cooperation

Abhishek Manu Singhvi argues, "It comes down to three factors: flight risk, direct tampering of evidence and non-cooperation. This non-cooperation is not by way of answers given but by way of not submitting before the court."

15:12 (IST)

Delhi court reserves order

While the Patiala House Court has reserved the order on Karti's bail application, we will come to know if he will get bail or not at 4.30 pm.

15:01 (IST)

War of words going on between Mehta and Singhvi

AM Singhvi says #CBI is baying for blood of his client #KartiChidambaram.
ASG Tushar Mehta rebuts, saying he can show proof of destruction of evidence. Hearing underway. @SubhajitSG @droynews18

— News18 Courtroom (@News18Courtroom) March 6, 2018

15:00 (IST)

Karti can be interrogated without keeping him under custody, says Singhvi

Speaking in the court, Karti's lawyer Abhishek Mnau Singhvi argues, "None of the conditions by CBI is such that it could not be meet without Karti in custody. It can be done by interrogating, summoning or calling him from 9 am to 6 pm. How is their investigation hampered by not having him in custody ? Singhvi continues, "Mehta is not forwarding material to the judge but is giving his personal opinion or subjective notes which is not credible or relevant . Such notes cannot be the basis to keep me in custody."

14:56 (IST)

Singhvi counters CBI's claim, says on behalf of Karti, "If I am silent, that does not mean I am non-cooperative"

Abhishek Singhvi, lawyer of #KartiChidambram in #INXMediaCase counters CBI's claim that Karti is not co-operating & is being evasive and said "I am not in the custody to answer what you want. If I am silent, that does not mean I am evasive and non cooperative"

— ANI (@ANI) March 6, 2018

14:55 (IST)

Karti not cooperating with CBI

New revelations have come up in INX Media case which can't be disclosed and Karti is not cooperating, PTI quoted CBI as telling the court.

14:43 (IST)

Tushar Mehta speaks in the court

Key accused Indrani Mukherjea's statement is just one of the evidences, says Additional Solicitor General Tushar Mehta.

14:39 (IST)

Singhvi slams CBI move to keep Karti in custody

NDTV reports Karti Chidambaram's lawyer Abhishek Manu Singhvi as saying that " This is a malafide attempt to keep Karti Chidambaram in custody. Tomorrow the CBI may cite more reasons demanding extended custody,"

14:27 (IST)

Karti seated with CBI officials in Patiala House Court

According to NDTV, Karti Chidambaram is seated on the left side of the room along with the CBI officials for the hearing. His parents are present at the other side.

14:23 (IST)

CBI says Karti Chidambaram not cooperating

In the last four days, there has been substantial progress. It is based on this that CBI seeks nine days remand. CBI says that Karti is not cooperating, adds that he is playing the victim card.

14:16 (IST)

ASG Tushar Mehta makes his remarks

Tushar Mehta says, "Our investigation is not just about the 164 statements of Indrani. We have more evidence." He asks asks the judge to read a few paragraphs from the documents given earlier in a sealed envelope. "We have recorded the confrontation with Indrani as well which if the judge wants we can put it in front of you," he continues. Mehta adds that some development happened on Monday which has not been told in open court.

14:10 (IST)

Hearing begins

Hearing has begun now. Tushar Mehta tenders unconditional apology for the delay.

14:07 (IST)

The situation right now

CBI will file a reply seeking two weeks time to respond. Karthi has filed for bail in Patiala House Court. The plea was filed on Monday. Karti has said that he will be co-operating with the investigation agencies. On the bail application, CBI will file an application seeking 2 weeks to respond. Apart from that. CBI has moved application seeking further 9 days custody.

13:47 (IST)

Karti's lawyer Kapil Sibal says no arrest possible

Senior Congress leader and lawyer Kapil Sibal, who is representing Karti Chidambaram in the case, told the bench on Tuesday that Karti Chidambaram should not be arrested since there is no FIR by the Enforcement Directorate, NDTV reporrted.

13:36 (IST)

Indrani Mukerjea claims on camera that businessman demand $1 mn from her

Former media executive Indrani Mukerjea has reportedly claimed that Karti Chidambaram demanded $1 million from her, and that she paid him a part of this sum, at a hotel in New Delhi last year. After Firstpost reported on this allegation on 28 February, a confessional video, accessed by Times Now, depicts Indrani making the same allegation, adding that she "doesn't care" about her credibility being questioned by Karti, or his father, former finance minister P Chidambaram, because she recorded her testimony before a magistrate under section 164 of the CrPC. Mukerjea, according to the on-camera revelation released by Times Now, also claimed that she met P Chidambaram in his North Block office.

13:30 (IST)

CBI cites enormity of the case for seeking extension

#INXMediacase: CBI said that considering the enormity of the offence involved and possibility of the investigation being required to be expended.

— ANI (@ANI) March 6, 2018

13:11 (IST)

Income Tax tightening its noose around Karti Chidambaram

According to the Income Tax department, Karti Chidambaram used the money that he received as bribe from Indrani Mukherjee to buy property in the United States.

#EXCLUSIVE -- CNN-News18 accesses I-T paper trail of Karti Chidambaram's money. I-T issued notice to Chidambaram's family in 2017. Notices on acquisitions on U.S via Karti-linked firm | @Ashish_Mehrishi with more details pic.twitter.com/1uXmB7PbaE

— News18 (@CNNnews18) March 6, 2018

13:06 (IST)

Confusion over the days sought for custody

While the CBI has sought an extension of custody of Karti Chidambaram, there is confusion over the number of days. While Bar & Bench is reporting that the apex investigation agency has demanded an extension of six days, Live Law is reporting seven days. CNN-News18, on the other hand, is stating that the CBI is seeking 9-day custody of Karti.

12:55 (IST)

Karti likely to move Delhi High Court if denied bail

CBI to seek eight days more of custodial interrogation of Karti Chidambaram in INX Media case. But Karti looks to seek bail, and is likely to move Delhi High Court if denied this relief. CBI wants the hearing in post-lunch session.

12:44 (IST)

CBI cites joint interrogation of Karti and Indrani

News18 reports that CBI cited the joint interrogation of Karti and Indrani Mukerjea of INX Media to extend the custody of the businessman. Appearing for Karti, Abhishek Manu Singhvi, who also happens to be a senior Congress leader, stressed on personal liberty.

CBI court to hear the #INXMediaCase at 2PM now.#CBI cites joint interrogation of #KartiChidambaram with Indrani Mukerjea.
Karti' lawyer AM Singhvi presses for personal liberty. @SubhajitSG @droynews18 https://t.co/6Qc8iFZvtF

— News18 Courtroom (@News18Courtroom) March 6, 2018

12:40 (IST)

Supreme Court next hearing on Karti's plea seeking protection from arrest on 8 March

Supreme Court also sought response from the Enforcement Directorate on Karti Chidambaram's fresh plea seeking protection from arrest. The top court lists matter for hearing on 8 March.

12:33 (IST)

ED's action 'serious infringment of fundamental rights', says Karti

In the petition, Karti said the ED's action is "the serious infringement of the Petitioner's fundamental right to live with dignity guaranteed under Article 21 read with Articles 14 and 19 of the Constitution of India."

12:31 (IST)

Supreme Court refuses interim relief for Karti

​

Supreme Court issued notice to Enforcement Directorate for quashing of all criminal proceedings initiated against him under the Prevention of Money Laundering Act (PMLA) by the Enforcement Directorate in connection with FIPB approval for Aircel-Maxis and INX Media in 2006 and 2007.

The Bench headed by Chief Justice Dipak Misra has refused to grant interim protection to Karti from arrest by ED Senior Advocate Kapil Sibal,who appeared for Karti said Karti will be arrested by ED once the CBI custody is over (Toda). He submitted that it is the same transactions for which, his client is in CBI custody presently and ED can't investigate him without any FIR.

12:27 (IST)

Updates for 6 March begin

19:55 (IST)

CBI not caged parrot but "singing parrot" of govt: Kapil Sibal

​

The arrest of Karti Chidambaram by the CBI in the INX media case shows that the Indian investigating agencies are no longer caged parrots but "a singing parrot" of the government, senior Congress leader Kapil Sibal said.

The senior advocate, who has been representing Karti in the legal battle before the Supreme Court, said this was a case of "pure vendetta" as the CBI was helpless and had to take refuge of a statement by Indrani Mukerjea, an accused charged with murdering her own daughter.

19:05 (IST)

P Chidambaram maintains stoic silence all through today; 'I'll be vindicated,' shouts Karti Chidambaram

​

Karti Chidambaram, who was directly taken into CBI custody until 6 March as soon as the court pronounced its order, shouted across to the media that he will be vindicated, NDTV reported. Meanwhile, his father P Chidambaram maintained a stoic silence, as media personals hurled questions at him, both on his way in and out to the court.

18:58 (IST)

Karti allowed to wear gold chains in custody but no to home food; can see lawyers twice a day

The CBI officials wanted Karti Chidambaram to remove the gold chains he is wearing, when in custody, but he expressed his reluctance to do so. His lawyer told the court that he wears them for religious reasons. At this point the judge had to interfere and ask both parties to not spar on trivial things and proceed with the investigation, NDTV reported. Moreover, Karti's request to be allowed to have home food was turned down.

Special judge Sunil Rana allows custodial interrogation of #KartiChidambaram for 5 days. #Karti will be produced in court next on March 6.
Karti's lawyer can meet him for 1 hour in morning, 1 hour in evening. Medicines are allowed but not home food. @droynews18 @SubhajitSG

— News18 Courtroom (@News18Courtroom) March 1, 2018

18:53 (IST)

Karti Chidambaram remanded to CBI custody till 6 March

18:45 (IST)

Karti, CBI officials' snap at each other over use of language

When Karti Chidambaram spoke to his friend in Tamil, CBI officials stopped him and asked him to speak in English;
Karti replied "if that's the case, even you guys should speak in English with each other when am there"
CBI official "You are in custody, not us " ! #LanguageWar

— Arvind Gunasekar (@arvindgunasekar) March 1, 2018

18:41 (IST)

Court remands Karti Chidambaram to 5 day CBI custody

18:33 (IST)

CBI based arguments on new evidence previously undhared with us: Karti Chidambaram's lawyers

Karti Chidambaram's lawyer Abhishek Manu Singhvi told the press that the CBI failed to prove how the bribe money allegedly travelled, or to provide remittance for the so called pay offs. "Matter has ended on fact that CBI is referring to large volumes of material not shared with us. But we've been able to show there is no case. Now we are leaving the matter to court," Singhvi said.

18:23 (IST)

Recap: Karti Chidambaram accused of accepting pay offs in return of govt clearance for FDI in INX media

Karti Chidambaram is accused of seeking government clearance for foreign investments worth around Rs. 300 crore in television company INX Media in exchange for bribes back in 2007, when his father P Chidambaram was the Union finance minister.

18:21 (IST)

Court reserves order on Karti Chidambaram's bail plea

Now order reserved! The holi eve ordeal continues https://t.co/r129wU51WY

— Subhajit Sengupta (@SubhajitSG) March 1, 2018

18:17 (IST)

Court allows Karti to meet parents, P Chidambaram, Nalini Chidambaram in court

Special Judge Sunil Rana, who is hearing the demand of the agency seeking Karti's 14 days custodial interrogation, allowed him to meet his father P Chidambaram and mother Nalini Chidambaram inside courtroom in the presence of investigating officer. The order is expected shortly.

18:13 (IST)

'No flight risk, tampering with evidence, or non-cooperation' Singhvi on CBI's demand for custody

Pointing out that the legal basis to grant remand, or deny bail are mainly three threats, Singhvi said that Karti CHidambaram was neither at a flight risk, nor could the CBI prove any tampering of evidence, and there is no non-cooperation.

He said that Karti has appeared before the agency whenever he was called and therefore there is no basis for arrest or custody.

18:08 (IST)

Hearing in case ends, court reserves order

The special court hearing Karti Chidambaram's bail plea and the CBI's request to a 14-day remand has reserved its order on both these issues. The order is expected shortly.

17:08 (IST)

Can't rely on statements of those charged under murder: Abhishek Manu Singhvi

"How can CBI now cite statements of a couple (Indrani Mikerjea and Peter Mukerjea) which is being prosecuted by the same agency in Sheena Bora murder case and also in INX Media Case? You can't rule out they roped in Chidambarams in INX Media Case to seek certain favours in lieu of it," Singhvi argued.

16:46 (IST)

'Karti not linked to companies under lens, invoices without payment useless': Abhishek Manu Singhvi argues in court

Abhishek Manu Singhvi told the court that the companies under lens for financial irregularities are not linked to Karti Chidambaram or any of his businesses. He also said that the CBI was only floating empty invoices for the benefit of the media. "Mere empty invoices, without proof of any payment being recieved is useless," Singhvi claimed.
Latest updates
The CBI today arrested Karti Chidambaram, son of former Finance Minister P Chidambaram, in connection with its probe in the INX media case, officials said. Delhi's Patiala House court sent Karti Chidambaram to one-day police custody.
Karti was arrested at Chennai airport at around eight in the morning when he returned from the United Kingdom, they said.
Karti Chidambaram has been arrested in Chennai in the INX Media case for non-cooperation with the CBI. He is set to be brought to Delhi later in the evening.
#FLASH Karti Chidambaram taken into custody by CBI at Chennai Airport over INX media case. pic.twitter.com/91WjX5fQ80

— ANI (@ANI) February 28, 2018
Karti Chidambaram has landed in Delhi, according to Times Now. CBI cars are waiting in which he will be taken to Patiala House court.
The focus of CBI's remand application is that once Chess Management was hired, rules were made for his 'services'
Both P Chidambaram as well as Nalini Chidambaram have refused to answer any questions about Karti's arrest, reported CNN-News18 and India Today.
The Congress has reacted to Karti Chidambaram's arrest, saying it was "diversionary tactics", and a result of "political vendetta" by the Centre.
With the arrest coming only a day before the Parliament reconvenes, political observers told NDTV that it could blunt the Opposition's attack on the government's alleged soft stance on corruption.
The CBI had earlier carried out searches at the homes and offices of Karti across four cities for allegedly receiving money from the media firm owned by the Peter and Indrani Mukerjea to scuttle a tax probe.
The CBI had filed the FIR against Karti Chidambaram and the Mukerjeas on charges of criminal conspiracy, cheating, receiving illegal gratification, influencing public servants and criminal misconduct.
The agency has alleged that Karti received money from INX Media for using his influence to manipulate a tax probe against it in a case of violation of Foreign Investment Promotion Board (FIPB) conditions to receive investment from Mauritius. The CBI has said it has also recovered vouchers of Rs 10 lakh which were allegedly paid for the services.
These vouchers were issued in favour of Advantage Strategic Consulting (P) Limited, a firm "indirectly" owned by Karti Chidambaram, the CBI had alleged.
Former finance minister P Chidambaram, after the CBI searches on 16 May, had issued a strong statement in response to the raids, saying the government was using the CBI and other agencies to target his son.
Firstpost is now on WhatsApp. For the latest analysis, commentary and news updates, sign up for our WhatsApp services. Just go to Firstpost.com/Whatsapp and hit the Subscribe button.
Updated Date: Mar 06, 2018 17:52:41 IST