Karnataka polls: Gauri Lankesh's brother Indrajith campaigns for BJP candidate, blames Congress govt for sister's death
Seven months since Bengaluru-based journalist Gauri Lankesh, known for her vocal criticism of Right-wing extremism, was shot dead, her brother Indrajit is campaigning for BJP candidate from Malleshwaram, Ashwath Narayan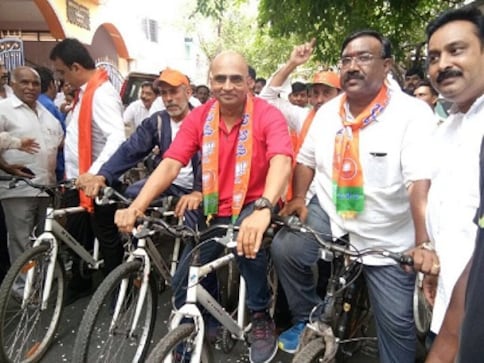 Seven months since Bengaluru-based journalist Gauri Lankesh, known for her vocal criticism of Right-wing extremism, was shot dead outside her residence in Rajarajeshwari Nagar, her brother Indrajit was seen campaigning for the Bharatiya Janata Party (BJP) candidate from Malleshwaram, Dr Ashwath Narayan.
Justifying his support for the BJP candidate, Indrajit said that he does not identify himself with any particular political ideology, but is campaigning for a person he believes in. "Dr Ashwath Narayan is a good friend; I know him personally. He's a well-read man and it was nice campaigning for him. I think he will win with a huge margin," he said.
"Many people from Janata Dal and BJP asked me to campaign for them, but I didn't want to go because I have my own ideology. So it's not that I recognise with (his) ideology; I recognise with Ashwath Narayan," he added.
Talking about her brother campaigning for a party that Gauri had strongly opposed, Gauri's sister Kavita said, "I'm not a political person. My father was mostly Left-oriented; my sister followed the same path. I was always with her in terms of moral support. But everybody has a right to choose their own path. I have nothing against Indra; nothing for it either. We've always sailed on different boats. Whether we agree or disagree is not the question, but we've taken different paths. If I agreed with him, I would have stood by him."
Gauri's mother, Indira Lankesh also refrained from discussing Indrajit's support for the BJP candidate. "What to say? I can't say anything," she said.
"If you notice the publication (Lankesh Patrika), about eight months ago, they were supporting the Congress. Now the support is for the BJP. I don't have anything to say against that. I always stood by my father and sister, and continue to do so," Kavita added.
She added that she will stand by anybody fighting against the growing Right-wing influence in the country. "With somebody like (actor and activist) Prakash (Raj), who is fighting so much against this Right-wing attitude, I will stand by it. It does not matter whether it is my brother, my friend, or a family friend — I will stand by whoever fights for secularism and constitutional rights," she said.
Prakash, a close family friend of the Lankeshs, said one must be "tolerant" about the individual choices made by people. "Everybody has the right to do what they want. We need to be tolerant about it. What can we do? And it's not like people don't know what they (BJP) want. So, if he (Indrajit) wants to campaign (for them), let him. We should be tolerant about it. Everyone can exercise their own right," he said. "How much more will he campaign? There are just two days left (for the Assembly election). Let him," Prakash, whose vocal criticism of the BJP and other Right-wing outfits has brought him some criticism, said.
Kavita added that Gauri's murder was politically motivated, due to her strong views against the RSS and other Right-wing outfits. "She was against Right-wing activists, extremism, the RSS and other similar organisations. Of course, her murder was political," Kavita said.
In March this year, a special investigation team (SIT) probing Gauri's murder had arrested one KT Naveen Kumar, who reportedly had links with the Hindu Yuva Sena, a radical Hindutva outfit. But even seven months after the murder, investigators are yet to find concrete evidence.
"They (the SIT) were hoping that it (the arrest) would bring a breakthrough. But (the accused) refused the narco-test from which other leads might have come out. If someone refuses to give a test, you cannot force them. If my sister was alive, she would say that everyone has their rights, every citizen, including criminals, has rights. But hopefully, other leads will come up soon," Kavita said.
Indrajit, however, blames the Siddaramaiah government for his sister's death. He said he appreciates Prime Minister Narendra Modi as a leader and is campaigning for Ashwath Narayan out of friendship, because he has known him for several years.
"I don't know if it was the Right-wing or the Left-wing (who killed Gauri). What I know is that the Siddaramaiah government was responsible. It is an example of a complete failure of law and order. I blame the Siddaramaiah government for my sister's death" he said, adding that the chief minister should have given her protection, as she was "working with the government to bring Naxalites into mainstream society".
Indrajit, however, will not be campaigning any further, as he will be in Shivamogga for the next few days. He said Ashwath Narayan identifies perfectly with the campaign slogan 'Badalaisee, BJP ige mathachalaisee' (Bring change, vote for BJP). "Crime rate has increased (under the Congress government). Women are not safe, journalists are not safe, police officers are committing suicide. So I thought that I would go out on the streets and voice my opinion," he added.
— The author is a member of The NewsCart, a Bengaluru-based media startup
India
The family members of the businessman told the police that he had left the house saying that he would be visiting his daughter-in-law, but when he did not return they filed a missing person's complaint
India
With 13.9 degrees Celsius on Monday, Bengaluru recorded its lowest temperature in a decade in the month of November. Mumbai and Pune also witnessed chilly mornings as the mercury plunged due to the entry of northerly winds in Maharashtra
India
Looking at ensuring seamless air-travel for passengers, initially those travelling on the domestic route, the project will permit travellers to pass through various checkpoints at airports through paperless and contactless processes using only their facial features to establish their identity