Karnataka bandh today: Buses, metro, private cabs likely to run; schools, govt offices to stay shut
The state-wide bandh called by Karnataka organisations and farmers on 25 January is expected to affect life across the state and capital Bengaluru.
The state-wide bandh called by Karnataka organisations and farmers on 25 January is expected to affect life across the state and capital Bengaluru. Private schools and government offices are expected to remain closed in view of the bandh. Citing safety issues, the Associated Managements of Primary and Secondary Schools in Karnataka said member-schools would remain closed on 25 January. Deccan Herald report said that since the holiday hinders teachers from covering the syllabus ahead of the upcoming exams, schools will conduct additional classes on Saturday. However, association members also felt that 25 January be most probably be declared a holiday since noone nows what preparations are in place to handle the law and order situation in the city.
Reports said that the Bengaluru Metro is expected to run normally. "We will not stop services. If and only if there is a hindrance to the safety of the passengers, we will inform the police and stop services. However, for now it has been decided that the metro will run without any hassle," The News Minute quoted Vasanth Rao, the Public Relations Officer of Namma Metro, as saying.
Transport services would, however, function on Thursday. Several app-based taxi services said on the social media that they would function as normal. H D Revappa from the KSRTC Employee Federation, affiliated to the CITU, said services would be operational on Thursday. However services in Hubbali and other parts of northern Karnataka are likely to be severely hit as the epicentre of the protests are in those areas. Bangalore Metropolitan Transport Corporation (BMTC) managing director V Ponnuraj said they would follow the directives given by the State government.
However, fissures have emerged among the various groups who have called for the bandh, which is over Mahadayi river water sharing row. Despite differences, Vatal Nagaraj, who heads Kannada Okoota, an umbrella organisation of Kannada bodies, confirmed that the state-wide dawn to dusk bandh on 25 January will happen as per schedule. Nagaraj also demanded the prime minister's intervention. Other groups have, however, opposed to the bandh.
Speaking with The Hindu Karnataka Sanghatanegala Okkoota (KSO) president HB Nagesh said, "We oppose the bandh as it would affect the livelihood of a large number of daily wage workers and also cause hardship to the general public." They also opposed what they called the "unilateral decision" taken by Nagaraj." KSO is an umbrella group.
Several Kannada activists had expressed anger and questioned Nagaraj's decision to call for a bandh. "Did you take our consent before giving a bandh call on 25 January? We will not support it. Our intention of calling a bandh on 27 January was to pressure Modi to intervene in the Mahadayi issue, as he was to visit the state on 28 January. Frequent bandhs are causing a lot of inconvenience to the public, who are now upset."
There are others who support the bandh wholeheartedly. The Karnataka State Government Employees' Association is not only participating in the shutdown but also giving away a day's salary for the cause. Private bus operators said that services will continue as long as there is no violence. The New Indian Express reported that several IT firms in Bengaluru have told their employees to either take the day off or work from home.
However, the union members said services will not be stopped despite their own protest as well as the bandh. The management of the corporations has also decided not to suspend services. Bangalore University has postponed all exams scheduled for 25 January. It has put up the revised schedule on its website bangaloreuniversity.ac.in. Time and venue remain unchanged, reports have said.
The bandh will also coincide with a statewide dharna called by the Karnataka State Road Transport Corporation (KSRTC) Staff and Workers Federation which has been demanding implementation of an Industrial Tribunal award of 29 August 2017, as well as an extension of the 12.5 percent wage hike announced in 2016 to all officers and supervisory staff.
The outfits have announced the strike in order to put pressure on the state and central governments to resolve the Mahadayi water-sharing dispute. They are protesting against the non-implementation of the Kalasa-Banduri dam project, which will divert water from the Mahadayi river to districts in North Karnataka.
Political slugfest as BJP and Congress continue blame game
The call for bandh has sparked a bitter war-of-words between the ruling Congress and the principle Opposition in the state the Bharatiya Janata Party. The BJP called the two bandhs (25 January and 4 February) "politically motivated" demanding the Prime Minister's intervention in the inter-state Mahadayi river water dispute with Goa. The party alleged Congress government had a role in selection of dates when BJP national president Amit Shah and Prime Minister Narendra Modi are expected to visit the poll-bound state to take part in 'Nav Karnataka Parivartan Yatra', organised by the state unit.
Shah will address a rally on 25 January in Mysuru. Modi will arrive in Bengaluru on 4 February. "There is no necessity for a Karnataka bandh.If there was a bandh in the affected area,it is fine;what has Mysuru got to do with the issue?" BJP state president BS Yeddyurappa was quoted as saying by PTI. The 25 January programme in Mysuru would go ahead as planned, Yeddyurapppa said and added that his party was in favour of protecting the state's interests on the Mahadayi issue.
Accusing Chief Minister Siddaramaiah of extending support to the bandh with "malicious" intent, he said, "The chief minister is trying to create confusion, stop buses and close schools and colleges as done in the past....I have not heard of any chief minister behaving in such a manner."
The Congress said it supported the call for bandh demanding Modi's intervention to resolve the Mahadayi river water sharing dispute. "Everybody must support the bandh call given by farmer groups and pro-Kannada organisations seeking Modi's intervention," Karnataka Pradesh Congress Committee working president Dinesh Gundu Rao told reporters in Bengaluru on Tuesday. "The chief minister said the bandh should be advanced to 25 January because 26 January is Republic Day. It's not that we knew Shah and Modi were coming. We have to put up a united fight in the Mahadayi issue. It is true that the Centre has not stood by the people of Karnataka." Rao was quoted as saying.
Accusing Congress of playing politics, Leader of the Opposition Jagadish Shettar questioned the need to call for a bandh in Bengaluru on 4 February when a state-wide call had already been given on 25 January. "This clearly showed that there was political malice and that the chief minister is directly involved in planning it," he said in Huballi.
"When the Prime Minister is coming for a political event, if they are doing this it is clear that they are terrified... On hearing that Modi is coming Siddaramaiah and Congress start trembling, so they want to create disturbance," he alleged.
Hitting back at the BJP, Siddaramaiah termed BJP's allegations as baseless. "Will Vatal Nagraj or Kannada organisations listen to government... why should we ask them to organise a bandh? It is a problem for the government if there is a bandh," he said, adding, "We have nothing to do with it, let BJP go and request Kannada organisers against bandh."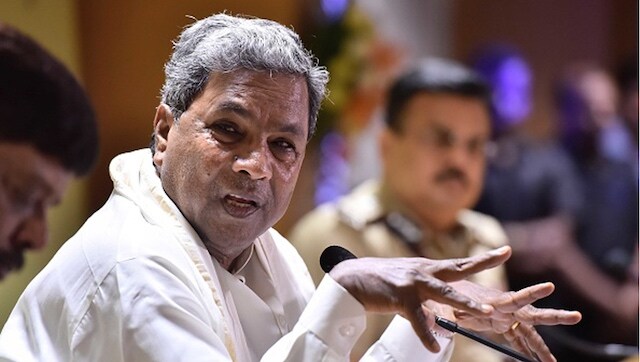 India
Siddarmaiah demanded Bommai's resignation over the deteriorating law and order situation in the southern state. His remarks came in wake of two brutal killings in Mangaluru
Politics
Recently, there has been some talk inside the state BJP about a possible overhaul, even at the top, especially in light of the recent visit by Union Home Minister Amit Shah
India
Gandhi urged the party leaders to work unitedly for the 2023 assembly polls and not speak out publicly on leadership and internal matters