Justice SN Dhingra panel report on Robert Vadra's 'shady' land deals leaked: The story so far
Justice SN Dhingra Commission concluded that Robert Vadra made illegal profits of Rs 50.5 crore from a land deal in Haryana in 2008 without spending a single penny.
On Thursday, the Justice SN Dhingra Commission concluded that businessman, son-in-law of Congress president Sonia Gandhi and brother-in-law of party vice-president Rahul Gandhi, Robert Vadra made illegal profits of Rs 50.5 crore from a land deal in Haryana in 2008 without spending a single penny. The Economic Times reported that the commission's report has demanded an inquiry into the properties bought by Vadra.
The commission was constituted in 2015 to investigate a mutation of land deal between Vadra's firm Skylight Hospitality and realty major DLF. The Dhingra Commission had submitted its 182-page report to Haryana chief minister Manohar Lal Khattar in Chandigarh on 31 August, 2016. The content of the investigation, which looked into nearly 250 land deals struck by the then Bhupinder Singh Hooda's Haryana government, was not made public then. "I have named each and every person involved, whether private or government," he said, adding that "had there been no irregularity, I would have submitted a one-line report. My report has 182 pages," Dhingra had said at a press conference in August 2016. The state government sent the report, which was in a sealed cover, to the Supreme Court last week.
The commission was constituted under Section 3 of The Commissions of Inquiry Act, 1952. The one-man commission was probing the grant of licences for change in land use (CLU) in four villages of Gurgaon, including the licence granted to a company (Sky Light Hospitality Private Limited) owned by Vadra. The Dhingra-led commission got three extensions since it was set up in May 2015. The commission had the mandate to investigate the circumstances of the grant or rejection of the licences for the development of colonies, group housing societies and commercial complexes in those sectors of Gurgaon for which lands in the areas of Shikohpur, Sikanderpur, Badah and Kherki Dhaula were used.
It had investigated whether the transfer of licence by the original licencee within a short period of time was in violation of the law and caused a loss of revenue to the state government. Vadra has been accused of transferring his licence to DLF in violation of the law and causing a huge loss to revenue. Initially, the commission was given time of six months to submit its report, however, its tenure was extended for another six months till 7 June, 2016, with same terms and conditions.
Priyanka says her property in Haryana has no links with husband
Priyanka Gandhi Vadra on Thursday said that agricultural land bought by her in Haryana's Faridabad district or other property acquired by her had no links to finances of her husband, his Skylight Hospitality or reality major DLF. In a statement issued by her office following queries by a journalist, Priyanka said that six years prior to the alleged "land deal involving Skylight Hospitality" on 28 April, 2006, she purchased 40 kanal (five acres) agricultural land in Amipur village of Faridabad.
She said the land was purchased for Rs 15 lakh through cheque, which comes to Rs 3 lakh per acre. The statement said the funds for the purchase came from rental income of Priyanka Gandhi Vadra from property inherited by her from her grandmother Indira Gandhi.
"The source of funds for this or any other property acquired by Priyanka has no relationship whatsoever with Robert Vadra's finances and/or Skylight Hospitality and no relationship whatsoever with (reality firm) DLF," the statement said. The statement said the collector rate for agricultural land in Amipur for 2006-07 and as of 28 April, 2006, (date of purchase) was Rs three lakh per acre. "Priyanka paid stamp duty of four percent (applying to women purchaser of rural agricultural land) totalling Rs 60,000," the statement said.
It said Priyanka resold the said land to the original vendor pursuant to a right of first refusal on 17 February, 2010, (four years later) for Rs 80 lakh through cheque, that is Rs 16 lakh per acre and the prevailing market rate at that time. The statement said any allegations that besmirch her reputation will be based on certain questionable documents and represent a deliberate, politically motivated and malicious campaign to besmirch and destroy her reputation.
They will be entirely false, utterly baseless and defamatory, it added.
Dhingra panel report leaked: Hooda claims in high court 
According to a report in Hindustan Times, Hooda told the Punjab and Haryana High Court that either the state BJP government or some of its officers have leaked the Dhingra panel report. In the application, which he later withdrew, Hooda had alleged that "reliable sources" told him "that an English business daily was about to publish a news report on the basis of the probe report."
"It will result in irreparable loss to the petitioner (Hooda), hence the newspaper be made as party and restrained from publishing contents of the report," Hindustan Times quoted senior advocate ML Sarin, who appeared for Hooda, as saying.
Spotlight on shady deals since 2012
The case came into public sphere in October 2012 when then activist and now Delhi chief minister Arvind Kejriwal accused Vadra of buying 31 properties in and around New Delhi from DLF's unsecured loans at prices which were much lower than the prevailing market rate.
There were also allegations that DLF enjoyed a quid pro quo arrangement with Vadra which helped the ma get prime land in Haryana. The Robert Vadra-DLF link just got murkier when another deal came to light. Vadra's company Skylight Hospitality is accused of buying a 3.5 acre plot in Shikohpur village near Manesar for Rs seven crore and then selling it to DLF for Rs 58 crore. The Haryana government, then headed by the Congress, was accused of tweaking rules and regulations to favour Vadra.
Ashok Khemka, an IAS officer, repeatedly raised concerns over the land deal. He also set aside the mutation of the property sold by Vadra to DLF. Mutation is very important as that changes the title ownership of property from one entity to another. But the Congress government gave a clean chit to Vadra after a probe by Khemka found no irregularities in the land deal. Later, when the Comptroller and Auditor General report for 2013-14 was tabled in the Haryana Assembly, the audit body slammed the Congress government for making exceptions for Vadra's land deals.
BJP-led government spearheaded investigation
The Congress has been alleging that the case against Vadra is merely a political ploy and a case of political vendetta by spearheaded by the Narendra Modi-led BJP government. Hooda, who was summoned to appear before the commission, had failed to appear on two occasions. He had termed the move 'politically motivated'. It was during Hooda's tenure that Vadra is alleged to have received favours for his land deals. He has also claimed the constitution of the commission to be illegal as it was done without cabinet approval.
Even Vadra has always denied every allegation made against him. The businessman, in the past, has said that he is the victim of a political witch-hunt. His lawyers have said the accusations are part of a wider attempt to malign Vadra's image.
With inputs from agencies
India
Last week, the Uttarakhand High Court, directing the state government to frame a standard operating procedure for the Char Dham yatra, had warned it against any laxity as seen during the Kumbh Mela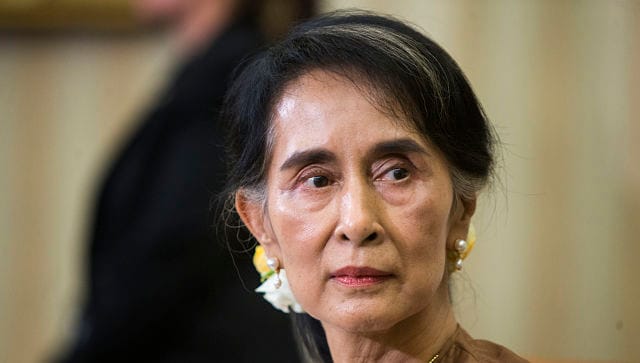 World
The sedition charge calls for up to two years' imprisonment for anyone found guilty of causing fear or alarm that could cause an offence against the State or public tranquility
World
A signed coalition agreement was formally presented to the Knesset secretariat Friday, the last step before a vote and the swearing-in of the new government