Journalist Gauri Lankesh laid to rest with full state honours; SIT formed as condemnation pours in
Lankesh, 55, was buried at a cemetery in Chamarajpet in central Bengaluru. Her eyes were donated to be used for the needy, the family said.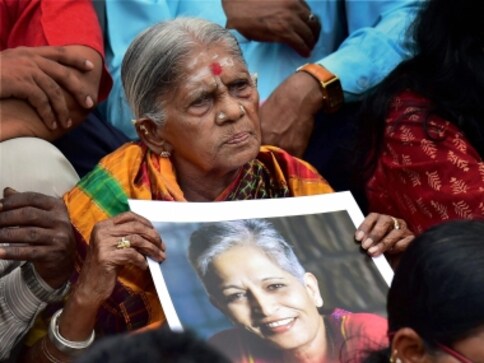 Bengaluru: Senior Kannada journalist and social activist Gauri Lankesh was laid to rest with state honours in Bengaluru on Wednesday, a day after she was shot dead by three unidentified assailants, evoking widespread protests and condemnation across the country.
Karnataka Chief Minister Siddaramaiah said that a Special Investigation Team has been formed to probe the killing.
"A SIT has been formed, headed by an Inspector-General-level officer, to investigate the journalist killing," the Chief Minister told the media here after meeting top police officers at the state assembly Vidhan Soudha.
The Congress leader said that if the family members insist on a CBI investigation, the state could think about it. "I have an open mind," he said.
CCTV footage from around the residence has been recovered by police.
The Union Home Ministry has sought a detailed report from the Karnataka government on the killing of the senior Kannada journalist.
Media fraternity and activists gathered across the country in cities including New Delhi, Mumbai, Hyderabad among others condemning her murder.
Lankesh, 55, was buried at a cemetery in Chamarajpet in central Bengaluru. Her eyes were donated to be used for the needy, the family said.
She hailed from the Lingayat community that does not cremate its dead.
Her brother Indrajit Lankesh had earlier told reporters that the family would not be following any religious customs at the funeral.
"She was a rationalist and we do not want to go against her ideologies," he had said.
Lankesh was shot dead on Tuesday night by three unidentified men who fired seven bullets at her as she returned home from her office in the city. Two bullets hit her in the chest and one in the forehead.
"She was shot dead from a close range at her house in Rajarajeshwari Nagar (in the suburbs) around 8 p.m. as she was entering the house," Bengaluru Police Commissioner T. Suneel Kumar had told reporters here on Tuesday.
Four of the bullets hit the wall of the house.
"Similar weapons were used in MM Kalburgi, Govind Pansare and Narendra Dabholkar's killings, but we can't link anything yet," Siddaramaiah said.
Earlier during the day, Deputy Commissioner of Police, West, MN Anucheth had told IANS that three special teams had been set up to crack the case. "They are on the lookout for the suspected assailants. We are tracking the movement of people and vehicles at check posts and inter-state borders."
"We have alerted our counterparts in the neighbouring states of Andhra Pradesh, Maharashtra and Tamil Nadu as well," he said.
Tributes poured in for the popular editor of Kannada tabloid "Gauri Lankesh Patrike" from across the country.
People had gathered at the Town Hall in Bengaluru for a silent protest, holding placards. "You can kill a person but not their ideas," read one placard. A silent demonstration was also staged by journalist groups at the Victoria Hospital grounds, where the autopsy was being conducted.
Journalists gathered at the Press Club in Bengaluru were seen holding placards that said "I am Gauri", implying that the attack could have been possible on anyone of them.
Across the state, protests were witnessed in Mangaluru, Kalaburagi, Dharwad and Koppal, among other regions, where citizens took to the streets.
Journalists in Mysuru, wearing black ribbons around their shoulders, also held a protest in front of the Deputy Commissioner's Office.
Kannada film actors, writers, activists, state leaders, general public, friends and family of Lankesh's were seen at Ravindra Kalakshetra in the city, paying their homage to the popular Kannada journalist.
The killing also gave way to political parties in the country blaming one another for it.
While the Congress said "muzzling the voices of ordinary citizens and silencing dissent" was the slogan of "new India" under the Modi government, the Bharatiya Janata Party (BJP) denied any links between BJP and its allied organisations in Lankesh's killing.
A prominent Left thinker and a staunch critic of Hindutva politics, Lankesh was convicted in November 2016 in a defamation case filed by BJP lawmaker Pralhad Joshi. She was out on bail pending appeal.
She was the daughter of renowned Kannada journalist P Lankesh, who had started the publication "Lankesh Patrike". Her siblings Indrajit and Kavitha are both filmmakers in the Kannada film industry.
The manner in which Lankesh was shot dead was reminiscent of the way Kannada progressive thinker and researcher M.M. Kalburgi was killed in August 2015 at his residence in Dharwad in the state's northwest region, about 400km from Bengaluru.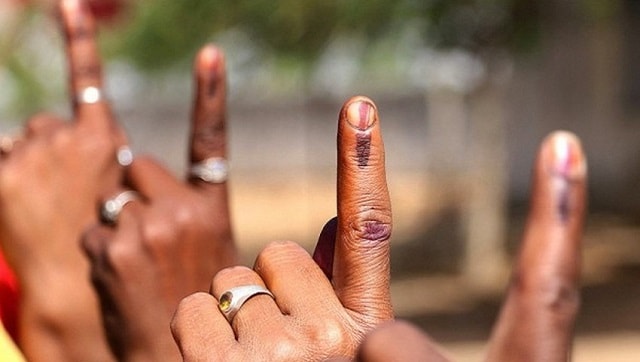 India
National Voters Day was first celebrated in 2011 and was initiated by then-President Pratibha Devi Patil on Election Commission's 61st foundation day.
Sports
Majority of them are asymptomatic and all of them have been isolated, SAI said but did not divulge the identities of those infected
India
According to the IMD, Delhi is likely to witness a minimum temperature of seven degrees Celsius. The maximum temperature is expected to be around 16 degrees Celsius