JNUSU elections: In the fight between ideologies, JNU is painted all red, once again
'JNU laal hai!' a message writ large and shouted with great zest, filed the air of Jawaharlal Nehru University (JNU) campus on Saturday evening, after the alliance of the left parties in the campus swept all four seats in its students' union (JNUSU) elections.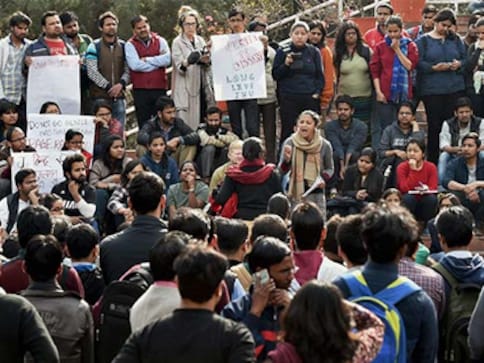 "JNU laal hai!" (JNU is red!) a message writ large and shouted with great zest, filed the air of Jawaharlal Nehru University (JNU) campus on Saturday evening, after the alliance of the left parties in the campus swept all four seats in its students' union (JNUSU) elections.
In a move that was seen as an 'ideological compromise', Communist Party of India (Marxist) affiliated Students' Federation of India (SFI) and All India Students' Association (AISA), the student wing of the Communist Party of India (Marxist-Leninist), decided to form a 'united front' to fight the JNUSU elections.
The alliance won all the four posts that includes president, vice president, general secretary and joint secretary of JNUSU. The winners were Mohit K Pandey (president), Amal Pullarkkat (vice president), Satarupa Chakraborty (general secretary) and Tabrez Hasan (joint secretary).
Akhil Bharatiya Vidyarthi Parishad (ABVP) which after the gap of 14 years, in 2015, managed to win one out the four posts, was completely decimated this year. It even lost all seats of councillors, barring the one at Sanskrit centre.
The contours of the electoral battle in the JNU student union elections became evident after 9 February incident which led to the arrest of former JNU student union president Kanhaiya Kumar on sedition charges. What followed was a month long protest that rocked the campus. JNU hit the headlines and a fierce debate on 'nationalism' and sedition law ensued.
Following the 9 February incident when allegedly anti-national slogans were raised by some students in the JNU campus, two hashtags evidently polarised the political discourse in the campus. The divide however was not limited to the campus. Entire nation seems to have jumped on the political bandwagon. From autorickshaw drivers to 'newsrooms intellectuals' were seen, sharing and supporting, one of the two hashtags that was: #StandWithJNU or #ShutDownJNU.
While the entire JNU faculty, which includes world acclaimed authors and scholars like professor Nivedita Menon, Mridula Mukherjee and Gopal Guru, saw the arrest of Kumar and slapping of sedition charges on other students as malicious attempt to malign the institution, there were few like Makarand Paranjape, professor at the Centre of English Studies (CES) who emerged as an alternative voice on the JNU row when he asked if the institution was a 'democratic space' or a 'Left hegemonic space', and why Leftists had trouble accepting the 'legitimacy of the Indian State'.
Speaking to Firstpost he had remarked, "One shouldn't pinpoint anyone without concrete evidence. That's why I don't want to think it as a "conspiracy", but it does seem the case that there are sections of our own intelligentsia and academia whom you may call "brokers of backwardness". These people seem to benefit from creating bipolar opposites and divisions in society, then positioning themselves as the vanguard or forefront of such oppositional politics. Surely some are beneficiaries of this strategy"
The divide was clear like never before.
As expected, ABVP which was instrumental in exposing the 'anti-national' activities in the campus, went to the polls with their 'save the JNU from anti-nationals' rhetoric. Their appeal was to 'defeat the anti-national, secessionist cartel'.
On the other hand, Left went with their appeal to preserve the ethos and culture of the JNU which is to 'debate and dissent'.
On 9 September, students of JNU clearly rejected the appeal of ABVP and opted for the Left. (But there's a clear message for the Left too as Said Bilawal argues here).
Sucheta De of AISA in her Facebook post wrote , "You don't know what happened in JNU today. It was a carnival, a carnival of throwing out fascists from the body of the students. United left panel won all central panel. All councillors are Left and non-ABVP, barring one from Sanskrit centre. ABVP reduced to 1 councillor from Sanskrit centre. Yes, it was an alliance of AISA and SFI, but collectively it was the thousands of students of JNU who poured out anger and rejected ABVP. Our salute to all of them".
The landslide victory of the left parties came after their defeat in Delhi University Student Union (DUSU) elections which has been for years a stronghold of ABVP and congress backed National Students' Union of India (NSUI).
While the left parties could not win a seat in the DUSU elections, it was able to register its presence. Kawalpreet Kaur, the AISA presidential candidate for DUSU elections secured more than 6000 votes.
Following the victory of Left parties in JNU, numerous Facebook posts make it clear that students voted against the 'clampdown' on their campus, against the sedition law and, as remarked by a student of school of social sciences (SSS), "against a perceived threat to dismantle the long nurtured ethos of democracy, debate and dissent".
"Sedition का एक ज़बाब...ABVP हो गया साफ़  (One answer to sedition... the defeat of ABVP)", commented a student while another research scholar of JNU wrote in a Facebook post, "Anti-national weapon became the Waterloo of RSS-ABVP as I said earlier." And then there was an adage that was repeated by many: " Now let we say again as we say always "We argue, we debate, we dissent — We Are JNU".
Kanhaiya Kumar also shared his views in a Facebook page and wrote, "ABVP said #ShutDownJNU....JNU replied #ShutDownABVP.... Now waiting for 'Digital' ABVP's Thank You message for neither VOTING nor SUPPORTING them and Saving JNU".
Shehla Rashid, former vice president of JNUSU who spearheaded the protest movement following Kumar's arrest wrote in her Facebook post, " A resounding reply to ABVP's nefarious plans of #ShutDownJNU ! Duggirala, Faisal, Salonee, Shashi & Pushpika belonging to the AISA & SFI and DSF respectively have won in the School of International Studies(SIS)! In the SLL&CS the ABVP has been reduced to double digits in the 650 votes counted. While in the SSS all the United Panel (AISA & SFI) Candidates are leading in the 550 votes counted as of yet! Going in for counting for SLL&CS Central Panel".
Saurabh Kumar, ABVP member and former joint secretary of JNUSU, dwelling on the reason of Left victory, said, "They were unsure about their victory. And the two left parties, AISA and SFI, who been so critical of each other for all these years came together just to win elections. And it paid them well. But they cannot deflect this fact that they compromised with their ideology."
While coming together of all the left parties in the campus surely helped the left prospects, the complete washout of ABVP makes it amply clear that JNU students rejected the binary of national and anti-national that 9 February incident created.
Politics
The previous four elections, focused on Benjamin Netanyahu's fitness to rule while facing a corruption investigation, ended in deadlock
India
Meanwhile, BJP-led NDA's presidential candidate Droupadi Murmu is likely to file her nomination on 25 June
World
Naftali Bennett has called time on his government just a year into the job after members in his eight-party coalition kept leaving, paving the way for his ally and Foreign Minister Yair Lapid to take charge as caretaker prime minister in Israel