By Tarique Anwar and Shishir Tripathi
Jawaharlal Nehru University (JNU) students Umar Khalid and Anirban Bhattacharya, facing sedition charges for allegedly raising "anti-India" slogans, have surrendered before police at a secret location in New Delhi after the Delhi High Court refused to provide safety until they surrender. JNU students union president Kanhaiya Kumar is already behind bars in Tihar Jail, again for sedition, while the basis of the charge itself is a question mark - a video clip that has gone into a black hole for "tests".
JNU students union vice president Shelha Rashid Shora told Firstpost that Khalid and Bhattacharya's surrender has come after a series of legal discussions keeping their safety in mind. Both these students travelled to the 'secret' location in a JNU private security vehicle. They were accompanied by several students, their lawyer and members of the JNU teachers association.
Shehla Rashid is a student leader from Jammu and Kashmir, studying law and governance at JNU.
"We hope that Kanhaiya gets bail and we will fight politically and legally thereafter," Rashid told Firstpost.
"Comrade Umar and Comrade Anirban have surrendered themselves to police. It's a moment of sadness for the campus because we have seen these activists for years standing with the students," Rashid said.
"They have placed their faith in the law and we hope that they will be released soon. We also hope that Comrade Kanhaiya gets bail tomorrow," she said.
A case against Khalid and Bhattacharya was registered at Vasant Kunj police station.
According to the police sources, both have been taken to an undisclosed location. Both the students were accompanied by their lawyers and the representatives of JNU teachers association.
After the surrender of the students, their supporters gathered at Sabarmati Dhaba in the campus to take stock and decide on next steps.
Khalid and Bhattacharya had moved petitions seeking permission to surrender before the High Court and "safe passage" from the JNU campus to the court premises, alleging there was "threat to life and limb".
The Indian Express reports that in their petition, Khalid and Bhattacharya referred to the attacks last week on journalists and JNU students' union president Kanhaiya Kumar, arrested for sedition, at Patiala House Courts by lawyers. They said they feared they would be attacked if they were taken to the Patiala House Courts, that they were "more vulnerable to unprovoked attacks than Kanhaiya Kumar.
Read:
All you need to know about Umar Khalid, the man they are calling Kashmiri traitor
#JNURow, #KanhaiyaKumar: Social media tools of historic election win come back to haunt Modi govt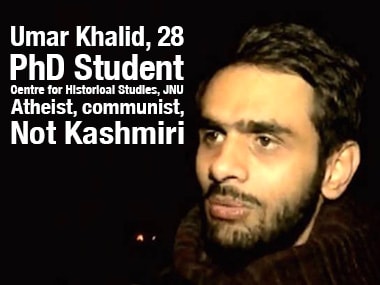 The location of the  surrender has been kept off bounds, following a Delhi High Court directive and after the week long debate has spilled over into Delhi's streets and protests worldwide.
Earlier on Tuesday, The Delhi High Court asked JNU students Umar Khalid and Anirban Bhattacharya to "secretly" provide the place and time where they want to surrender. Following through on this, Delhi Police decided not to enter the JNU campus, reports Times of India.
It also issued notice to Delhi Police, asked to file a status report on bail plea of Jawaharlal Nehru University Students Union president Kanhaiya Kumar, arrested on charges of sedition.
Justice Pratibha Rani refused to provide safety to the students till they surrender, and declined to allow them to surrender in the high court.
On providing safety in police custody, the court said: "It is for the trial court to decide."
After advocate Kamini Jaiswal, appearing for the students, told the court that students need safe passage to surrender, Justice Rani retorted: "What do you mean I should give you safe passage? Why this court (not trial court)? Let us go by the procedure. Everything can't be at your whims and fancies."
"Tell me where you want to surrender. Just give me the place (other than the high court) and time (details of which will be between petitioners' advocate, and court)," said the court, adding that she will appoint an officer for their surrender.
Lawyers of Khalid and Bhattacharya provided the details to Justice Rani, and the court then asked the deputy commissioner of police, present there, about his views, but he objected to it. Thereafter, she called the police officer and petitioners' counsel to her chamber.
After around 15 minutes hearing inside her chamber, Justice Rani came out and said she will hear the case on Wednesday.
Seeking safety passage to surrender, Jaiswal told the court that the students are constantly receiving "life threats" and police are doing nothing to protect them, while citing the violent incident took place during the remand proceedings of Kanhaiya Kumar, where lawyers attacked him, JNU student and teachers and journalists.
In their plea, the students said they are "law abiding citizens" and a "doctored video were shown on some channels to portray them in the worst possible light".
Khalid and Anirban, along with three others, had gone missing from the JNU campus since February 12 when Kanhaiya Kumar was arrested in a sedition case after an event held at February 9 on the university campus against hanging of parliament attack convict Afzal Guru. They all had allegedly shouting anti-India slogans during the rally.
The five surfaced in the JNU campus late Sunday night.
In Kanhaiya Kumar's case, Justice Rani sought status report on the investigation by Wednesday.
Additional Solicitor General (ASG) Tushar Mehta, appearing for Delhi Police, said since it was a pre-chargesheet bail application, police should be allowed to file the status report in a sealed cover.
However, the court rejected the request, saying petitioners have the right to know why police has opposed the bail.
It also directed a copy be given to Kanhaiya's counsel Rebecca John.
During the brief hearing, Aam Aadmi Party's senior standing counsel Rahul Mehra sought to represent Delhi Police in Kanhaiya's bail case but ASGs Tushar Mehta and Sanjay Jain opposed it.
Mehta told the court that he and advocate Shailendra Babbar were appointed as special public prosecutor in the case by the lt. governor.
"They (ASGs representing Delhi Police) have crossed all 'Lakshman rekha'. As a standing counsel, I am not allowed to argue and they are here on LG's unofficial order," Mehra said.
Justice Rani, however, said: "Let us not distract from the main issue. This is not a place to settle personal scores."
Mehra said Delhi Police Commissioner B.S. Bassi had said Kanhaiya's bail plea will not be opposed, but after the court's hearing, Jain told reporters that police will oppose it.
Kanhaiya moved the high court after the Supreme Court refused to entertain the bail plea, noting that bypassing the high court would set a wrong precedent.
The security at the high court was beefed up for the hearing and entry to the courtroom of Justice Rani was restricted to lawyers involved in the case and six media persons.
With IANS
Firstpost is now on WhatsApp. For the latest analysis, commentary and news updates, sign up for our WhatsApp services. Just go to Firstpost.com/Whatsapp and hit the Subscribe button.
Updated Date: Feb 24, 2016 07:41:43 IST