JNU, freedom of speech and the Left's licence to bully
Najeeb Ahmed, who still remains untraceable, is indicative of a larger political ploy within JNU where no anarchical behaviour is out of bounds and legality
A line needs to be drawn in the sand between freedom of expression and unadulterated bullying by the left-wing student unions in the 'prestigious' Jawaharlal Nehru University (JNU). The unholy fiasco over 27-year-old student Najeeb Ahmed, who still remains untraceable, is indicative of a larger political ploy where no anarchical behaviour is out of bounds and legality, and logic and reasoning become cuss words on the altar of regressive leftist politics.
To be clear, one isn't talking of the burning of Dussehra effigies inside the JNU campus, where 'the triumph of good over evil' was celebrated by lighting up Ravana's 10 heads, that included those of Narendra Modi, Amit Shah, Baba Ramdev and V-C Jagadesh Kumar. Even if in poor taste, the acts fall within the students' right to dissent and should draw no penal action.
But it is difficult to understand what right was being upheld when 12 of the JNU's top brass, including a diabetic lady official, were kept confined for nearly 24 hours within the administrative block, without access to food and water by the left-backed JNUSU.
The demands of the nearly 200 agitating students ranged from the fantastic "bring back Najeeb immediately" — as if the varsity administration knew about his whereabouts — to the ridiculous "administration acted in an insensitive manner and is trying to shield ABVP culprits", that indicates either a misunderstanding of the legal-criminal procedure or worse still, a callous disregard for the laws of the land with an eye to score political points.
The events leading to the disappearance of the first-year MSc Biotechnology student on Saturday, following a brawl on campus the night before, are unclear. Contradictory eyewitness reports have emerged, recounting that Najeeb was last seen boarding an auto on 15 October. According to his mother however, Najeeb had called her around 11 am on that day and said that he was waiting for her at the hostel, but was nowhere to be found thereafter.
Meanwhile, JNU has once again turned into a battle zone between ABVP, who allege that they are being wrongfully accused of a crime they did not commit, and left-backed students' unions who are convinced that the right-wing students' outfit is responsible for Najeeb going 'missing'.
The point that should not be lost sight of, however, is that the disappearance of a student from campus is a matter for the police and relevant authorities to investigate.
An FIR has been lodged at the Vasant Kunj North Police Station, the police has launched an inquiry, multiple students have been summoned and the procedure has kicked off in right earnest.
"We have some leads and these are being explored to ensure a safe rescue. Details cannot be shared now," additional DCP (South) Nupur Prasad was quoted as saying by Hindustan Times. A cash reward of Rs 50,000 has been announced for information about him.
About 10 squads investigators have left for Najeeb's hometown in Badaun, Uttar Pradesh, and are gathering information about his whereabouts. Meanwhile, Union Home Minister Rajnath Singh has announced the formation of a Special Investigative Team (SIT) and has asked the police commissioner to expedite the probe.
It's not as if the wheels of the machinery aren't moving but when the aim is to turn every issue into a political game and try and score points against the administration – and in turn against the Narendra Modi government at the Centre – then the truth can be bent and subverted to meet narrow ends.
According to the V-C, who along with his colleagues was locked inside their rooms for close to a day, pleading with the agitators that they (administration) are as concerned about the missing student and is determined to help the police in every way to help trace him, bore no fruit.
"They have wrongfully confined us since 2.30 pm with unreasonable demands like bring Najeeb immediately. These things are not in our hands but with the police. We are doing whatever we can. We also want the safe return of Najeeb. But they (students) have not even listened to our pleas. There is a lady official who is unwell and she too is inside," the V-C was quoted as saying by the Times of India.
On JNUSU president Mohit Pandey's claim, that the confined officials had access to food and water, India Today quoted the V-C as saying: "We slept on the floor. This is a complete lie that we had been provided food. Our several colleagues are sick and they spent the whole night without any facility…Students have become relentless and adamant and think that we are not doing our best."
On the students' charges of insensitivity and laxity in taking action, the V-C said, while speaking to the media, that they have been in constant touch with the police with regards to the search for Najeeb and that the proctorial investigation into the violence had already started.
"How can we take action against any student before the investigation is over. We have to hear all versions and come to a fair decision," the V-C said.
In between, as the gherao was called off, the issue created a rift between the left-wing student organisations – with some going on to blame JNUSU president Pandey of taking a unilateral decision.
According to a student leader, as quoted by The Telegraph: "Demands from small radical student groups had forced us to do a gherao that wasn't feasible because it is exam time and the support is low,"
"It's not yielding anything and the teachers too have withdrawn support," the student leader said.
The regressive politics of the left has gained in aggression ever since a left alliance of CPIM-backed SFI and CPI-ML's AISA won the recent student union polls over the right-wing ABVP. Just a few days back, PTI reported about an incident where a section of JNU teachers had accused the student union members of resorting to violence, while a discussion on the feasibility of introducing courses in yoga and Indian culture was going on at a meeting.
Professor Amrita Singh, according to a DNA report, was allegedly abused and attacked inside the university campus by a group of students on 7 October.
"I stepped out of the academic council meeting late Saturday evening, and was immediately surrounded by around 20 students. They started calling me out, abusing me, calling me "sanghi" and didn't even let me move. When I, along with the JNU registrar and proctor tried to get into our car, we were stopped and surrounded by the students who started banging on the car. Some of them even laid down in front of the car," Professor Amita Singh, Dean of School of Law and Governance, was quoted, as saying by the newspaper.
For the regressive left, which finds itself increasingly redundant, academic institutions like JNU are an ideal battleground from where political campaigns against the current NDA government can be launched.
Reports have already emerged of an effort to communalise Najeeb's disappearance, which may come in handy during the upcoming Assembly polls in UP. One won't be surprised if Najeeb becomes the victim of a larger, more sinister game.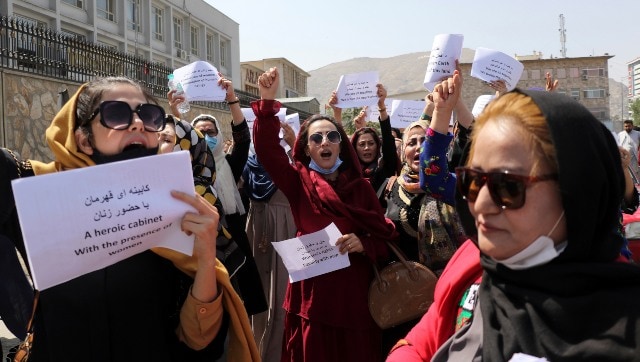 World
Recent controversial comments by Taliban leaders, like that of Hashimi, have exposed the Taliban's true nature as it ignores women, who make up half of the population of the war-torn country
India
CPEC is a part of China's most ambitious project 'Belt and Road Initiative', aimed at renewing the country's historic trade routes in the coastal countries of South-East Asia
World
This is a dramatic setback for Guinea, where many had hoped the country had turned the page on military power grabs.