J&K human rights panel rejects police claim that missing youths are in Pakistan for arms training
The Jammu and Kashmir SHRC has issued a number of orders, recently, that expose the police claims that thousands of youth in J&K, who are missing since the start of militancy in 90s, have crossed over to Pakistan to become militants
The Jammu and Kashmir State Human Rights Commission (SHRC) has issued a number of orders, recently, that expose the police claims that thousands of youth in Jammu and Kashmir, who are missing since the start of militancy in 90s, have crossed over to Pakistan to become militants. The verdicts have evoked hope among human rights activists and families of Kashmir that they may get justice after years of wait.
The Commission has held in its orders that police have failed to provide any evidence, in complaints filed before it by parents or relatives of disappeared persons, to substantiate its claims that the youth crossed the border to get weapons training in Pakistan and have not returned back. Chairperson of the Commission, Justice Bilal Nazki, has pronounced the judgments in the complaints that were pending before it since 2012.
In a complaint that was filed on 20 March 2012 over the disappearance of one youth, Abdul Rashid of Rahmoo, Pulwama, the SHRC has held that there is no "proof " submitted by police that the concerned person is presently in Pakistan. As per the judgment which was announced on 9 December 2016, the SHRC has noted there is no evidence before the Commission confirming extraction of the youth to Pakistan, who had disappeared in 1991. Justice Nazki has ordered that appropriate compensation shall be granted to the family members by government.
In another case the Commission has directed the police to trace out a boy, Zahoor Ahmad Wani of Lolab, Kupwara, who the family informed the Commission, through a petition, is missing since 1991. He has not returned home since the time he went out in the market in 1991 to buy some essential commodities. The inquiry by the Commission in the case has revealed that the missing person was not involved in any subversive activity. The SHRC has noted in another missing case of one Abdul Hamid Dar of Handwara Kupwara that relief should be given to his father and the boy should only be presumed as dead as he has not contacted the family members after he went missing in 1998. Justice Nazki, in an order issued on 15 February this year noted that relief must be granted to the family members as the police couldn't prove that the youth moved to Pakistan and was living there.
These verdicts have given credence to the accusations of human rights activists that many of the youth were subjected to "enforced disappearance'' by security forces. Ghula Rasool Parray, whose son-in-law was allegedly picked up by security forces one evening on 26 November in 1999, and is missing since then, said that these verdicts could help him provide justice. "The armed forces picked up my son-in-law and told us that he was to be questioned, but later he was never released. We tried to ask police for help, but still his whereabouts remain unknown.''
Parray said that his son-in-law, Mohammad Akbar Rather, was picked up from his house at Palhalan in Pattan. "SHRC had earlier directed government that ex-gratia relief of Rs two lakh should be provided to his son and wife, besides a government job to family, but we have only faced government apathy. We have been only provided the ex-gratia relief of Rs one lakh and our SRO case for a job is pending with the office of Deputy Commissioner Baramulla for a long time. Now with the verdict that the police has no evidence about youth being in Pakistan, we may get justice,'' he said.
Coordinator of Jammu and Kashmir Coalition of Civil Society (JKCCS) , Khuram Parvaiz, said that there are over 8,000 youth, who have disappeared, while more than 70,000 people have died in last 27 years of militancy. "The youth who have disappeared include those who were subjected to enforced disappearance by government forces while there are some others who left their homes and never returned back. In large number of cases, youth were picked up by the government forces from their houses in presence of family members and their whereabouts remain still unknown," he said. Khuram said that many of the youth have been killed , but their bodies were not returned to the family members. He said that there are many unmarked graves that dot Kashmir.
Earlier after the protests, by the parents of those whose sons have gone missing, police has been maintaining that these youth have crossed the border for weapons training. Human rights activists have however been claiming that the youth were picked up by security forces and killed in fake encounters or during torture in undisclosed locations in Kashmir. Last year in June, government disclosed in response to the question of BJP MLA, that over 4,500 youth have crossed the border for getting training in militant camps.
World
Some U.S. and Ukrainian officials accuse Russia of deliberately slowing down inspections, which a Russian official denied. Inspection teams from Russia, Ukraine, the U.N. and Turkey ensure ships carry only food and other agricultural products and no weapons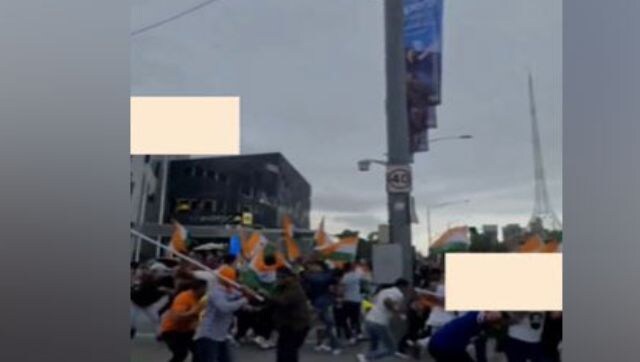 World
According to a report, the Indian group was seen running away from the scene while the Khalistani group continued to hit them. One individual was seen breaking an Indian flag and throwing it on the floor
World
Drones attacked a convoy of trucks in eastern Syria Sunday night shortly after it crossed into the country from Iraq, Syrian opposition activists and a pro-government radio station said