Jayendra Saraswathi passes away: Seer with social consciousness charted a unique path mixing piety and politics
It is debatable whether Kanchi mutt has seen a head who was as unconventional and contentious as Jayendra Saraswathi, who passed away on Wednesday morning at the age of 82
It is debatable whether Kanchi mutt — one of the most powerful religious institutions with a history dating back 2,000 years to the times of Adi Shankara — has seen a head who was as unconventional and contentious as Jayendra Saraswathi, who passed away on Wednesday morning at the age of 82. Jayendrar was no copybook pontiff. Although the mutt is primarily a religious organisation, Jayendrar, whose character was underpinned by a strident social consciousness, had both the conviction and courage to steer the mutt into territories into which it had not ventured before.
This was a risky gambit. Forget about the critics of the mutt (and there are many in the avowedly atheist political setup in Tamil Nadu), Jayendrar faced flak from his own folk for going beyond the unwritten code of convention for a pontiff like him.
Some of his actions may have come across as being sacrilegious to some of the followers of the mutt, but Jayendrar found strength from his own inner conviction and the need for both the mutt and the Hindu religion to reach out to the poor and downtrodden (read: 'lower caste'). He was, in a sense, an iconoclast in spirit. But he was still strong on religious practices and their understanding — it was one of the reasons he was handpicked as the 69th pontiff of Kanchi mutt when he was just 19 years of age. But he could make the two unlike poles reside comfortably within him. And that is because he was also a man of vision, who had a grasp of his own destiny.
The previous Kanchi mutt head, Chandrashekarendra Saraswathi (or Periyava, as the primarily upper-caste patrons of the mutt were wont to call him) had a profile and presence that combined religious benevolence and spiritual sensitivity. He rarely spoke in public. But he was actively sought by the high and mighty of the land (including prime ministers like Indira and Rajiv Gandhi). In that sense, Kanchi mutt always had access to political levers.
But it was Jayendrar, who actively used his and the mutt's reach and stature to make open political overtures. A case in point being his own involvement in trying to broker some kind of agreement on the Babri Masjid-Ram Mandir issue. In that sense, he blazed a trail for new-age gurus like Jaggi Vasudev, Sri Sri Ravishankar to follow. But they are not part of a formal religious order. They are not bound by convention.
Jayendrar pulled this off while operating from within a well-established spiritual-religious system. He was able to do this because he clearly understood the changing pulse of the socio-political, cultural-religious fabric of the country. In the 1980s, he was able to spot the churn and realised the need for both the mutt and its head to have a different profile other than being a sentinel of religious rites and rituals. It is this belief that made him to openly taken on the Hindu-baiter and former chief minister M Karunandihi on the language issue, by asserting that 'Sanskrit was his father tongue and Tamil his mother tongue'. It was a bravura explanation that made the cussed politicos realise that the man they were up against was no pushover.
But his unease with the state of affairs was what impelled him to controversially leave the mutt in August 1987. It was an event that has no parallels in the history of mutt. He also left his dandam (the religious sceptre of sorts for pontiffs) at the Kanchi mutt itself, leading to the chorus that he had abdicated his position. Later when he emerged from secret sabbatical, he said his disappearance was not sudden. He added: 'My intention was to launch a national movement for spiritual, economic and national awakening of the people'.
And soon enough, in October 1987, he did start 'Jana Kalyan Jana Jagran', "a movement for serving the people and awakening the masses". More importantly, it was open to all religions. This was huge in the annals of the Kanchi mutt. But the movement ran out of steam soon because the established order restored the status quo. But they couldn't stop Jayendrar, who through the 1990s and early 2000s kept pushing the metaphorical envelope and extended the frontiers of the mutt.
But politics is a difficult beast, a well-meaning seer can be easily trapped. And when the infamous Sankaraman assault case emerged and he was dramatically arrested by the J Jayalalithaa government, Jayendrar's innings practically ended. From then on, his stature was decidedly reduced. Both him and the mutt operated more or less on autopilot.
Long before he died, he was clearly a broken man. In that reckoning, it was a sad and unkind end to man who bucked established norms to make Kanchi mutt a powerful albeit controversial force in the country.
The author is editor of Newstoday, Chennai.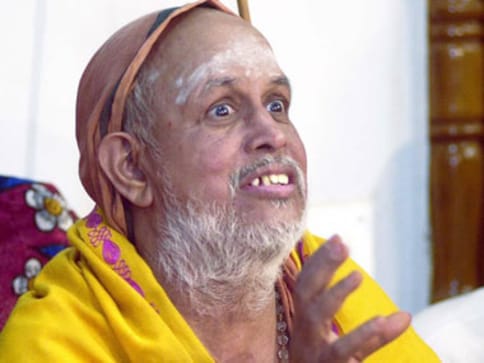 India
During his tenure as head of the Kanchi Kamakoti Peetam, the institution expanded its horizons through its educational and medical institutions.
India
Head of Kanchi Kamakoti Peetham Sri Sri Jayendra Saraswati Swami was on Tuesday admitted to a private hospital after he complained of breathing problem.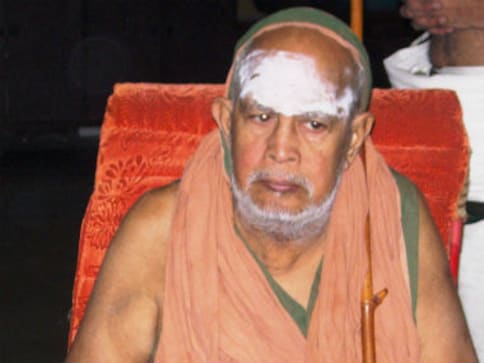 India
There were the sages of old and now there are the new age gurus with all the latest apparatus. Jayendra Saraswathi was a little different from both. He was a sage from the old order willing to push the borders of orthodoxy to in line with demands of contemporary India. He tried to — and succeeded to a large extent — in treading this delicate and dangerous tight rope.