Jayendra Saraswathi passes away: Pall of gloom descends on Kanchi mutt as devotees gather to pay last respects
No sooner had the news of Kanchi mutt Jayendra Saraswathi's demise spread that a pall of gloom descended the temple town and devotees started to gather at the mutt
The 69th pontiff of Kanchi Sankara Mutt, Jayendra Saraswathi, breathed his last on Wednesday. Saraswathi, who had been unwell for some time, passed away on Wednesday morning due to a cardiac arrest after complaining of breathing uneasiness. He was rushed to ABC Hospital near the Kanchi Kamakshi Amman Temple. Doctors said the 83-year-old had died of a cardiac arrest. His demise was confirmed by the Kanchi Sankara Mutt.
Devotees devastated
No sooner had the news spread that a pall of gloom descended the temple town and devotees started to gather at the mutt. Sources said that the mortal remains of Jayendra Saraswathi would be kept at the mutt for devotees to come and offer their prayers. Saraswathi was head of the mutt established by Adi Shankaracharya in the 5th Century AD.
From Irulneeki to Kanchi
Born as Subramaiyam Mahadeva in Irulneeki village in Thiruvarur district on 18 July, 1935, he was named the successor to Kanchi Mutt by Sri Chandrasekarendra Saraswathi Swami and was given the title 'Jayendra Saraswathi' on 22 March, 1954, when he was aged just 19.
He had his spiritual tutelage from 'Maha Periyava' and travelled the length and breadth of the country with his guru. He delivered religious discourse besides involving himself in various spiritual and social activities as well. Under his guidance, the mutt started several schools and hospitals.
Elevation
On January, 1994, when Chandrasekharendra Saraswati attained siddhi, Jayendra Saraswati formally took over as the head of the Kanchi Mutt. There began a spiritual journey that saw several highs and lows for the institution. Outspoken and clear in his ideas, Jayendra Saraswathi ensured that the Mutt involved itself in various social activities. Thanks to his efforts, the mutt today runs several schools, eye clinics and hospitals. He also managed to establish a direct connect with the people.
The year 1987 was controversial in Jayendra Saraswati's spiritual journey, for, on 22 August, he suddenly decided to leave the mutt. After 17 days, he had his homecoming, and was welcomed by thousands of devotees. He then kickstarted his social organisation, Jana Kalyan.
He tried to find a solution to the Ayodhya Ram Temple issue when Atal Bihari Vajpayee was prime minister, but it failed to frutify.
Acharya was arrested in connection with the Kancheepuram Lord Varadharaja Temple manager Sankararaman's murder case in November 2004. He was acquitted by a court in 2013, and subsequently kept a low-profile, on account of poor health.
His last rites
The mortal remains of Jayendra Saraswathi were kept at Nandavanam in Kanchui mutt for devotees to offer their prayers. Sources in the mutt said that he would be given maha samadhi at Nandavanam, near the Chandrasekarendra Sarawathi Swami's. Meanwhile, junior pontiff Jayendra Sarawathi was elevated and given the charge of heading the mutt.
A guiding light
Panjapakesan, an ardent devotee of Sankara Mutt, couldn't hold back his tears while talking to News Today. "He was our Guru, our guiding light. No day passes without us offering our prayers to him. Nothing could have been possible in my life without his blessings. The last couple of decades were tumultuous for him, but he has emerged strong and clean. His passing away is a huge loss for millions of people like me," he said.
Venkatraman, a chartered accountant, who visits the Sankara Mutt regularly, was at a loss for words. "Jayendra Sarawathi thought of everybody as a devotee. Whenever we visited him, he would call us by our names and enquire about our families. His love, care and affection were boundless. There was no caste discrimination at the mutt and its doors were open for everybody," he said.
Echoing the sentiments was Hariharan, a doctor, who said, "I was part of hundreds of health camps conducted as part of his special activities. He would anxiously ask us about how people in the neighbouring villages were benefited by such camps. He was humble and divine."
The author works with News Today in Tamil Nadu
Politics
Responding to Tamil Nadu's demand for more funds, she said, 'you can't expect more money just because you generate more money than other states'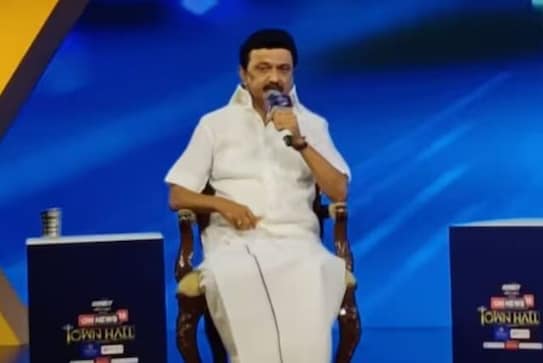 India
'Tamil Nadu is the first state to bring law against caste discrimination. In poverty parameters, Tamil Nadu's is the lowest among all states,' Stalin said at the event
India
Dugongs are the largest herbivorous marine mammals which primarily thrive on seagrass. As their population declines, India is getting its first 'Dugong Conservation Reserve' in Tamil Nadu