Jayalalithaa's illness: AIADMK denies rumours, but secrecy over CM's health remains
The big question is if Jayalalithaa is 'normal', why is the government not releasing any photographic evidence to indicate so.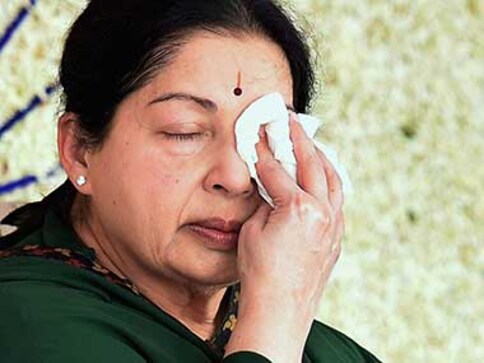 The team led by Tamil Nadu's PWD minister EK Palaniswamy read out Chief Minister Jayalalithaa's speech at the meeting of the Karnataka and Tamil Nadu representatives with the water resources minister in New Delhi on Thursday. His master's voice wanted the country to know that Amma is at work even from her hospital bed in Chennai, her mind working overtime to secure Cauvery water for Tamil Nadu.
In fact, in the last two days, worried by alarming rumours about her real condition inside the critical care unit at Apollo Hospital, the Tamil Nadu government put out two press releases to indicate all is well in 'Amma Nadu'. They spoke of Jayalalithaa chairing a meeting to discuss the Supreme Court orders on Cauvery issue and an announcement of bonus worth Rs 476 crore for PSU employees. The AIADMK also put out the list of its candidates for the local body elections in October to indicate that it is business as usual.
Apollo has also released a health bulletin saying the Tamil Nadu chief minister is doing well and that she will soon be discharged and return home. Meanwhile, the police has issued one more warning against rumour mongers. They say everyone who is spreading rumour is being monitored.
A highly placed functionary in the Tamil Nadu government confirmed to Firstpost that the latest aggravation in Jayalalithaa's condition was a lung infection that led to breathlessness. Sources both within the government and outside have also indicated that she was even put on the ventilator for a while on Wednesday morning and it was withdrawn after her condition stabilised. "Her condition is not alarming," said the source who claimed he was aware of what was happening inside the hospital. AIADMK spokespersons have also said she is doing fine, deploring the panic that Whatsapp message forwards are spreading.
But with the over-secretive world of Jayalalithaa not even letting a mobile phone onto the floor at the hospital, skeptics who suspect spin doctors are at work, exist by the dozen. Among them, PMK leader S Ramadoss, who asked the CM's office to put out a video to prevent rumour mongering.
In her bail application in October 2014, after she was sentenced to prison in the disproportionate assets case, Jayalalithaa mentioned that she suffered from diabetes, hypertension, cellulitis and other ailments. With no elaborate medical bulletins put out by the hospital, Tamil Nadu does not know if any of the above ailments have got aggravated or any fresh complication has arisen.
The CM was admitted on Thursday night, suffering from fever and dehydration. If that was all what it was, she should have been back on her feet in a maximum of five days. But it is eight days now and though Apollo Hospital put vague two sentence press releases claiming the CM is under observation and is having a normal diet, no explanation has been given for why fever and dehydration needs eight days of hospitalisation in the critical care unit.
For many months, the talk in Chennai has been that Jayalalithaa's home in Poes Garden is well-stocked with medical equipment to take care of any ailment. If that speculation is true, surely it could have taken care of the CM if it was just a case of fever and dehydration. Admission to Apollo raised serious doubts.
On Wednesday, Union minister of state and BJP leader Pon Radhakrishnan came to visit Jayalalithaa in the hospital, but reportedly went back without meeting even after waiting for 45 minutes. That raised eyebrows.
The big question is if Jayalalithaa is "normal", why is the government not releasing any photographic evidence to indicate so. After all, thousands of AIADMK leaders and activists wait every day for some word about Amma. Elsewhere, prayers are being offered for her. Given that she is the supreme leader of the party, surely they deserve some assurance.
Who is running the Tamil Nadu government when the CM is hospitalised is another serious question that deserves an answer. That is perhaps one reason why the press releases are being put out to indicate that Jayalalithaa is still in charge.
The Governor of Tamil Nadu, Vidyasagar Rao, has not paid the CM a visit yet. Indications are that he may travel from Mumbai (as he is primarily Governor of Maharashtra holding additional charge of Tamil Nadu) to Chennai over the weekend. We do not know if any of her ministers were allowed to meet her. It is only the press release on Cauvery that indicates that officials, including the chief secretary were present at a meeting chaired by her in her hospital room.
There are a couple of bizarre conspiracy theories doing the rounds as well that are being mentioned here only to give an idea of the kind of speculation that is taking place in the absence of credible information. One of them suggests that the hospital stint is to give Jayalalithaa the excuse of extreme illness to facilitate a move to the hospital should she get an adverse verdict in the disproportionate assets case next month. The other suggestion is that Jayalalithaa is doing this with an eye to gain sympathy ahead of the local bodies elections. For someone who just won an assembly election, the only one in 30 years to return to power for a second consecutive term, this theory just does not hold water.
The talk of Jayalalithaa being shifted to a hospital in Singapore for treatment has been denied by the hospital.
Meanwhile Tamil magazine Vikatan published a story that claimed that two nurses and a staffer at Apollo Hospital have been suspended for trying to access Jayalalithaa's medical records online.
Once bitten, twice shy, the media has largely restricted itself to publishing handouts from the hospital, because last year, journalists who did so were delivered a defamation notice, as did BJP Rajya Sabha MP Subramanian Swamy.
Find latest and upcoming tech gadgets online on Tech2 Gadgets. Get technology news, gadgets reviews & ratings. Popular gadgets including laptop, tablet and mobile specifications, features, prices, comparison.
Entertainment
More than two decades after Roja's release, Madhoo will be seen with with co-star Arvind Swamy on screen in Thalaivi.
Entertainment
Thalaivi, the biopic of former Tamil Nadu Chief Minister Jayalalithaa, had halted production owing to the coronavirus pandemic lockdown in March.
Entertainment
"How I managed to join the cricket team and tasted success despite living amid the Sri Lankan war is what 800 is all about," Muttiah Muralitharan says of his biopic