Javadekar says science, Maneka cruelty; Nilgai culling isn't their first spat
Maneka's anger was directed at Javadekar for the three notifications issued by the ministry of environment in the last six months. Maneka told reporters that every notification had dubbed a wild animal a 'vermin' or 'pest' in a state for the period of one year.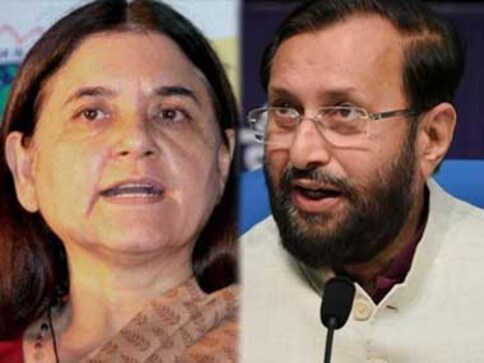 Union Minister Maneka Gandhi and her activism for animals is nothing unknown. The minister has on many occasions vociferously advocated for animal rights. In fact the BJP MP, who also initiated an NGO People for Animals (PFA) which is currently one of the largest animal rig in the country. So it was not surprising when the Union Minister for Women and Child Development lashed out at her colleague Environment Minister Prakash Javadekar for permitting the "killing of animals" across the country.
So here's what had happened:
In the last six days, 200 nilgais or blue bulls were shot dead in Bihar. Owing to increasing damage to farmlands, the state government had knocked the Centre's door to seek permission to cull nilgais to prevent further harm to standing crops. It sought permission to use professional shooters for that purpose. Acres of crops were being destroyed in areas where the nilgais exist in large numbers and regularly stray onto farms growing crops like wheat and pulses.
"When state governments write to us about farmers' suffering due to crop damage by animals, then such permissions are given. It is on the recommendation of state governments. This is not a Central government programme, as it is an existing law," Javadekar was quoted as saying.
According to reports, Maneka's anger was directed at Javadekar for the three notifications issued by the Ministry of Environment in the last six months. Maneka told reporters that every notification had dubbed a wild animal a 'vermin' or 'pest' in a state for the period of one year. In December last year, it was nilagi, a vermin, in Bihar; in February, it was wild boar, again a vermin, in Uttarakhand and in March, the ministry declared monkeys in Himachal Pradesh as vermins. According to The Indian Express, the West Bengal government issued kill notices for elephants on several occasions and even assigned hunters to "exterminate" the animal.
These notifications were issued a while back, but what triggered Maneka's anger was the mass killing of nilgai in Bihar.
"The Environment Ministry, suo motu, issued a letter asking states to come forward with proposals (to kill wild animals). They then gave the go-ahead for killing elephants in West Bengal, wild boars in Uttarakhand, peacocks in Goa, nilgai in Bihar. I don't understand this lust for killing," she said.
Maneka said the Union environment ministry "is writing to every state government, allowing them to provide a list of animals that can be killed so that the Centre can give permission.
"This is happening for the first time. I don't understand this lust for killing of animals. It is shameful."
However, Javadekar insisted that it was "scientific management" of animal population and the permissions for killing animals designated as 'vermin' were restricted to particular areas and time period.
The verbal spat between the two BJP leaders escalated quickly and was seized upon by the opposition parties which alleged there was no teamwork or cohesion in the Modi government. BJP MP Subramanian Swamy even intervened between the two and advised Javadekar to call up Maneka and come to a conclusion.
"Maneka has a long record of being concerned about this issue and I think the proper thing to do is not to reply to her publicly but for Javadaker to pick up the phone and call her. I mean it is also true that she could have picked up the phone but by then he had already announced it," Swamy told ANI.
This, interestingly is not the first time that a war of words has ensued between the two Union ministers of BJP. Javadekar, a former member of the party's student wing ABVP and a trusted lieutenant of Modi, has rubbed off Maneka on the wrong side a number of times.
Amazon, Maneka and Javadekar
In May this year, after a wildlife body alleged that Amazon website was selling wildlife specimens including sea horses and alligator heads, protected under the country's laws, Maneka condemned the online retailing giant for selling such ware.
"The Government of India and NGOs like Wildlife SOS are struggling to protect our wildlife and make this country safer for animals, yet we have a giant like Amazon shamefully selling wildlife specimens and animal traps that directly contribute to the slaughter of wildlife," Maneka had said in a press statement.
According to The Wildlife SOS, an NGO in Delhi, snares, traps and specimens like alligators, snakes, bats, butterflies, spiders, ladybugs, beetle, scorpions, frogs and several aquatic animals like seahorse, starfish, octopus, crab and shark teeth among others are on sale in both the Indian and international website of Amazon.
Javadekar's environment ministry, in response to her letter, said that it would let off Amazon after the company offered an apology. An allegedly furious Maneka did not wait for the online retail giant's apology and demanded that Amazon produce "the list of 200-plus sellers who have been trading in such products on their site."
"We are yet to receive the list of sellers from Amazon and several of these items are still available on their website, such as hunting weapons and manuals on how to kill, trap, maim and snare animals. If they fail to comply soon, there will be no option but to go ahead with a complaint against them for violating the Wildlife Protection Act," Wildlife SOS co-founder Kartick Satyanarayan was quoted as saying by The Indian Express.
When Maneka slammed Javadekar over his stand on climate change
In December last year, when the MoEF was attending the climate change summit in Paris and taking a firm stand by saying developed nations cannot expect a still developing India to shoulder the burden of reducing emissions, Maneka had said that India, as one of the main contributors to the global warming, needs to do much more. Speaking to NDTV during the Paris climate summit, Maneka was responding to the Indian government's stand that the country has lower CO2 emissions.
She said: "Rubbish. We said that in Montreal protocol and we have been saying that for 50 years. And in the meantime we go on and on and on."
In fact, Prime Minister Narendra Modi took the 'not our fault' high ground when the world's top three carbon culprits met in Paris but back home his own party's top minister took a different line.
Maneka further said, "It is a question of putting the blame always… the West did it. They may have done it hundred years ago. India is one of the main players destroying the climate. We, China and Brazil are the largest producers of methane. Coal, animals and rice, these are the three reasons for methane and methane is 26 per cent more powerful than carbon dioxide in creating climate change." In Paris, Modi had said "climate change is not of our making".
Ban on Jallikattu 
In January last year, after the BJP promised to lift the ban and said that the party would consider taking steps, including amending laws, to allow Jallikattu (a popular bull taming sport in Tamil Nadu), which has been banned, Javadekar said. Jallikattu had been banned by the Supreme Court. "If need be, we will attempt to bring in laws to lift the ban on Jallikattu," Javadekar had said in January last year in the then poll-bound Tamil Nadu.
As a rebuttal to the party's stand, Maneka said that jallikattu is a Western concept that leads to killings of humans and animals. "Jallikattu tradition is Western culture and BJP is against it. The Supreme Court's decision to ban it is a welcome step," Maneka had said.
She said that in this tradition cows and bulls, which are very useful for the farmers, are killed. "Not only the animals, but humans are also killed in this tradition," Maneka said.
With inputs from agencies
World
Despite its successes, Ukraine has only reclaimed 55 per cent of the territory taken by Russia since the February invasion
Explainers
According to the US State Department, the current wait time for an interview for B1/B2 applicants (business and tourism) is at 999 days in Mumbai, 994 days in Hyderabad, 961 days in Delhi, 948 in Chennai, and 904 in Kolkata. It is important to note that these are estimates and not a guarantee of an
Explainers
DNA profiling was first developed in 1984 by Alec Jeffreys in the UK. Several high-profile cases including the Rajiv Gandhi assassination and the 2012 Delhi gang rape have been cracked using it. Now, police are using it to build a case against Aftab Poonawala