Jammu and Kashmir top cop takes new traffic IGP to task, says officer's acts illegal and unbecoming
After garnering praise on social media for his unorthodox manner of functioning, Jammu and Kashmir Inspector General of Police, Traffic, Basant Rath has now drawn flak from his senior officer for his 'strange activities'.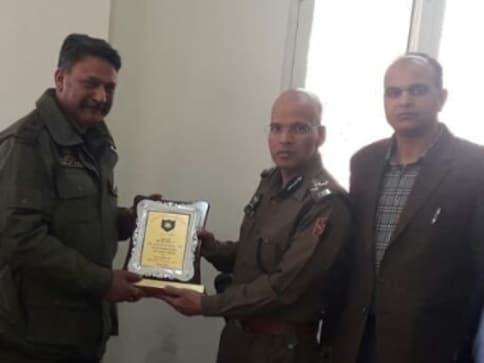 After garnering praise on social media for his unorthodox manner of functioning, Jammu and Kashmir Inspector General of Police, Traffic, Basant Rath has now drawn flak from his senior officer for his 'strange activities'.
In a letter written by the state's Director General of Police, SP Vaid, Rath is warned that his acts are not only illegal but are also "unbecoming of a police officer" and in "utter violation" of the Motor Vehicles Act. The letter further says that violation of the rules will invite action against him.
Rath was in the limelight for his style of functioning after taking charge about a fortnight ago, moving around in plain clothes on the city roads to check traffic violations in the winter capital.
"A number of videos, posts, and pictures are being circulated on social media in which you are seen moving in civvies on the roads doing strange activities unwarranted of a police officer. Other videos uploaded by some commuters allege manhandling, using of abusive language and damage to their property like cell phones, helmets, spectacles and vehicles," the Director General of Police said in the letter.
The letter, which was leaked on social media said, "These acts of yours are bringing disrepute and bad name to the police organisation. You are hereby advised and warned to refrain from such acts in future. You shall always remain in proper uniform while discharging official duties as mandated by law, and the police rules," the DGP said.
Rath took charge in Jammu on 9 February. Since then, the 2000-batch IPS officer has been praised for his innovative ways to manage traffic and criticised for his outspoken behaviour, on social media. Rath's videos and photographs while managing traffic at busy junctions in the winter capital has been a hit on the Internet. Some people have compared him to the wildly popular protagonists in Bollywood movies like Singham and Dabangg.
Rath is not amused at the comparison though; he says his job is to streamline the movement of vehicles in Jammu.
The tech-savvy officer often uses social media to update residents and warn traffic violators. Road safety has emerged as a major challenge in Jammu and Kashmir since 2,666 people have died and 22,021 injured in road accidents in the state in past three years until 31 October, 2017.
Rath had earlier warned policemen against violating traffic rules. "My dear seniors who think I'm all gas on Facebook and Twitter and no guts on streets. Please ask your PSOs to drive their bikes without wearing helmets. I'll ruin their day. And yours. I don't think I love you," he had said in a post on social media.
Within a week of assuming charge in Jammu, he made his intentions clear when he seized a luxury car of an army officer, who happens to be the son and the son-in-law of serving IPS officers, for wrong driving in Gandhi Nagar area. Both sides have filed police complaints against each other.
Rath has been outspoken about his style and his comments have generated controversy. Recently, he had stated: "Using helmets while driving was like using condoms as both were meant for protection."
Congress legislator Usman Majeed reacted sharply to the "indecent and insensitive post", accusing the IPS officer of "acting like a goon". Rath, without mentioning Majeed, responded saying: "I'm human and I'm in a hurry. I expect myself to commit mistakes. And I expect myself to learn my lessons as well. I promise I'll improve Jammu's traffic situation. And myself."
He has also faced criticism for his behaviour in public. A lawyer, Nitin Bakshi, filed a complaint against Rath with Chief Minister Mehbooba Mufti. Bakhshi has alleged that Rath appears to be inspired by films like Singham and Dabangg and uses social networking sites to "exploit" people who he misbehaves with.
"If he sees any person without helmet or driving without a belt, he starts abusing them and starts using violence against them, which is not permissible under the law," Bakshi alleged in his complaint. He said Rath is often in civvies and it becomes difficult to know if he is a policeman or a gangster terrorising the people.
The officer, however, is also not interested in labels. "Dear media guys, please keep this business of 'Singham' and 'Dabangg' to yourselves. I'm Basant. My Ma chose it for me," he said, adding, "...I have a reputation to protect and a lack of reputation to preserve. Please give me three months. Mere twelve weeks. Just ninety days. I'll make things happen. We'll make things happen. I want Jammu and Srinagar to be India's two best cities in terms of traffic management."
Besides supervising traffic management, the officer has issued an advisory to private passenger vehicle owners and educational institutions, asking them to ensure strict compliance of traffic guidelines.
"Dear road users, we need to prove our humanity with or without a traffic cop," he urged commuters, but warned those flouting laws, saying: "If you are rich enough to own a vehicle, you should be intelligent enough to know the traffic rules."
With inputs from agencies
India
Social media has been effective at establishing a direct line of interaction between the public and prime minister Modi. Needless to say, the people of India love the digital presence of the PM
India
LeT terrorists - Imtiyaz Ahmad Ganai and Waseem Ahmad Lone - were arrested and a pistol, one pistol magazine, eight pistol rounds, one Chinese hand grenade were recovered from their possession
India
The rally which started at Haiderbeig area of Pattan in north Kashmir was flagged off by the GOC of counter-insurgency force, Srinagar-based PRO Defence said