Jammu and Kashmir: Militants open fire, hurl grenade at Congress leader Imtiyaz Parray's Bandipora residence
Militants attacked a Congress leader's house in Jammu and Kashmir's Bandipora district on late Saturday
Srinagar: Militants attacked a Congress leader's house in Jammu and Kashmir's Bandipora district on late Saturday, officials said on Sunday.
Police said a few shots were heard on late Saturday evening near the house of Imtiyaz Parray, Congress leader and the son of slain counter-insurgent commander, Kuka Parray, in Hajin area in Bandipora district.
"We are ascertaining the facts," police said.
Imtiyaz Parray, who was at home when the attack took place, told reporters the militants opened fire and also hurled a grenade at his home.
"Fortunately, nobody was hurt," Parray told reporters.
On 2 November, the body of 30-year-old BJP youth wing leader Gowhar Hussain Bhat, who was kidnapped by militants, was recovered from an orchard in Kiloora in Shopian district of south Kashmir with his throat slit.
Bhat, a resident of Bonagam in Shopian, 52 kilometre from Srinagar, was the district president of the Bhartiya Janata Yuva Morcha.
Reacting to the incident, Union minister Vijay Goel had said that the killing of BJP leader strengthened the resolve of the government to stamp out terrorism from the state.
In March, militants had attacked the ancestral home of a Jammu and Kashmir minister in South Kashmir's Anantnag district and injured two policemen. Armed militants stormed into Jammu and Kashmir Minister of State for Hajj and Auqaf Farooq Andrabi's house in Dooru Anantnag.
With inputs from agencies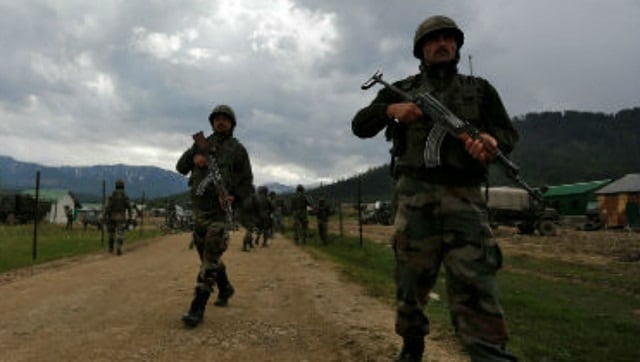 India
The police said that one of the militants, identified as Fayaz War, was involved in several attacks and killings of civilians and security personnel. He was the last perpetrator of violence in north Kashmir
India
An official statement said that a blinking red light was observed by the troops at a height of 200 metres but the object went back across the border after personnel fired at it
India
As per the Jammu and Kashmir Police, approximately 5 kilograms of explosives have been recovered from the drone.