Jammu and Kashmir Assembly adjourned indefinitely, GST bill not discussed
'GST bill be taken up only after the all-party panel submits its report,' Speaker said.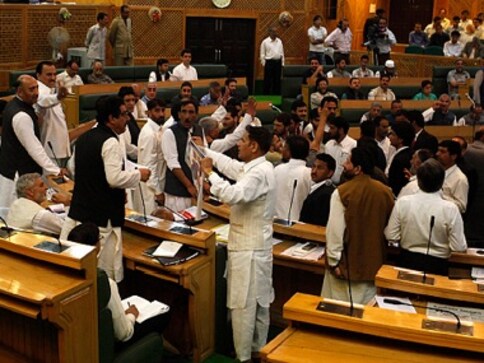 Srinagar:The Jammu and Kashmir Assembly was on Saturday adjourned indefinitely without taking up the GST bill for discussion.
"During the meeting of the business advisory committee, it was unanimously decided that the proceedings of the Assembly be adjourned indefinitely and the GST bill be taken up only after the all-party panel (on GST) submits its report," Speaker Kavinder Gupta said.
A special session of the state legislature was summoned for discussing and passing the draft bill prepared by the government that would bring Jammu and Kashmir under the ambit of Goods and Services Tax (GST) law.
The state government had earlier this week convened an all-party meeting to bring about a consensus on GST bill before taking it to the Assembly.
However, main opposition National Conference said it will oppose tooth and nail the bill in its present form.
The traders community of the state has also opposed extending the GST regime to Jammu and Kashmir.
India
These exchanges took place at Punjab's Attari, along the Rajasthan front and in Jammu, and with the BGB along the border with Bangladesh
India
An official statement said that a blinking red light was observed by the troops at a height of 200 metres but the object went back across the border after personnel fired at it
India
As per the Jammu and Kashmir Police, approximately 5 kilograms of explosives have been recovered from the drone.