Jammu and Kashmir: Anantnag, Srinagar Lok Sabha seats by-polls see little campaigning under the fear of gun
The by-polls for two parliamentary seats of Anantnag and Srinagar will be held on 9 April, according to the Election Commission of India.
Srinagar: Deep in the villages of south Kashmir, the political activity, and the election atmosphere is almost missing on the ground in run up to the by-polls, to be held next month for the two parliamentary seats of Anantnag and Srinagar. As a fragile peace prevails in the area most of the political parties have been unable to campaign freely and instead have been carrying out hush-hush political activities for fear of security.
"I haven't seen a prominent political figure holding a public rally in any south Kashmir districts," Manzoor Ahmad Shah, a resident of Anantnag town, told Firstpost on phone. "All they are doing is to meet party workers in Dak Bungalows or in district party headquarters. The atmosphere of elections is missing. It is also because of the threat of violence from youths who are angry this time."
The by-polls for two parliamentary seats of Anantnag and Srinagar will be held on 9 April, according to the Election Commission of India. The last date for filing of nomination papers is 21 March. With only three weeks left before the election, no political parties have started a full-fledged campaign in south Kashmir districts of Pulwama, Kulgam, Shopian or even in Anantnag — the areas where government forces had to fight a mass uprising last year following the killing of Hizbul Mujahideen commander Burhan Wani.
"The fact that political activity in south Kashmir faces more challenges is a reality," former chief minister and working president of the National Conference, Omar Abdullah, said, who was flanked by leaders from both Congress and NC, including J&K Congress chief, Ghulam Ahmad Mir. National Conference (NC) and Congress have decided to contest election through seat-sharing arrangement with NC contesting from Srinagar and Congress from Anantnag.
"We haven't started a campaign yet. Both the NC and Congress have been holding low-level political meetings and activities across the state," Omar said. He said that the concern of NC and Congress was to see an environment where electioneering was possible. "The challenge in front of Election Commission, today, is to give us an environment that is suitable for the electioneering and to give voters an environment that is suitable for them to come out and vote," Omar said.
Although the law and order situation in south Kashmir has improved but the increasing number of gunfights between security forces and militants, and the violence accompanying them later, have cast a serious shadow over the electioneering process in the south Kashmir.
Mir, the state Congress chief, after the press conference told Firstpost, that it was the job of the state government and the Election Commission to make that atmosphere possible for carrying out political activity in the state.
"That is the reason I have been demanding an immediate end to these encounters because they would definitely have an impact on the psyche of the voters," Mir said, "people would be afraid to come out from their homes and cast their votes."
Two Lok Sabha seats, Anantnag and Srinagar, fell vacant in Kashmir — one after Mehbooba Mufti resigned to take over as the chief minister of J&K after her father's, Mufti Sayeed, death and another after the resignation of former Peoples' Democratic Party (PDP) MP, Tariq Karra, last year during the unrest. The by-polls had to be deferred last year earlier due to the unrest in the Valley. On Thursday Omar criticised the government for discouraging them to campaign in "highly threatened areas" of the south. "A concerted effort is being now made on part of the government to discourage the opposition from being able to move out and campaign," he said.
Omar said that the security detail of his leaders and that of Congress leaders was being downgraded. He appealed to the Election Commission to provide them security for campaigning. "Our security is being downgraded. Bullet-proof vehicles of functionaries are being withdrawn, escort vehicles are being taken away. Former contesting candidates, who contested as recently as 2014, are now being told to manage without PSOs. And I'm talking about highly threatened areas in south Kashmir districts of Kulgam, Pulwama, and Shopian," he said.
NC has decided to field former chief minister, Farooq Abdullah, from Srinagar constituency against Peoples' Democratic Party's (PDP) Nazir Khan while Congress' J&K chief will contest from Anantnag against the chief minister, Mehbooba Mufti's brother, Tassaduq Hussain. The constituency was previously held by Mufti Sayeed and Mehbooba Mufti.
For debutant Tassaduq managing a win will be no less than a herculean task. The areas falling under Anantnag constituency including Pulwama, Tral, and Anantnag, have been on boil during last summer agitation. Most of the protesters killed, injured, by forces belonged to these areas. Militant hotbeds like Tral, Kulgam and Pulwama fall in the same constituency. "Things are seemingly not favourable for us. I'm neither nervous nor confident," Tassaduq recently said. "But I'm starting with honesty and sincerity."
To shoulder party's "wrecked" image during the election campaign will be a thorny walk for Tassaduq. However, the party believes that it will leave no stone unturned with the help of its cadre in Anantnag.
Threatening posters have already surfaced in south telling people to stay away from voting. However, there is no concrete evidence on who was behind such posters. Police have arrested people in connection of printing "Hizbul Mujahideen" posters.
Poll-bound Pulwama also witnessed first political assassination on Monday. Fayaz Ahmad Dar, an ex-village head, formerly associated with NC, was abducted from his home by gunmen and later killed in another village.
The year 2014 also witnessed multiple assassinations of village heads in south Kashmir in run-up to the Lok Sabha and Assembly elections.
Police said that they have identified the killers and have launched a manhunt to nab them. "Police will take all measures needed to conduct smooth elections," a senior police officer posted in Kulgam said.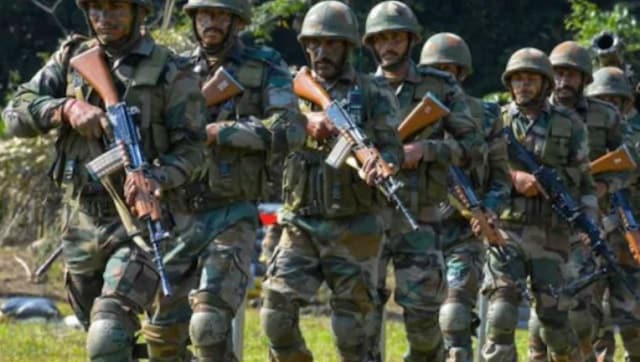 India
There is nothing in the situation that India has not faced before and overcome with resolve and Pakistan's desperation will soon convert into more frustration
India
In a first, CRPF has deployed senior IPS officer Rashmi Shukla as ADG of Jammu and Kashmir zone. BSF, too, has for the first time deputed Sonali Mishra, an IG rank woman officer, in Jammu
India
Makhan Lal Bindroo, who ran Bindroo Medicate, was shot dead by the assailants point blank at his pharmacy, a police official said