Jalayagnam: YSR's Rs 90,000 crore let's-all-loot scam
The Rs 90,000 crore YSR scheme to tap flood waters to serve the parched regions of Telangana and Rayalaseema is a dud. But politicians have milked it for money like never before.
There's nothing like a gigantic government project planned in the name of the poor or some other elevated public purpose to bring a multitude of scams. The number of scams unearthed during the tenure of the late YS Rajasekhara Reddy (YSR) when he was Andhra Pradesh Chief Minister – Satyam, Maytas, and various mining and land scams – are simply too numerous to ignore, but the biggest of them all is still not discussed much in the media.
In what could be called the mother-of-all-scams at the state level, YSR's Jalayagnam will surely rank up there along with the 2Gs and Coalgates. In 2004, YSR launched perhaps the most ambitious water project in the country with the idea of lifting the flood waters of the Krishna and Godavari rivers to quench the thirst of two crore residents and provide irrigation to 100 lakh acres of arid and dryland in the state.
Most of the irrigation projects were undertaken in Rayalseema and Telangana – both now part of the vortex of the struggle for separate statehood. Nearly half (Rs 90,000 crore) of the total estimated amount of Rs 1.86 lakh crore was spent in nine years. With precious little to show for it.  Firstpost investigations reveal that much of the money went to the politician-contractors in the state!
Every law in the land was breached by some or all of the beneficiaries. Many had no clearances from the forest department; others did not have green signals from the environment department or even the Central Water Commission – both mandatory for large water projects. Some did not even have investment clearance. The state government broke its own laws, and was busy doling out not just contracts, but cash, to the contract awardees. Even as most laws were ignored, YSR's government was busy raising the number of projects from an initial 26 to 86.
As many as 11 companies belonging to the families of eight MPs, including a Union Minister, and three state MLAs cornered many of the dream Jalayagnam irrigation projects worth over Rs 25,000 crore.
Five Congress MPs – Union Textiles Minister Kavuru Samba Siva Rao, T Subbarami Reddy, Rayapati Sambasiva Rao, Lagadapati Rajagopal and Komatireddy Rajgopal Reddy – figure in this list of favoured politician-contractors. But one should not accuse YSR or only allowing his own party MPs to feather their nests. Possibly with the idea of keeping opposition criticism low, even TDP MPs - Modugula Venugopala Reddy, Nama Nageswara Rao and CM Ramesh – were also allegedly favoured. The list of favoured politicians includes three Congress MLAs - Adala Prabhakar Reddy, Komatireddy Venkat Reddy and former State Minister Pileru Ramachandara Reddy.
YSR launched Jalayagnam initially with 26 irrigation projects over the Krishna and the Godavari to harness their flood waters. But the number of projects kept increasing: first to 46, then 64, later 74 and finally to 86. Even the land for these projects had not been acquired, but politician-contractors were hurriedly awarded the projects.
The reason for the escalation in the number of projects could be related to the fact that most of them were sanctioned without being declared fully feasible. There was less flood water available than what the projects required to be viable. CAG said in its report that some of the projects based on Krishna flood waters were technically not viable as "the water that can be drawn in 30 flood days would be far less than the requirement of these projects.'' CAG arrived at this conclusion on the basis of the state government's own expert committee report, which said the number of flood days on the Krishna were only 30, and that too, at only 40 percent dependability.
How then did YSR sanction so many dud projects? And now look at the projects, which may become redundant. A few examples: The tunnels built near the Nagarujuna Sagar reservoir in Nalgonda district will require 30,000 tmc (thousand million cubic feet) of water, but the available water is only 10,368 tmc, falling short by 19,632 tmc.  The Handri Neeva Sujala Sravanthi (HNSS) project needs 40,000 tmc of water to draw into reservoirs, but the available water is only 9,979 tmc, falling short of 30,021 tmc. Two projects thus were created when they could not have got more than a third or a fourth of the water they needed. This is probably one reason why more projects were sanctioned - to cover up for the shortfalls in the earlier ones.
The increase in projects is widely suspected to be deliberate and done on the sly. The Andhra Pradesh government did not undertake any study or survey, nor did it seek mandatory clearance from the Central Water Commission (CWC) or the Forest Department.
The Comptroller and Auditor General (CAG), in its performance audit report tabled in the Andhra Pradesh assembly in June 2013, says: "24 projects were taken up without investment clearance. 21 had no forest clearance. 18 had no environmental clearance. Four were taken up without any feasibility report. And 16 were taken up without consent from the CWC." Besides, technical evaluation was not done before awarding most of these projects.
To top it all, the state government broke its own order (GO 94), which had mandated that no company should be given more than three projects. But most of the companies backed by MPs and MLAs bagged more than three projects.
Not only this. The state government doled out advance money equivalent to 10 percent of the total project cost as "mobilisation funds". Thus Minister of Textile Kavuru Samba Siva Rao's company Progressive Constructions got Rs 112 crore as advance immediately after it was awarded a number of projects.
Why should the state pay advances to contractors? The state government justifies the offer of mobilisation funds on the ground that this was essential for speedy implementation and argued that it had got back the bulk of the funds. This, of course, is simply not true. According to RTI documents submitted to the state Lokayukta in the form of public complaint, a third of the money hasn't come back. The state government gave away Rs 3,224 crore as mobilisation funds, but has only recovered Rs 2,112 crore. Rs 1,112 crore is still with the contractors.
Many of Progressive Constructions' projects, for example, are stuck for various reasons and it is yet to return Rs 62 crore out of Rs 112 crore received, according to a complaint lodged with the state Lokayukta. The state government, however, argues that less than Rs 900 crore is pending with contractors and the balance will be recovered in further bills.
But there is little doubt that tender rules were bent for various contractors. As the CAG notes, the "government (state) gave a shorter time for bidding, and took a much longer time for evaluating and accepting the bids, which could give scope to post-bidding manipulations.''
Even if one were to assume that some level of corruption is unavoidable, the least one can expect is that the project at least delivers what was promised. But Jalayagnam's delivery is practically very little. A few structures, pump stations and lift systems have been commissioned under Jalayagnam, but very little water was lifted to fill the reservoirs! The engineering marvel has now turned into a huge monster that has swallowed lots of money like water, with little real benefit for a water-starved region. Meanwhile, the cost estimate for the project has swelled to twice the original size to Rs 1.86 lakh crore.
To understand the nexus between politicians and their business interests, it is interesting to note how it was all done. The modus operandi is to first start a business, and once you achieve some success, hand the business over to relatives and then get directly into politics. Political clout then helps the business succeed.
Most of the MPs/MLAs linked to the Jalayagnam projects were once contractors, founders and promoters of their respective infrastructure companies. When entering Parliament or the legislative assembly, they step aside and hand over the reins of the business to sons, daughters, wives and brothers. Their companies then flourish.
All these companies seem to have the same profile/motto: build dams, powerhouses, barrages, canals, roadways, waterways, tunnels, industrial, commercial and residential structures. As MPs and MLAs, they keep track of infrastructure developments that may be of interest to their family businesses. A careful reading of each MP's homepage indicates a clear conflict of interest between the questions they ask in the legislature and the businesses their families operate.
Firstpost has written and SMSed all MPs and MLAs for their versions of the story. Only two MPs – Nama Nageswara Rao and Komtireddy Rajgopal Reddy – got back over the phone to tell us that they would send their replies. Of the two, only Nama Nageswara Rao has spoken to Firstpost so far. We will be happy to add the version of the rest as and when they respond.
In the second part of our investigation, Firstpost will detail who got what in the Jalayagnam spoils, and how these politicians manage to use their political clout to keep track of their business interests. Watch this space.
Find latest and upcoming tech gadgets online on Tech2 Gadgets. Get technology news, gadgets reviews & ratings. Popular gadgets including laptop, tablet and mobile specifications, features, prices, comparison.
India
AP chief minister Chandrababu Naidu has become the target of criticism from political rivals for his failure to push for the special status category with Modi.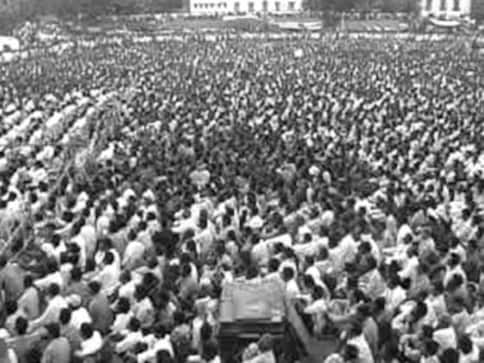 India
The location was just 30 kilometre north west of the region where Maoists had, eight years ago, blasted a boatload of Greyhound commandos on a combing operation with a rocket, killing 36 of them.
Politics
Union Ministers, MPs, state ministers and legislators from coastal Andhra and Rayalaseema regions of Andhra Pradesh will meet at Chief Minister N Kiran Kumar Reddy's camp residence on February 16