Isro set to make history: India to be fifth nation to launch its own space shuttle
Come 23 May, and Isro will be launching its first space shuttle, with India becoming the fifth country to do so.
The Indian Space Research Organisation is all set to add another feather in its cap. Come 23 May, and Isro will be launching its first space shuttle, with India becoming the fifth nation to do so. Until now, only US, Russia, France and Japan have successfully launched space shuttle. What is more special about it is the fact that it is an indigenous initiative.
The RLV-TD (Reusable Launch Vehicle - Technology Development) took five years to be built, at a cost of just Rs 95 crore, according to The Financial Express. A full-fledged reusable space shuttle will, however, take at least another 10 to 15 years to build, an Indian Express report said.
"It is a technology demonstrator launch. It is a baby step," an Isro official who declined to be named was quoted by The Wall Street Journal as saying.
The experimental space shuttle that is going to be launched from the space port at Sriharikota, is expected to return to the Bay of Bengal. However, it is unlikely to be recovered from the sea as it is expected to be destroyed on impact with water.
The purpose of the experiment is to see whether it can glide and navigate at a velocity which would be five times faster than sound, onto a virtual runway, The Indian Express further added.
The present design is basically "a flying test bed to evaluate various technologies, namely hypersonic flight, autonomous landing, powered cruise flight and hypersonic flight using air-breathing propulsion using a scramjet engine", The Hindu quoted the Isro website.
The model shuttle, which is one-sixth the size of the planned shuttle, will travel 43 miles into space and then re-enter earth's atmosphere, WSJ added.
While western countries have abandoned the idea of winged reusable launch vehicles, Isro scientists have adopted the idea citing lower cost. If every thing goes well, launching space shuttles will be 10 times cheaper, The Indian Express reported.
India has created a niche for itself by launching low-cost missions into space. Notably, in 2013, Isro launched the Mars Orbiter Mission at a cost of just $ 78 million. This was one-tenth of the cost that NASA spent on its Mars Mission, The Financial Express reported.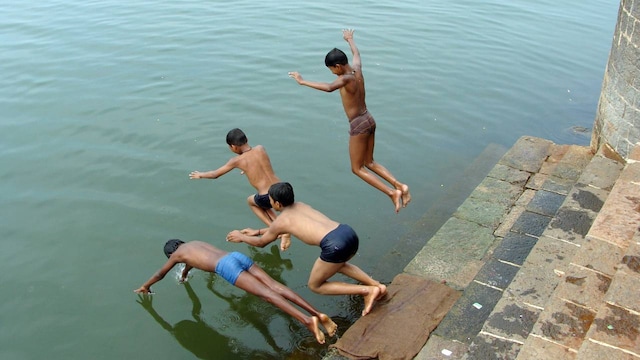 India
India's average temperature rose around 0.7 Celsius between the 20th century and 2018 and is set to rise another 4.4 degrees by 2100, government report state.
India
An official of the IISER, which located in Pashan area of the city, said that the fire broke out at one of the labs in the chemistry department of the main building
science
The telescope also shared an image of galaxies with spiral arms and a pair of interacting galaxies in the southern hemisphere.