Islamic State flags in Srinagar reflect disillusionment that is popularising radical alternatives in Kashmir
The waving of Islamic State flags and the chanting of IS slogan from the pulpit of the Jamia mosque in Srinagar after Friday prayers is a chilling reminder.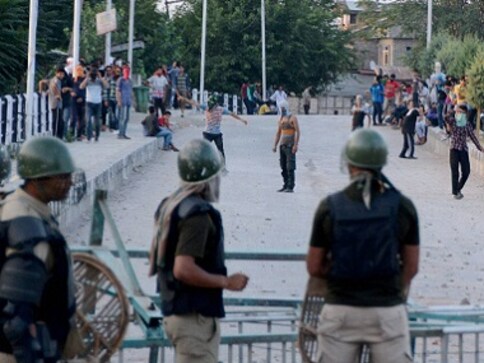 The waving of Islamic State (IS) flags and the chanting of IS slogan 'daulat ul Islam' from the pulpit of the Jamia mosque at the heart of Srinagar after Friday prayers is a chilling reminder of how stridently some young Kashmiris have imbibed the pan-Islamist ideas of IS.
One of them climbed onto the pulpit, which is traditionally treated with veneration, sat down where the Mirwaiz sits to deliver his sermons, took out a black IS flag, and waved it.
Someone promptly made him rise from the throne-like seat and others shouted loudly in protest, but a few more boys waved those flags just below the pulpit. Each of them had masked his face.
Widespread disillusionment
Such boys tend to fervently believe that rule by a caliph and the imposition of Shariat law would bring a perfect world of justice and good governance. It is a measure of their disappointment and disillusionment with the current set-up that they turn to such radical alternatives.
There is a general impression among them that the system is corrupt and unresponsive to the core, and does not care about the deaths of young Kashmiris.
Many have even come around to the view — promoted vigorously in certain social media discourses — that democracy is a Western conspiracy to impose unpopular and profane governments.
They often say that it is close to impossible to get a job in the state unless one is recommended by someone in the network of power and influence — and that such recommendations come at a price.
Many of them talk of having experienced the administrative set-up as not just corrupt but a sort of organised extortion racket.
In such unsettled situations, perceptions often matter more than the objectives of those in authority. These various perceptions have tended, over the past few years, to drive young people towards extremist movements.
History of authoritarianism
Sadly, there is little attempt to explain the realities of realpolitik to them. It is easy to see how, particularly in a milieu of deep distress, they might assume that any regime headed by one who is known as caliph, would necessarily act in accordance with divine guidance.
Even a cursory look at the history of religion-based regimes, however, would show how totalitarian, unresponsive, self-serving and corrupt such systems can become.
Whether they have claimed legitimacy on the basis of being Christian or Muslim or Buddhist or of any other religion, earthly regimes that claim a right to rule as given by divine right often end up only restricting the people's right to question them. Generally, they do not actually provide the justice, selflessness, and accountability that their respective religions teach.
Most Islamic scholars agree that the caliphate became unjust in various phases after the first four caliphs, who ruled the Muslim people of the time for the first thirty years after the Prophet's death.
Unjust experience
In this light, very few citizens might actually be happy with the sort of coercive political, administrative and social systems that IS imposed in areas of Iraq and Syria that it ruled recently.
In the first place, dress codes for both women and men might be experienced as restrictive if they were actually to be enforced. The young man who clambered onto the pulpit was dressed in fashionably faded jeans.
Those who implement the laws that would be put in place might turn out to be tyrannical and unjust in their dealings with ordinary people with no access to power and authority.
This has already been the experience of many people in Kashmir at the hands of the police in certain phases of the past couple of decades — and the Ikhwan bands who played havoc with the lives of so many about two decades ago.
Women might experience injustice more acutely, if one goes by the narratives of several women — particularly those from minority communities — in places where IS actually ruled in recent years.
An aspect of rule by such narrow-vision groups that does not match with Kashmir's inclusive ethos is their potential treatment of minorities, including groups who claim to be Muslim but do not follow all the tenets that those in power might insist upon.
Explainers
Iwao Hakamada was in 1966 accused of robbing and murdering his employer and his wife and children. The 87-year-old, who spent nearly 50 years on death row, was released from prison in 2014 after a court ruled investigators could have planted evidence. Now, the high court has ordered a new trial
Explainers
A native of Zhejiang province, the 63-year-old Li Qiang is an acolyte of Xi Jinping. Qiang is the former party chief of Shanghai and his elevation was earlier in doubt over his handling of the two month-lockdown in the financial hub last year
Explainers
Solidifying his political power, Xi Jinping took oath for a third time as China's president on Friday. His new five-year term will see Xi tackling a number of issues, including a slowing economy, highly strained ties with the US and border tensions with India