Ishrat Jahan case: Is Satish Verma a crazed conspiracy theorist?
In a letter to the government, former home ministry bureaucrat RV Mani alleges Verma claimed 26/11 and 13/12 were government conspiracies.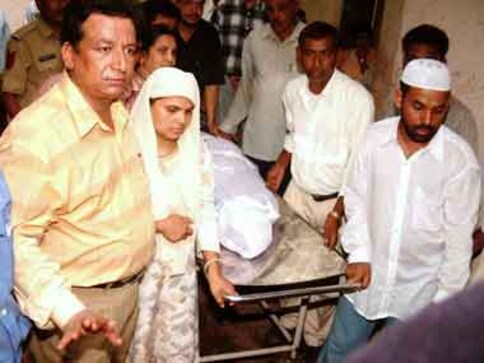 For days now, we've had various roseate accounts of the skills of Satish Verma, the Indian Police Service officer who served as lead investigator in the Ishrat Jahan Raza murder investigation. Ishrat Jahan's mother, Shamima Kauser, has called him "diligent and honest"; one gushing media account even called him the "Sherlock Holmes of the probe".
Now, there's another portrait of Satish Verma on offer: a crazed conspiracy theorist, who thinks, among other things, that the Indian government staged the 26/11 attacks.
In a June 24 letter—which Firstpost is making available online—bureaucrat RV Mani has alleged that Verma sought to coerce him into signing a statement unsupported by evidence. Mani, who served at the home ministry at a time when it signed an affidavit suggesting Ishrat Jahan and the three men killed with her were terrorists, says the CBI is "coercing" him into "falsely indicting his seniors".
Former Home Ministry official RV Mani's letter
This part is particularly riveting:
"He started narrating," Mani's letter states, "as to how the 13.12.2001 attack on [the] Parliament of India and 26.11.2008 attacks [on Mumbai] are orchestrated by the Government in power. He stated that both these were with the objective of strengthening the counter terrorist legislation. He narrated that 13.12.2001 was followed by POTA [Prevention of Terrorism Act] and 26.11.2008 was followed by amendment to UAPA [Unlawful Activities Prevention Act] wherein even and [an?] Rupees 10 in any body's pocket can be treated for [as] proceeds of terrorism."
"I told him he is entitled to his view."
Mani's Zen response to this nonsense suggests he is a mature, calm person. Verma is indeed entitled to believe what he wants. Perhaps he's right, and everyone from the Mumbai Police, the National Investigations Agency, the Federal Bureau of Investigations, the United States government, and the United Nations Security Council are all involved in some giant plot to hide the truth about 26/11. Arundhati Roy, after all has, similar opinions, and we all know she is a robust empiricist.
I've a public opinion on these beliefs—and a private one, too, on the malign long-term effects of undergraduates smoking too much pot.
The point here, though, is this: a criminal investigation is not about beliefs, mine or anyone else's. The CBI investigation, if Mani is right, may have been driven by deep-rooted biases which may have tainted the entire process. In recent weeks, the Intelligence Bureau's Rajinder Kumar and the Gujarat Police's PP Pandey have raised questions about Verma's biases—arguing, among other things, that he harbours personal malice against them.
For the same reasons that we'd be sceptical about a well-known misogynist's investigation of a rape case, or a committed bigot's inquiry into a communal riot, we ought subject the CBI's findings to very careful attention.
Now bias, in itself, doesn't vitiate an investigation: it's entirly possible a well-known misogynist might still fairly investigate a rape case, or a committed bigot a communal riot. It's only too common, moreover, for suspects to claim the investigating officer is out to get them.
Mani, though, doesn't have a dog in the race—and his letter, therefore, is of more than passing interest.
We don't have the privilege of knowing whether the bureaucrat's recollection of Verma's comments are accurate, since Sherlock Holmes declined to comment on the issue. It's time the CBI director, though, did some explaining.
Explainers
Mohan Bhagwat's visit to the Kasturba Gandhi Marg mosque at the heart of the Delhi – his second meeting with Muslim intellectuals over the past month – comes amid an unprecedented outreach to the minority community by the RSS chief and in the backdrop of the Gyanvapi mosque row
Explainers
While the RSS, the ideological fountainhead of the BJP, bid goodbye to khaki shorts in favour of trousers in 2016, that hasn't stopped its opponents from taking aim at arguably its most famous symbol
Explainers
Mahsa Amini slipped into a coma and died while in police custody in Tehran. The 22-year-old, visiting the capital with her family, was detained after the 'morality police' took issue with her headscarf. Her death has led to widespread anger with Iranian women leading protests