Indian Muslims bitterly divided over Zakir Naik but it is still a healthy sign
The Naik debate will rage on, but the biggest positive to have emerged from it is that there are certain signs — feeble still — of an increasing acceptability of the fact that inherent radicalism poses far bigger threat to Islam than any foreign faith or idea can ever do.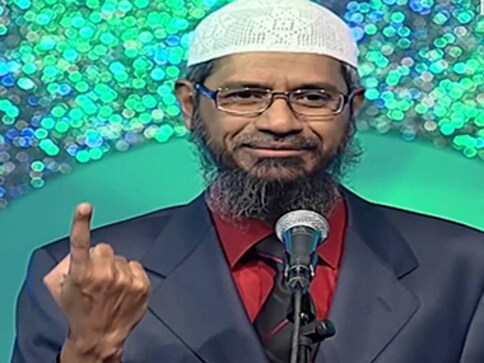 Salafist preacher Zakir Naik's controversial sermons strike at the root of the debate currently raging across the world over the link between radicalism and teachings of Islam. The smooth-talking televangelist's regressive and problematic teachings, thoroughly dissected and discussed threadbare, strike at the very foundation of the pluralist cultural component of our existence and promotes a version of Islam that is dreary and incompatible with the modern world.
International non-profit think-tank Gatestone Institute has stated that although Naik "is not directly involved in terrorism, he has reportedly inspired many to take to terrorism through his preachings."
It wouldn't have mattered had Naik been a fringe voice. But he isn't. His global television empire, through Dubai-based Peace TV, reaches 100 million viewers worldwide in 125 countries. Barring a few nations he travels around the world giving lectures, holding seminars. He is equally popular in cyberspace through social media. A 2010 Indian Express poll had found Naik to be India's 89th most powerful person, ahead of Nobel Laureate economist Amartya Sen or eminent lawyer and former attorney general Soli Sorabjee.
By now, however, it is fairly established that banning or gagging Naik is never going to work. Firstpost has argued in a recent article that apart from the questions associated with muzzling free speech, any gag while ultimately futile, will make Naik a martyr and even more popular.
The debate over Naik, right at this moment, is aligned to the larger debate around fundamentalism, violence and Islam. The Islamic scholar preaches Wahhabism, the same strain of Islamic movement that inspires extremists worldwide. In July 2013, Wahhabism was identified by the European Parliament in Strasbourg as the main source of global terrorism.
The link between Saudi money and spread of Wahhabism as the most influential version of Islam right now doesn't merit repetition. Saudi Arabia's King Salman, incidentally, handed Naik personally the 'King Faisal International Prize' for being one of the most renowned non-Arabic speaking promoter of Wahhabism. An award that had a cash component of $2,00,000.
The scale of the problem is huge and well-documented. The question is, if Naik or his ideas cannot be gagged, how best to tackle his preachings? Most political leaders, analysts and liberals worldwide painstakingly insist that Islam is a peaceful religion and has nothing to do with hatred or violence and acts of terrorism.
In India, the same explanation has been put forward during the debate over Naik. It is said that the televangelist's preachings cannot be identified with the bona fide teachings of one of the world's greatest religions. His views, insist liberals, are more of a perversion of a religion that is essentially peace-loving and tolerant.
It is here that moderate Muslims themselves can make the biggest contribution by being at the forefront of the debate. They do not suffer from the burden of political correctness that invariably results in deep hypocrisy marking most liberal discussions on this topic.
One of the most important stakeholders in the debate in India over Naik, for instance, are the Muslim organizations. It is interesting to note what is happening here.
The media pressure over the Mumbai-based preacher, ever since two of the Dhaka bakery attackers were found to be "inspired" by Naik, has caused a clear political asymmetry in their reaction.
It won't be an exaggeration to say that the larger orthodox but moderate Muslim society, represented by various groups, has been split down the middle over Naik, the founder of Mumbai-based Islamic Research Foundation.
On Monday, Abid Rasool Khan, chairman of state minorities commission serving Telangana and Andhra Pradesh, admitted that the issue has created a "vertical division" in the community. He said the Muslim community today has two views on Naik, with half of them saying his preachings are right and the rest contending he is wrong.
Recent events reflect the honesty of Khan's statement.
Muslims for Secularism and Democracy, during a media conference on Tuesday, opposed Naik's views on comparative religion and called him a hypocrite and his logic "warped".

"Naik is no messenger of peace and he is not propagating peace. He is spreading prejudice, if not contempt and hate for other religions," said journalist Javed Anand. He shared the platform with Islamic scholar Prof. Zeenat Shaukat Ali, Irfan Ali Engineer from Center for Study of Society and Secularism, Noorjehan Saia Niaz of Bharatiya Muslim Mahila Andolan and Kapil Patil, member of legislative council.
The shias, who have been at the receiving end of Zakir Naik's mockings, are expectedly up in arms against him. Maulana Yasoob Abbas, a top Shia cleric from Lucknow on Wednesday has demanded banning his speeches and also an investigative probe into his funding.
"The Saudi government is nurturing world terrorism, be it in the guise of Zakir Naik or ISIS or others. All these people and organisations are Saudi agents against whom the Indian government should make a swift intervention before it is too late, as is in the case of the recent Bangladesh attacks," said the Maulana who is also the spokesperson of the All India Shia Personal Law Board.
On the other side of the divide, Hyderabad-based Salafi organisation Jamiat-e-Ahle Hadees (JAH) maintained that Naik "is an Islamic scholar who has nothing to do with terrorism". "It is wrong to do accuse him supporting terrorism," said secretary Shafiq Alam Khan.
Mufti Mohammed Omar Abedeen, an Islamic cleric from Darul Uloom, Deoband, has claimed that Naik was being targeted. "He has spoken of co-existence on several occasions. His statements are being cherry-picked and twisted."
Asaduddin Owaisi's All India Majlis-e-Ittehadul Muslimeen on Tuesday slammed the media for running a "trial" against the preacher. Party MLA from Aurangabad Imtiaz Jaleel, in a statement said: "By hounding Zakir Naik, the media, particularly some national television channels, have already pronounced their judgement even when a formal case is yet to be registered against him. On mere hearsay, the media cannot pronounce anybody as supporter of terrorism."
In troubled Kashmir, supporters of Islamic preacher Zakir Naik took out a peaceful solidarity march in Srinagar to condemn any action that might be taken against the scholar.
While it is encouraging to note the churning that the Muslim community is undergoing in confronting radicalism in its faith, there still exists far too many wrinkles that are yet to be ironed out. The Naik debate will rage on, but the biggest positive to have emerged from it is that there are certain signs — feeble still — of an increasing acceptability of the fact that inherent radicalism poses far bigger threat to Islam than any foreign faith or idea can ever do.
India
Of the 565 princely states that made up 40 per cent of the territory of undivided, pre-Independence India and 23 percent of its population, Hyderabad was the richest, most-populous, and, after Jammu and Kashmir, the largest in size
India
Ghoshamahal MLA and suspended BJP member T Raja Singh, apparently, tried to break double standards — and paid a heavy price
World
Known as "The Best Polygamist of the Century", Abu Abdullah's quest for the perfect match started at the age of 20, when he married for the first time. He then went on tie the knot 53 times over the next 43 years